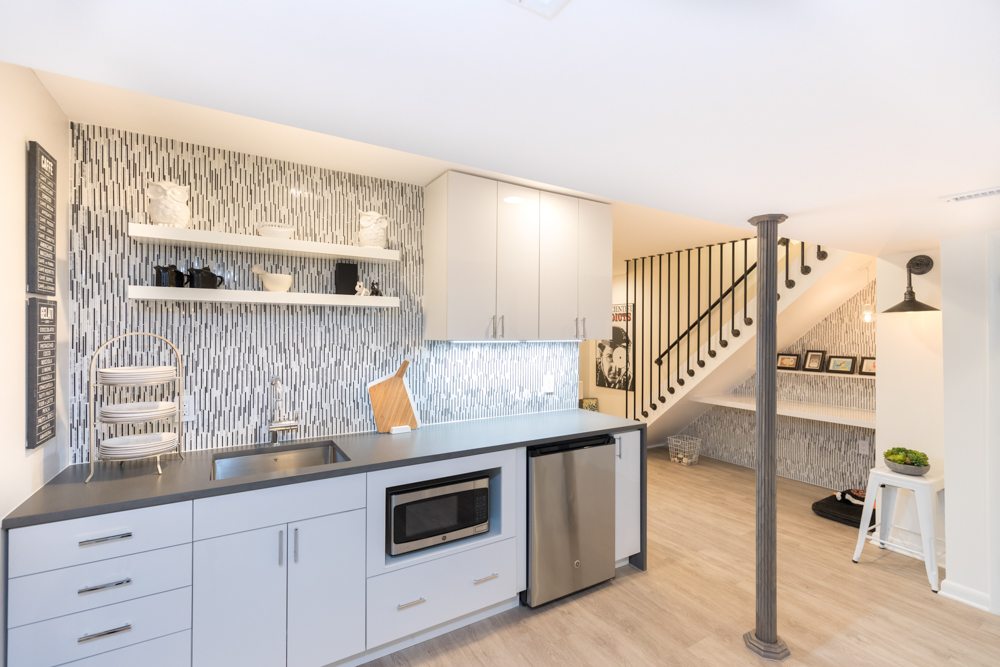 How to Use Glass Tile For a Kitchen Backsplash? Experts Reveal!
Back in the day, the kitchen backsplash was typically just a continuation of the countertop material. For instance, if you use ceramic tile for the countertop, you choose kitchen backsplash of the same material. 
Similarly, granite, marble, laminate, or solid-surface worktops had a thin strip of backsplash made from the same material. Either that or you paint or drape the backsplash with wallpaper. Glass tile, in one way or another, has become the popular choice for backsplashes for some time. But how does one use glass tile for a kitchen backsplash? 
There's an explanation for this: glass tile catches and reflects light in a beautifully luminescent manner, glowing up the dark spaces under overhanging wall cabinets. 
Since these vertical spaces don't get the same amount of traffic as a horizontal countertop, more elegant glass is a good choice. Ultimately, since glass is one of the simplest surfaces to clean, it's ideal to choose while remodeling your kitchen. 
Browsing Through Trends? 
Glass tile backsplashes are hot right now, but will they be outdated kitchen trends in five years? Glass tiles in backsplashes are here to stay, according to most designers, and have shown no signs of fading in the last 20 years. 
In terms of kitchen remodel trends, they typically last a long time. For instance, subway tiles will almost certainly never go out of style, whether they're conventional ceramics or luminescent glass tiles. 
Pencil tiles and geometric patterns are likely to remain popular for decades. On the other hand, a vibrant color scheme will go out of style faster than standard tile shapes, making it a big kitchen remodeling mistake.
Mounted Tiles Are A Dream For DIYers
If you mount glass tiles directly on mesh sheets, it will be simpler for DIYers to install, no matter in mosaic sheets of small 3/4-by-3/4-inch tiles or relatively bigger sheets of two-by-two-inch or four-by-four-inch tiles. 
You can also cut mosaic sheets apart with shears to match spaces instead of using wet saws to slice tiles. Once you connect tiles to mesh sheets that are self-spacing, you won't need spacers to develop grout lines.
Accentuate With Glass Tiles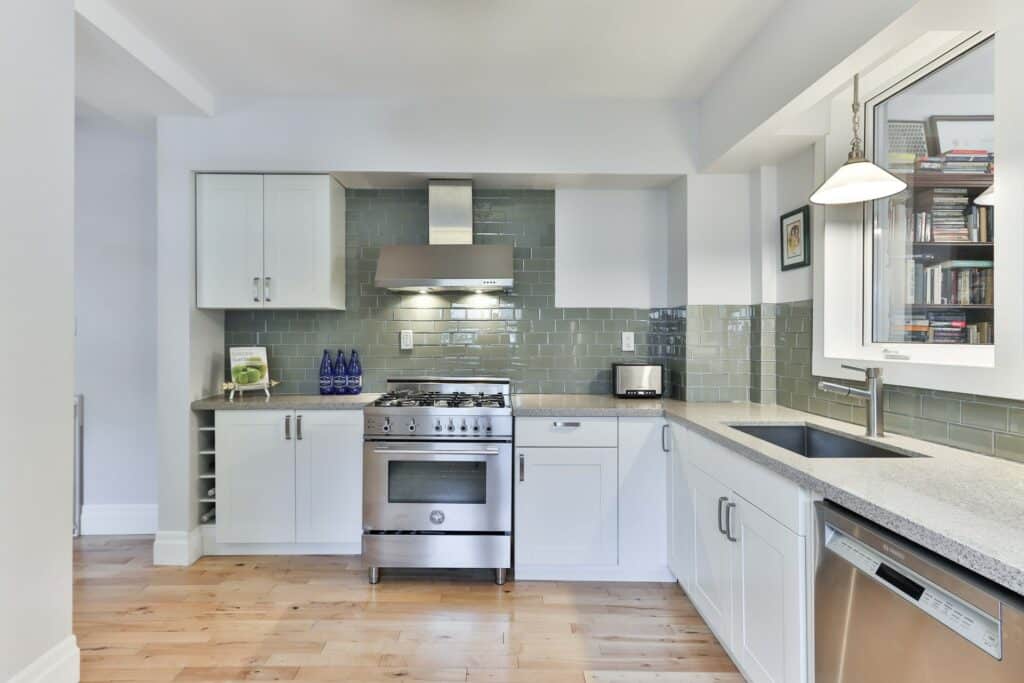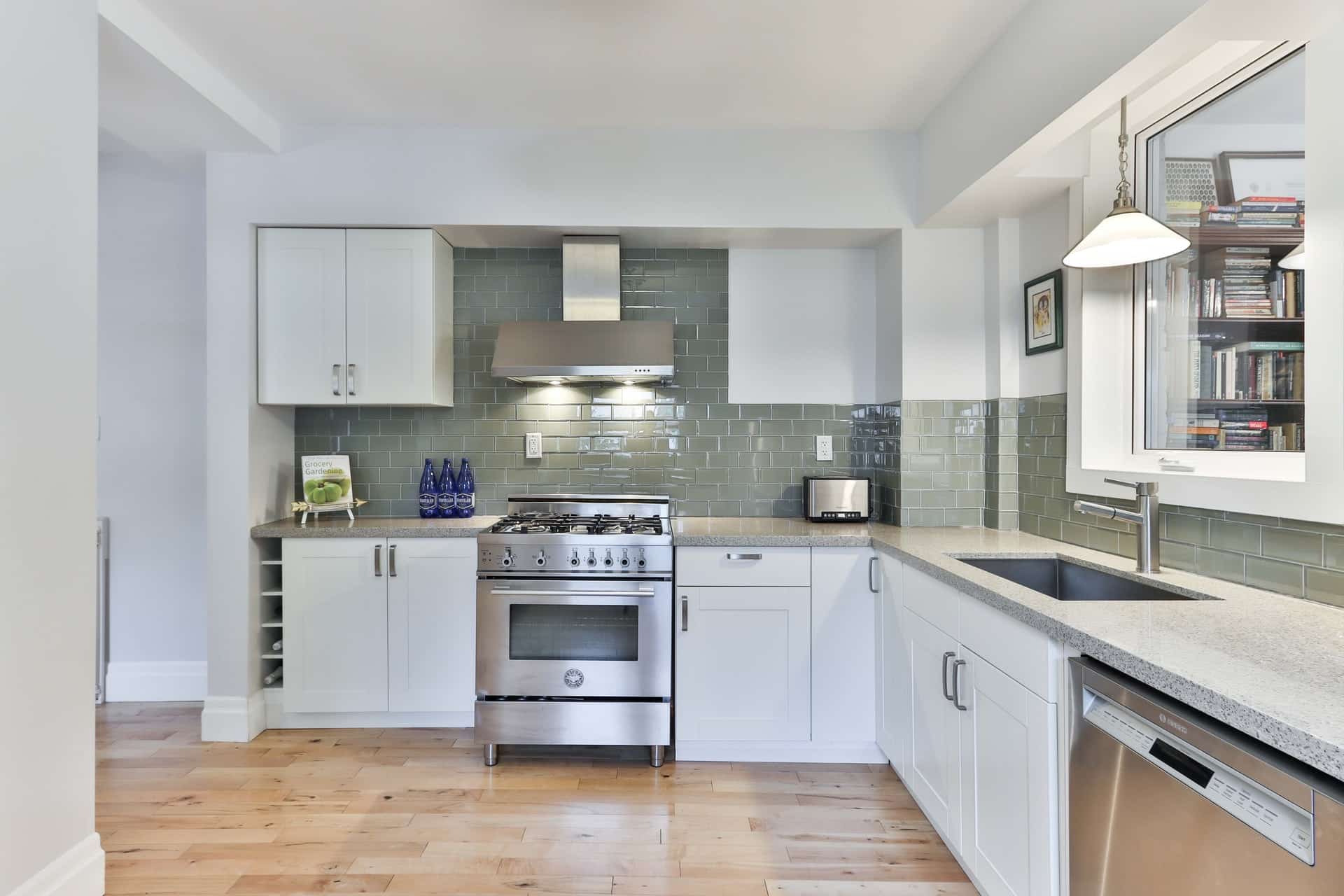 Photo by Sidekix Media on Unsplash
You can intermix individual glass tiles with several other products like ceramic tiles or marble tiles to create a gorgeous accent within a backsplash's area. It is a cost-effective way to integrate costly designer glass tiles into your room's design.
If you want a modern look in your kitchen, you can go for plain, transparent glass or dramatic tiles in red or orange. A combination of vibrant recycled glass tiles adds to the kitchen's down-to-earth charm in traditional kitchen remodels.
Furthermore, you can use standard, flat glass backsplash tiles to create a stunning focal point for modern kitchens with a timeless feel. The outcome is enticing but not overbearing, maximizing the overall look of a kitchen area.
Similar to ceramic tiles, you can also build Glass tiles using a mortar and a flat-edge trowel. They're also a pretty straightforward DIY kitchen remodel project.
Use Glass Tiles as a Border or a Strip
You can use a series of individual tiles or mosaic sheets in an area of ceramic tile or another material—either as an interim accent pattern or as a border at the upper edge of the backsplash. 
Honestly, it is a perfect way to use glass tiles. Once you reserve glass tiles for a border or band application, the design choices are nearly limitless. 
Factors To Consider
We know how to use glass tile for kitchen backsplashes, now let's dive deep to understand why you should choose it during remodeling your kitchen.
A Unique Look
Glass tile comes in a range of designs and colors, depending on the manufacturing process. Some are heated, melted, and cooled, while others are cut and cold-cooled. 
There is no heat in cold production; only the glass is cut. By contrast, you can produce cast glass combining grains and chemicals and heating them in a tank before pouring them into trays to cool. The texture, color, scale, and shape all influence the final product. Some glass tiles have tiny bubbles within them, giving them a "still wet" appearance and resulting in rare and unique tiles. 
Glass tile is also available in many colors and textures, allowing for countless customization options, and its flexibility makes it suitable for both indoor and outdoor designs.
Durable 
Homeowners rarely link glass with long-term durability, but glass tile is just as durable as ceramic tile. Glass tile, by its very design, has qualities that make it more durable than ceramic tile. 
Also, glass tile does not absorb moisture since it is not porous. Moreover, moisture absorption is a tile project's worst nightmare, as it can lead to mold and mildew. As far as you install your glass tile properly, there won't be any concerns. 
Installation Process
Most tile installers will claim that there isn't much of a difference between installing ceramic and glass tile. Glass tile is relatively simple to install. Some contractors get caught up on the glass cutting, but it's not that impossible to put in. 
Usually, you use glass tile as a design piece, but you may also use it for larger projects such as complete walls or bathroom ceilings.
Glass tile installation, like ceramic tile, requires placing the glass on the work surface. Since glass tile is transparent, the thin-set is usually white to ensure a clear backdrop that does not interfere with the color of the glass. 
Because the glass tile is transparent, the thin-set or subsurface must be flawless. If you use tile in the bottom of a pool, for instance, you must straighten the thin-set, or it will show.
Use Grout For Long-Term Care 
Mainly, grout is responsible for the durability and appearance of the glass tile installation. Epoxy grouts are becoming increasingly common to use with glass tile due to their durability, strength, and compatibility with the material. 
Grouts are resistant to stains and decay due to the chemical composition. They're also non-absorbent and non-porous.
Epoxy grouts prevent the growth of mold and mildew, which is a common problem with standard concrete grout. It is because cement-based grout absorbs moisture, and you must seal it every two years to protect it.