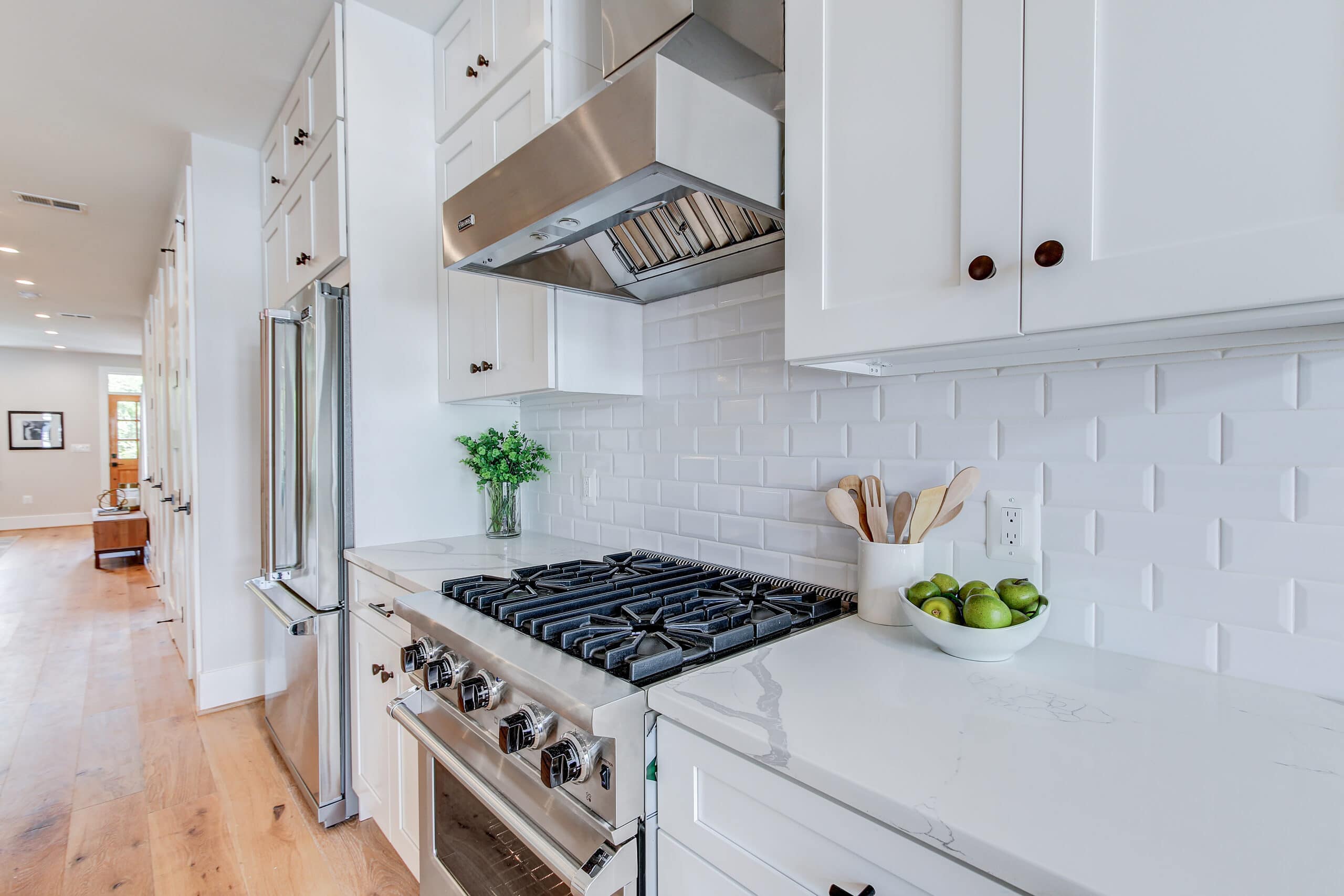 What Are The Top Tips For Choosing Kitchen Backsplash?
The kitchen backsplash is the area that fills the gap between your kitchen cabinets and countertop. It usually stretches to the countertop's length and serves as a protection for the wall against the damage possible by water. It would help if you emphasized its importance as much as you do for other kitchen segments. 
It's understandable to have a hard time choosing kitchen backsplash while remodeling your kitchen. You can try popping colors in contrast with your kitchen or go for eco-friendly backsplashes to complement your space. 
Going on these lines, here are the tips that will assist you in choosing kitchen backsplash to enhance your kitchen's design and functionality while avoiding common kitchen backsplash mistakes.
Stop Matching The Colors
As the backsplash fills the gap between the kitchen countertop and cabinetry, people assume that it should match the countertop color. But this is not always true while creating the perfect kitchen backsplash.
Yes, color matching may seem practical in other manners, but in the kitchen backsplash, the main aspect is functionality. Colors don't require much attention, but they should coordinate well with your kitchen design. 
Hence, it's not mandatory to choose the kitchen backsplash by keeping in mind the countertop's color. Instead, you can go with similar material for both the countertop and backsplash if you want cohesiveness. 
Choose a Sustainable Kitchen Backsplash
Just like the kitchen countertop material, choosing an eco-friendly kitchen backsplash material is the need of the hour. If you are wondering about such materials, a cork kitchen backsplash is a good option. 
If you're thinking about tiling the backsplash area, nothing beats the cork mosaic tiles. Such tiles are ideal for your kitchen and bathroom flooring and walls and are made of 100% bamboo. But appearance-wise, you won't feel the same. 
Another eco-friendly option is recycled glass tiles. These tiles are stain-resistant, crack-resistant (to some extent), and durable. The recycled glass tiles and ceramic tiles are available in an assortment of colors and sizes to choose from. 
The best thing about eco-friendly kitchen backsplashes is that they are way more economical, reliable than others, and easy to clean. 
Tiles or an Integrated Finish?
While choosing kitchen backsplash, you might wonder whether to extend the countertop onto the wall to let it function as the backsplash as well. Or add complementary tiles or other material to deck up the space between the sink and the stove. Both ideas are viable for kitchens for these two reasons. 
First, the integrated finish will ensure a continuous countertop flow through the backsplash area. Second, tiles will add a new dimension and aura to the kitchen remodel.
If you want a mix of both, it's also quite doable. For this, you can add a 3-4″ integrated backsplash and top it up with tiles of your taste and preference. In the end, it depends upon you how you want your kitchen remodel to come out. 
Keep the Backsplash Function in Mind
First and foremost, choosing kitchen backsplash shouldn't blow up your kitchen remodel costs. Hence, you should plan out the other big-ticket accessories for your kitchen and then shop for the backsplash to add to the list.
The style will have its role, but it shouldn't alter the function of the backsplash either. As the kitchen backsplash catches the everyday kitchen spills and splatters, its material should allow easy cleaning and maintenance.
If you are a messy cook who spills everything around, the material of your kitchen backsplash should allow you to wipe it off quickly and also be heat and stainproof. In this regard, granite and marble don't seem to fit well and hence, you should go for a ceramic material. 
Go for a Mix of Varying Tile Sizes
While picking a kitchen backsplash, you don't need to go with tiles of only one size. To revamp the area around the countertop, it's advised to go with a mix of tiles having varying sizes and colors. 
You can choose more oversized tiles to form the layout base and incorporate smaller tiles of different colors to carry your eyes across the countertop length. In this case, you can pick both plain tiles and patterned tiles. 
Incorporate Stone Backsplash 
While someone will suggest you go with tiles, the other will recommend marble. But only a handful of people will propose a backsplash with a stone finish.
Subtle stone backsplash over a marble countertop with the earthy tones of your kitchen cabinets and flooring is a perfect mix of elements and texture.  Further, you can magnetize the stone backsplash to attach some decor items to it.
Invest in a Suitable Grout for Your Kitchen Backsplash
Hardly anyone will talk about the importance of a suitable grout for your kitchen backsplash. As the backsplash is there to protect the walls behind it from the everyday kitchen spills and splatters, the grout's quality comes into play here.
In general terms, grout is a dense fluid that fills up space or joints between two tiles to set them on the wall firmly. They are available in both poor & cheap and good & reliable quality.
While the former will require time to refill, the latter will remain like before for years to come. Hence, if you don't want to expand your expenses while maintaining the kitchen backsplash, invest in a suitable quality grout while remodeling your kitchen.
Think About The Wear and Tear
There are several materials available for the kitchen backsplash, and each of these requires different maintenance levels. For example, while the natural tiles ask for frequent cleaning to keep their gloss intact, the stainless steel tiles ask for safer use to prevent dents or scratches. 
Again, while choosing kitchen backsplash materials, it's important to consider their durability along with the maintenance requirements.
Avoid Glass Kitchen Backsplash
Though the kitchen backsplash consisting of glass tiles seems cool and glossy, it's not reliable enough to find a place in the function of the backsplash. This is because such material can break off easily, and it's not suitable to withstand the extreme heat of the kitchen.