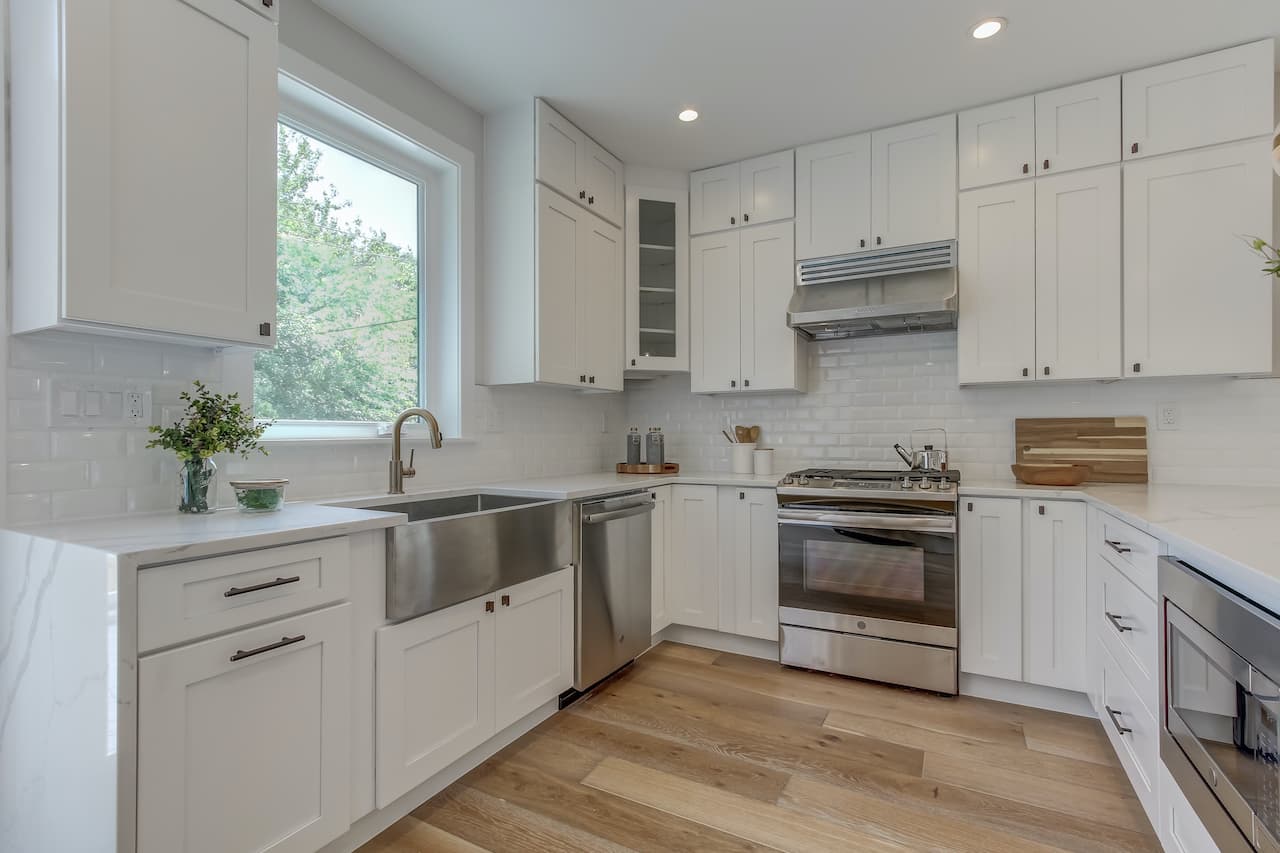 Farmhouse Kitchen Ideas: How to Get the Right Look
Farmhouse kitchens are well known for their use of traditional materials and lovely retro appliances that evoke a warm feeling of nostalgia. Thus, the scope for innovative farmhouse kitchen ideas has been becoming increasingly vast. However, many people are now showing a preference for kitchen remodeling design ideas that combine that relaxing countryside feeling with a touch of modernity.
A popular perception is that vintage farmhouse style and modern designs are like oil and water. Now, however, creative minds have proven that to be untrue. Today, there are many beautiful designs available to help you get the right design while remodeling your kitchen. This article aims to acquaint you with some of the best farmhouse kitchen ideas for your home.
The Classic Look

Among farmhouse kitchen ideas, respect for tradition plays an important role. You can achieve an appealingly rustic feel by going for carefully selected vintage-style elements.
For instance, bearded-board panels add charm and richness to your pantry door, backsplash, wall, and kitchen island. With the help of simple wooden stools and counters, you can bring in a country store's ambiance.
Choose Warm Colors
Innovative farmhouse kitchen ideas give appropriate importance to colors during the kitchen remodel process. For example, shades of sunshine can make your kitchen glow like the radiant sun, even on a rainy day.
Add some delicious contrast by including a farmhouse-style sink and countertops crafted from dark stone. Similarly, you can respectfully blend modernity with tradition by going for a maple island countertop and pine flooring.
All-Out Modern
Certain farmhouse kitchen ideas choose to be from modern kitchen remodel trends. We get to see contemporary takes on vintage materials. For example, a sophisticated color scheme with shades of black, white, and grey can beautifully represent the modern farmhouse aesthetic.
Classic marble selected for the kitchen island gives a timeless look. All of it is accentuated with the help of abundant natural sunlight streaming in from the large glass doors and windows.
Mixing it Up
Another popular theme amid farmhouse kitchen ideas while remodeling your kitchen is to show off the positives of the place without hesitation. For example, open shelves allow you to display your fine glassware collection and cutlery to your guests while integrating it in your kitchen remodeling design ideas.
When combined with colorful accents, the effect produced is even more magnificent. You can add a touch of enchanting warmth by including a dark wood floor and simple wood knobs.
Go for Something Refreshing
White cabinetry is quite possibly the most classic of farmhouse kitchen ideas one can go for. Large industrial pendants go well with the kitchen island, creatively crafted from black granite to serve as a freestanding farmhouse table.
You can add a vintage apron-front sink and silvery cup pulls to enhance the traditional vibes further. Similarly, your farmhouse kitchen stays clean updated when you add little recesses on the doors.
Consider Jewel Tones
You can give your farmhouse kitchen a stylish twist by including jewel tones in the color palette. For example, Shaker-style cabinetry is painted in a rich, dark jade color for a regal effect. They go particularly well with brass drawer pulls and knobs.
Similarly, you can hang milk-glass pendants over your kitchen island for a sprinkling of nostalgia. You can also add simple barstools to provide useful eat-in seating for your family.
Large casement windows flanking the range allow plenty of natural light to enter your kitchen. You can make daily cooking even more convenient by using easy-to-clean quartz surface countertops.
Pay Attention to Durability
Thoughtful farmhouse kitchen ideas give equal attention to aesthetics and functionality while remodeling a kitchen. You can consider installing butcher-block countertops and reclaimed wood floors. These materials are known to resist wear and tear over time while providing creamy natural texture for your visual pleasure. They also balance out darker shaded cabinetry if you choose to go for it.
Similarly, the cast-iron range is topped using a customized zinc hood that is sturdy and gains patina over time. Copper pendant lights beautifully light up the entire space from above. You can add in glass-front cabinets to proudly display your collection of dishes and quality kitchenware.
Add a Social Element
Most importantly, your farmhouse kitchen remodel needs to have an inviting atmosphere. You should consider adding a space therein for your family and friends to sit down and relax together.
A good example of redesigning your kitchen is using an expansive kitchen island with stool seating arrangements. You can enhance this welcoming feel by adding open shelving and big grilled windows. Amid shiplap walls and classic white kitchen cabinet color, black window frames and fixtures provide appealing contrast.
Size Isn't Everything
You needn't let a small floor plan hold you to narrow down your farmhouse kitchen ideas. Using some neat kitchen remodeling service, you can enhance the perception of square footage. At the same time, you will be underscoring the aesthetics of your farmhouse.
For example, you can use attractive panel molding to direct your guests' attention upwards, which visually expands your ceiling's height. 
Similarly, you can replace upper cabinetry with open shelves along one wall to feel expansiveness. White subway tile-lined with black grout makes for a dramatically themed counter-to-ceiling backsplash.
Get Innovative with Your Kitchen Island
By adding freestanding items to your farmhouse kitchen, you can produce the feel of a space that has evolved with time.
 For example, you can go for a kitchen island styled as a table with turned legs. Combined with cup-style pulls and open shelving, it will serve as a splendid and useful centerpiece of your kitchen.
Dark wood flooring complements the natural stone countertop and rusty red color of the island's farmhouse flair. You can add other vintage elements for a better effect as well. These include antique lamps fashioned into pendants and the classic apron-front sink.
Pay Special Attention to Details
Often, the mere difference between an extraordinary kitchen and a merely functional one is the level of detail. You can produce the feel of an old beach cottage by adding elements like rustic corbels under your island countertop and bearded-board surfaces. Similarly, you can include stools modeled after old schoolhouse chairs.