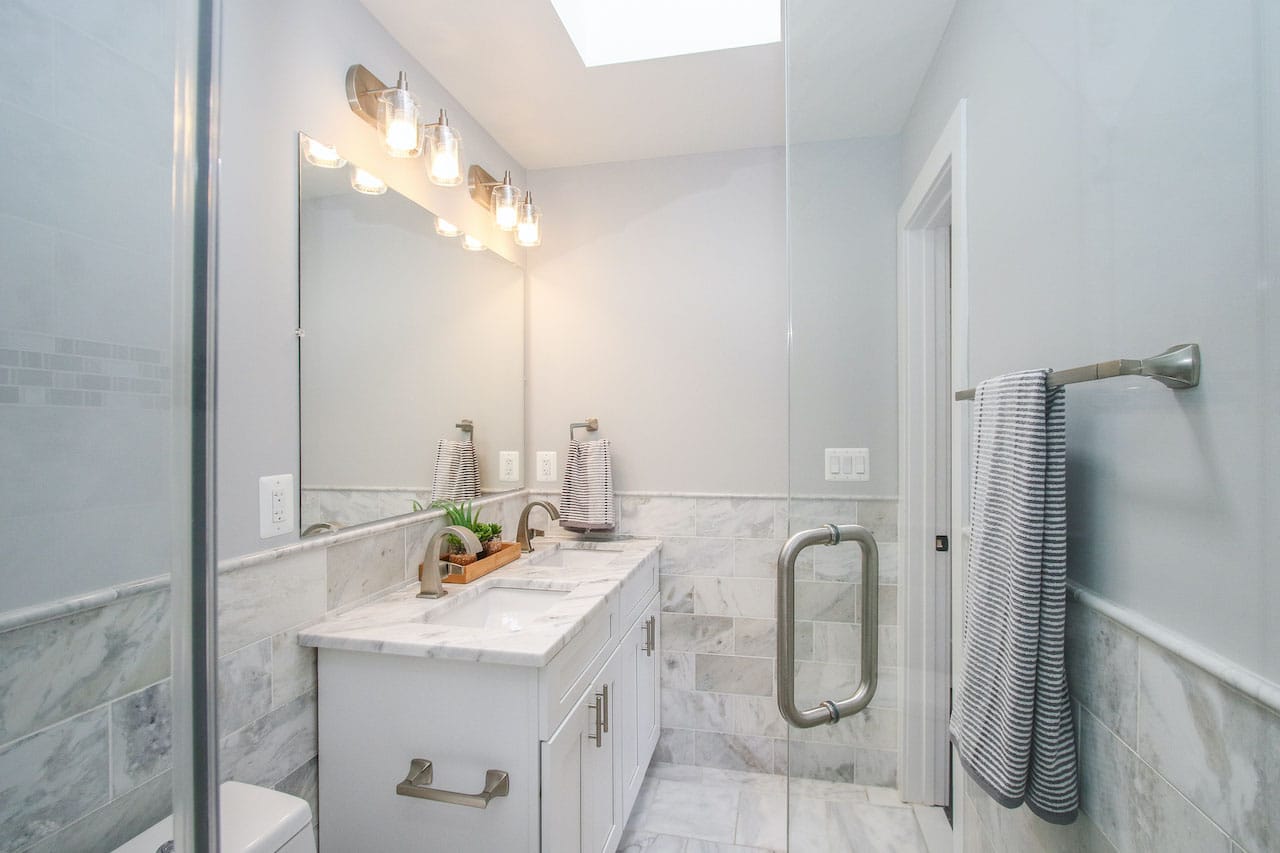 Cost of Bathroom Flooring: Everything You Need to Know
The size of your bathroom plays a significant role in influencing the total cost of the project since the material cost is calculated per square foot. The cost of bathroom flooring, for instance, relies on the bathroom size, the existing floor's condition, and the finish options you want.
The other thing that decides the cost and your total budget of the bathroom flooring renovation is the material you wish to install on the floor. Materials such as concrete, ceramic, vinyl, linoleum, and engineered wood are among the most popular options. 
Generally, a 120 square feet bathroom costs between $1363 and $2104.83, and the national average price is quoted as $1733.91. The actual price for your bathroom flooring will depend on the factors that are there in the above paragraph. It includes the size of your bathroom, the material you choose, and the existing floors and subfloors' condition.
Here is the cost breakdown of the total cost of bathroom flooring you may incur if you plan to replace your tiles during your bathroom remodel.
Average Cost of Bathroom Flooring
The cost of the bathroom flooring material falls in the range of $1.82 to $2.39 per square foot. The national average cost is around $2.10 per square foot. The total budget, which includes the materials and labor cost, runs between $11.36 and $17.34, with the average cost being $14.45. The major chunk of the cost here depends on the material that you choose.
There are several types of materials suitable for bathroom flooring. Engineered wood is most preferable by consumers since it is better than solid wood and works equally well.
Vinyl and linoleum also make great options for your bathroom flooring. They are relatively inexpensive and available in thousands of colors and styles. People also prefer ceramic tiles since it is durable and water-resistant and one of the high-end materials.
Here are a few options with estimates which will help you decide the total cost of bathroom flooring for your bathroom remodel.
Concrete Flooring
If you plan an industrial-style bathroom remodel, there is nothing more suitable than concrete bathroom flooring. It gives your bathroom the modern and subtle look which is trending in today's time. The best thing about concrete flooring is that it is very affordable, especially if you are looking to install it in your bathroom.
Most bathrooms already have concrete below the layer of sheet vinyl or ceramic tiles on the basement floor or the slab foundation. You can simply remove the existing flooring and patch the concrete floor beneath it. Polish it and add some finishing to give it a sophisticated and sleek look. 
If you have a non-concrete subfloor, the contractor may need to add it, and it will cost around $2 to $3 per square foot. If you already have an existing concrete floor, the cost of bathroom flooring comes to $3 to $6 for a complete finish depending on your bathroom layout.
Some people wish to have a decorative finish, which will add a cost of $2 to $6 per square foot. An elaborate artistic work will cost around $10 per square foot.
Linoleum Flooring
Linoleum is a natural stone and is made from linseed oil. It is a prevalent choice among eco-conscious consumers who are also looking for budget-friendly options. Linoleum is very similar to vinyl, which makes it quite cheap and has similar benefits too.
You may want to think twice before adding linoleum flooring to your house since it leaves an unpleasant and pungent odor after its installation. However, the odor only lasts for a few days.
The material cost of linoleum flooring varies between $2 and $5 per square foot. You may require professional help to install this flooring, which adds an additional cost of $3 to $10 per square foot.
Standard Vinyl Flooring
Standard vinyl flooring is trendy and prevalent in most bathroom remodeling projects. It is easy to install, and therefore preferred by DIYers as well. It is also highly resistant to water, stains, and damage, making it an excellent option for bathroom flooring. 
Vinyl bathroom flooring comes in various colors, patterns, and designs. It is the perfect option for people who wish to have a moderate budget and still want beautiful flooring for their bathrooms. 
The material cost of standard vinyl ranges between $0.50 and $4 per square foot. The installation and labor costs of vinyl flooring range between $3 and $10 per square foot.
Ceramic or Porcelain Flooring
Ceramic is again a popular choice among people who want an expensive-looking bathroom remodel. It goes well with both the traditional and contemporary décor of the bathroom. While it is beautiful, it is prone to stains and moisture, so it's important to get your bathroom tile right. 
When you'e choosing your ceramic flooring, you can go for glazed ceramic, which is covered with a layer of melted glass coating. It comes in various patterns and colors and is impervious to stains and water.
Ceramic or porcelain floors are considered high-end flooring materials because of their design. They are comparatively more expensive than other materials, but if the bathroom size is small, the total cost will be well under budget.
That being said, ceramic and porcelain are not easily to install, and you will need to hire skilled professionals to install the flooring for you. The material cost of bathroom flooring ranges between $2 and $10 per square foot. Moreover, the labor cost for installing them varies between $4 and $14 per square foot.
Luxury Vinyl Flooring
Luxury vinyl flooring (LVF) is an upgrade from standard vinyl bathroom flooring for small bathrooms, and more and more people are starting to realize that. It is a thicker form of the standard vinyl and is installed as planks.
Luxury vinyl looks very similar to ceramic, natural wood, and natural stone bathroom floor, making it a perfect option. It comes in various styles, and you can effortlessly convince your guests that the wet area in your house has managed to sustain wooden flooring!
Luxury vinyl flooring costs around $2.50 to $6. If you wish to hire a contractor for its installation, the labor cost of bathroom flooring will be between $3 and $10.