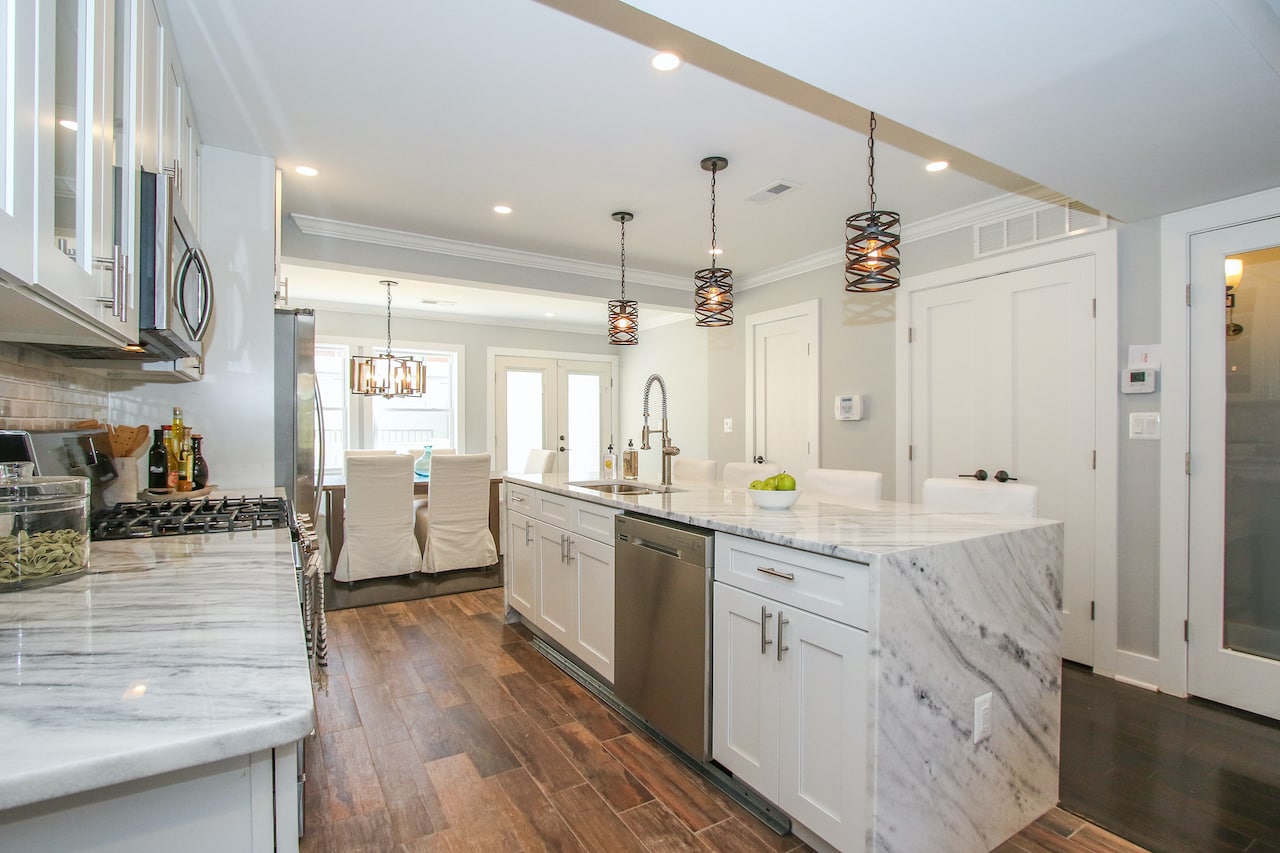 Cost of Kitchen Flooring: Everything You Need to Know
Kitchens are an essential part of the house, and you must look after them carefully and thoroughly. The flooring is a crucial element of the kitchen, and it must look and feel good. The cost of kitchen flooring varies, depending on several factors such as the material, the kitchen's size, etc.
Many people opt for ceramic, vinyl, natural stone, and tile for their kitchen flooring. These materials offer many colors and styles, and their prices vary from single digits to hundreds of dollars. The cheapest material is peel and stick flooring but it is not really durable.
The quantity of the material used plays a vital role in deciding the total expenditure. And therefore, you need to choose the right material correctly. When picking out the material for your kitchen, keep in mind the budget you have set and whether the material's look suits your kitchen décor.
Here is a detailed breakdown of the cost of kitchen flooring to help you find the right kitchen flooring options for your kitchen remodel.
Cost per Square Foot of Kitchen Flooring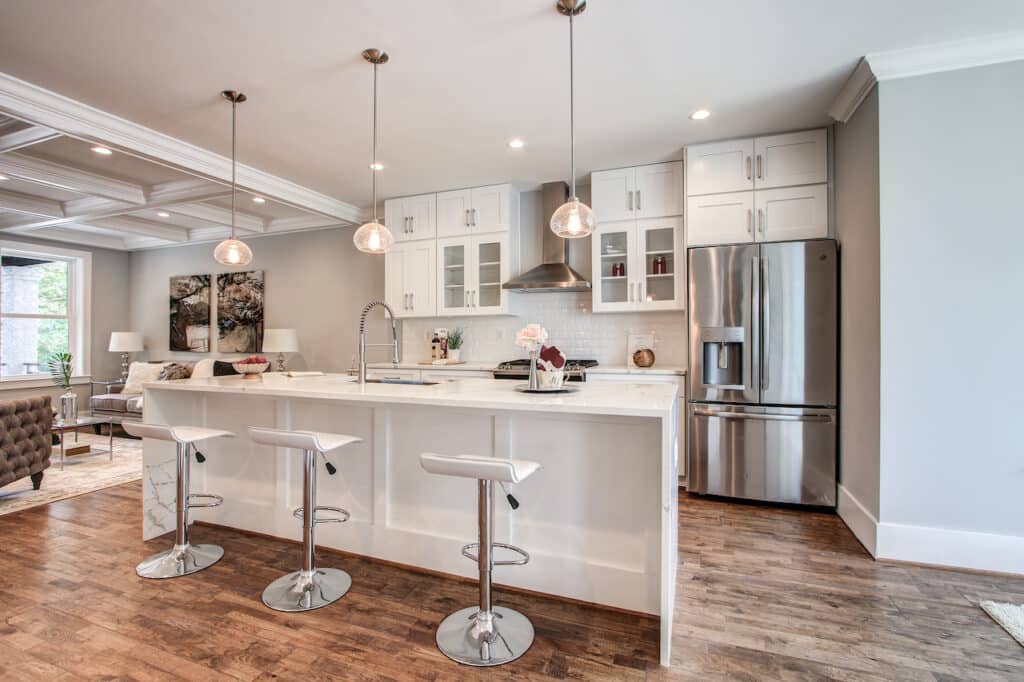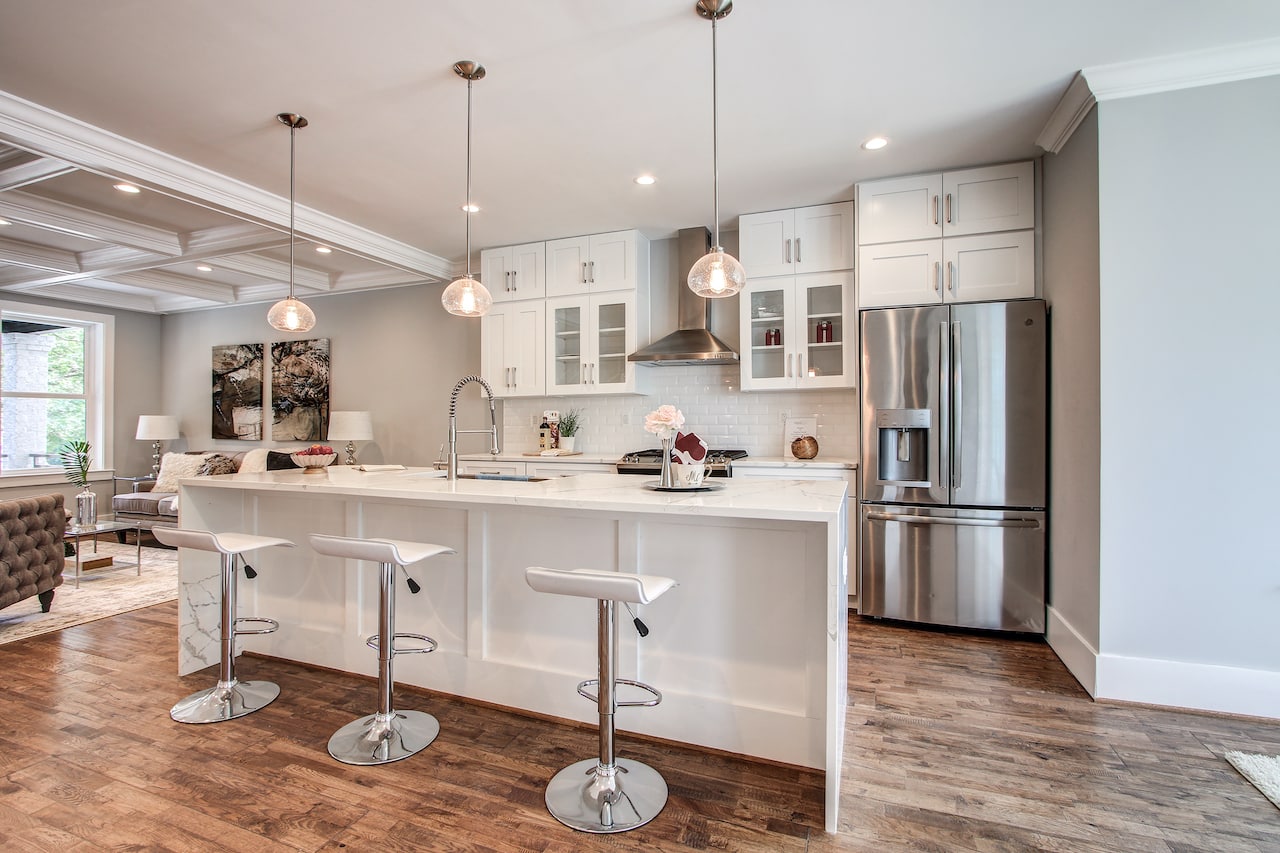 The highest your flooring material can cost is $18, and the lowest it can go is $3. On average, the cost of new kitchen flooring is $8 per square foot. The primary things you must consider carefully before finalizing any material are the local climate, dirt attraction, which part of the house you want to change the flooring in, and the foot traffic.
The budget you have set for new flooring is an essential factor that you need to keep in mind while deciding the flooring material. There are many options to choose from, and you must pick the one that suits your interest best.
People generally choose kitchen flooring that cost between $6 and $10 per square foot. As mentioned above, the final cost of kitchen flooring mostly relies on the material. The total cost depends on the installation method, the production cost, and whether you do it yourself or hire a professional to install it for you.
Different Types of Flooring Materials
Different common flooring materials cost differently, from less than $1 up to $15. Here are a few materials for your new flooring with their average selling and installation costs for your next kitchen remodeling project.
Laminate Flooring
Because of its similarity with other high-end materials such as natural stone, tile, or wood, and its comparatively cheaper cost, laminate is preferred by many people. This makes it an excellent option for your kitchen flooring. Laminate does not even require a lot of maintenance, is very durable, and you can easily install it without removing your existing flooring.
The installation cost of laminate flooring is around $5500 for a 1000 square feet kitchen. Per square foot, the cost is between $6 and $9 on average. The cost to install laminate flooring with the help of a contractor and subcontractors is $36 per hour. The contractor takes a separate fee of 15% to 20% of the installation's overall cost.
Tile Flooring
Because tile comes in many different materials, the cost can range from $6 to $20, depending on the type of tile choose for your kitchen remodel. It may cost you between $6000 and $20000 to cover a 1000 square feet room. The average cost of tile flooring ranges between $2 and $15 per square foot for your kitchen.
Tile flooring is easily maintainable and highly durable, and that is why people opt for it widely. It is also greatly water-resistant. The downside of installing this flooring in your kitchen is that tile can get challenging to install and needs professional help, costing you extra.
Another downside of these tiles is that they break very quickly, so you must avoid dropping things on the floor. They can also become quite slippery when it is wet, which is hazardous to the homeowners.
Vinyl and Linoleum
This material costs between $500 and $5000, and the cost to install vinyl and linoleum flooring runs between $3000 and $7000 for a 1000 square feet room. If you break down this cost, the average falls between $3 and $10 per square foot. In many places, vinyl or sheet flooring can cost you as low as $0.84 per square foot for your kitchen remodel.
Planks and tiled vinyl can cost you between $1.85 and $3, and luxury vinyl can cost up to $10 per square foot. The thing you need to keep in mind is that you must install vinyl on a flat surface.
Some other considerations are that you must seal linoleum after installing it and repeat it once every year. The good thing is that vinyl is very budget-friendly and has many options. It is also water and heat-resistant.
Hardwood Flooring
Hardwood flooring for your kitchen remodel can cost you between $6000 and $22000 for a 1000 square feet room. The average cost of installing hardwood flooring is $8000. Hardwood flooring has many options, such as parquet, engineered wood, and other lumber species that will cost you between $3000 and $14000.
People prefer to install hardwood flooring in their kitchens since it is very durable, it is suitable for any room of the house and décor, and the grain is palpable too. The colors range from a light and airy maple to dark mahogany or walnut. Hardwood flooring has different finishes also, such as satin, matte, gloss, and semi-gloss.
Flooring Installation Cost
Apart from the material cost, you also need to consider the installation cost for your kitchen remodel. It ranges between $3 and $22 per square foot on their flooring, depending on the material. The average cost of kitchen flooring ranges from $3 to $10.
The round-off figure would be between $1500 and $4500, depending on the size of your kitchen layout. People generally pay around $3000 for a 500 square feet kitchen.