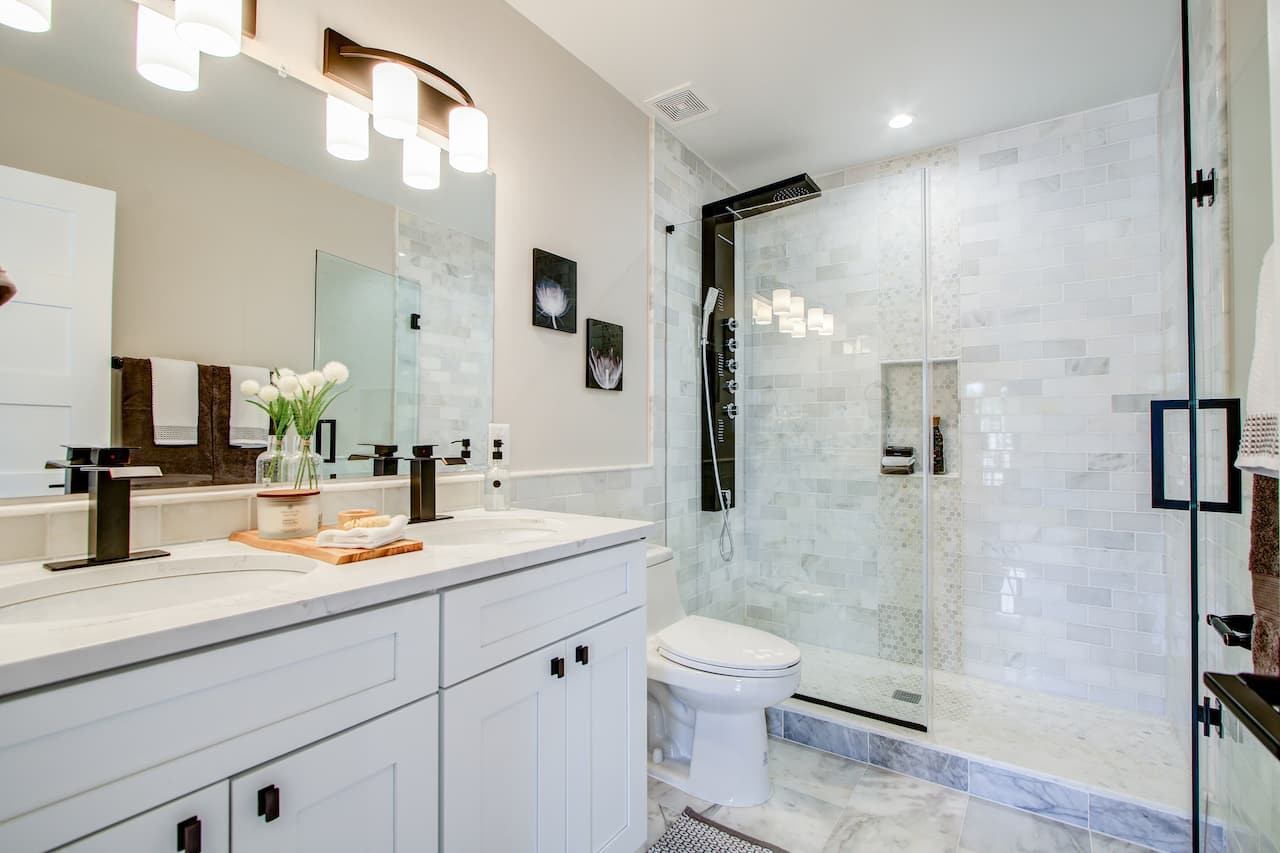 10 Tips for Choosing Bathroom Lighting During a Remodel 2023
Adding wall sconces over your vanity or using dimmers to create a soothing feel are some of the trendiest bathroom lighting ideas to go for while choosing bathroom lighting. Irrespective of your bathroom's size and its decor, choosing bathroom lighting is an overwhelming process that asks for some effort. 
Your bathroom vanity, master marble bathtub, floating sink, or a separate bathing section all will need their separate lighting fixtures. Additionally, your lighting must go hand-in-hand with the overall bathroom design.
Listed below are some advanced tips for choosing bathroom lighting that you can implement during your bathroom remodel. 
1. Wall Sconces Above the Vanity
Wall sconces are something you can't miss out on for your bathroom. You can either install them in the upward direction or downward direction. The best benefit of using sconces is that you don't need to bother about the space as they fit in the wall. 
Further, they are suitable for all your bathroom elements like the vanity mirror, cabinetry, etc. For the vanity, you can fix a set of sconces on either side of the vanity mirror to reap ample light for a luxurious feeling. 
2. Make a Statement With Pendant Lights
If the bathroom has sufficient natural light, direct lighting from the sconces is not a necessity; pendant lights are better options. Besides this, a secondary light source on the ceiling is also a worthwhile deal. 
In all cases, pendant lights should occur on the top of your wishlist. To understand their splendidness, turn on the pendant lights at night and discern how they can lend your bathroom a touch of drama and character. 
To your amazement, pendant lights are available in a plethora of shapes, styles, and colors. So, you don't need to ponder over the same style for every element of the bathroom.
3. Consider the Bathroom Finish
Though the light elements may not match your bathroom finish, interior designers feel otherwise. If you're planning to adjust multiple lighting sources in your bathroom, maintaining unity among them and the bathroom can do wonders.
For instance, if you are planning to install classic scones, ensure that you are choosing bathroom lighting to also reflect the same and they aren't just for a contemporary bathroom remodel.
4. Light up Your Bathtub Area
Many of you may feel that the bathtub area doesn't require any separate lighting and gets enough light from the central lighting. However, that is not the case when you're preparing for a bathroom remodel.
The bathtub is another significant part of the bathroom whose presence gets elevated with separate lighting. For this reason, don't go with overhead light sources while choosing bathroom lighting as it is among the essential steps to bathroom remodeling. 
It's because a soothing setting is difficult to accomplish from an overhead light source like a pendant light. Hence, fix either a pair of wall sconces or an extended sconce around the bathtub's tap area. This is another tip while choosing bathroom lighting. 
5. Choose Proper Light Finishes
Merely choosing the lighting isn't enough to light up the bathroom the right way. The finish is another vital characteristic of a practical bathroom lighting you must cater to while remodeling your bathroom. For example, materials like brass and chrome are the two most versatile light finish options you can start with.
Besides their appearance, both these materials are immune to moisture and can blend with your other bathroom accessories.
6. Try Accent Lighting
Is your bathroom decently sized and constitutes multiple elements? If yes, you can use accent lighting to accentuate each of them to improve your bathroom remodel ideas. An accent lighting tends to lend your bathroom space a spa feel with the aid of its soothing light.
You can choose among the four types of accent lighting that include specular, hard, soft, and diffused accent lighting. Each of them finds suitability around various elements and locations within the bathroom.
7. Install Dimmers in Your Bathroom
You may have light dimmers in other rooms of your home but not in the bathroom. For example, they are common in bedrooms, living rooms, kitchens, garages, etc. However, many people overlook them when it comes to a bathroom remodel. 
A dimmer also allows you to monitor the emitted light's radiance, and having one in the bathroom is a fruitful decision. This will prevent the assaults of your eyes from the high radiance, especially at night. 
8. Use the Right Type of Bulb
In any case, if you want to keep the bathroom lighting simple, you can do so by paying heed to the light bulb styles and types. Coming to the classes, there are mainly two options when it comes to choosing bathroom lighting.
First, you have the traditional halogen bulbs that are long-lasting but a bit expensive option to consider. If the price is your priority, you can proceed with the modern-day LED bulbs. They are reasonable, longer-lasting, power-efficient, and emit cool light. 
Another feature associated with the LED bulbs is that they remain unaffected by the humidity during winters and are robust in build. 
9. Consider a Mix of Accent Lighting and Sconces
Using a mix of accent lighting with wall sconces is unique and worth giving a try. The best region within the bathroom suitable for this combination is around the vanity. As both these light sources emit sufficient light, rest assured of enough lighting for the entire area under consideration. 
10. Concentrate on the Light Quality
For any bathroom, the hue and tone of the lights are crucial to ponder over. This is because as you age, your eyes will require at least 3-4 times the current lighting against what you'd need now.
In addition to the light source's wattage, its lumens and color temperature are also worth considering. In terms of color temperature, always choose warm temperature lighting over cold ones.
This goes on the lines that warm lights are flattering, reduce shadows, hide smudges, and won't assault your eyes. Contrarily, the illumination caused by cold lights results in shadow build-up, shoves the eyes, and doesn't hide blemishes.