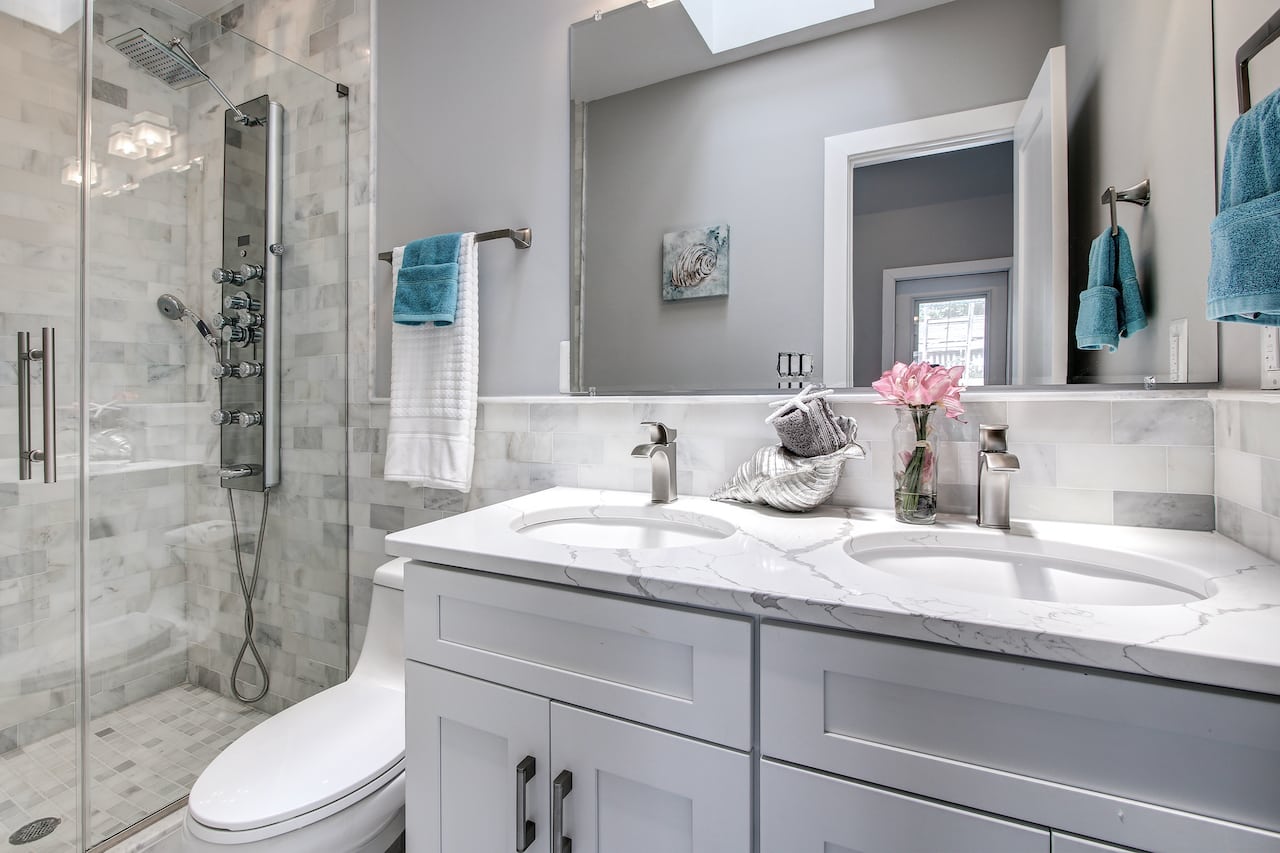 Bathroom Storage Mistakes and How to Avoid Them
A bathroom remodeling project is a serious commitment. Many people invest in a bathroom renovation to improve the resale value of their house. Unfortunately, even with expert guidance, they tend to make some common bathroom remodeling mistakes. A huge chunk of these tends to be bathroom storage mistakes.
Unless you are aware, it is very easy to fall prey to bathroom storage mistakes without even realizing it. Moreover, even a small bathroom with limited dimensions has potential space for efficient storage.
Therefore, it is in your best interest to utilize all possible space options at your disposal to their fullest. By bringing these mistakes to your attention, we hope to help you keep your bathroom well organized and functional over time.
Overhead Bathroom Storage Mistakes
One of the best ways to store all those extra bath products like towels is in overhead storage. Moreover, this overhead storage is placed right above your bathroom door. These waterproof units can be made either open or closed, depending on your preference. Additionally, it won't look like an imposing box while storing your everyday bath needs.
Interestingly, you can stretch overhead storage from one end of the wall to another, which is beneficial for small bathroom storage solutions. Furthermore, you can add a corner shelf along with this to place a small plant. As a result, you will be adding functionality and beauty together while remodeling your bathroom.
Not Utilizing Storage Products Properly
When mentioning bathroom storage mistakes, the inapt usage of storage products deserves special mention. For example, although most people have shelves installed in their bathrooms, they are often not used to store useful items. Instead, they tend to get crammed with decorative and extra items over time.
To help solve this, you can hide the functional but less-attractive items in hidden storage boxes or your vanity while leaving the more 'aesthetic' things out for display.
For example, you can put Q-tips and cotton swabs in glass containers. Consider getting a small organizer with drawers for storing more items in handy. By using the right storage products, you can keep your drawers and cabinets clean and organized. You can also group similar items using trays in drawers.
Similarly, you can separate every family member's toiletries from each other using dividers in drawers. Alternatively, you can simply get a designated box to store various items.
Neglecting the Bathroom Vanity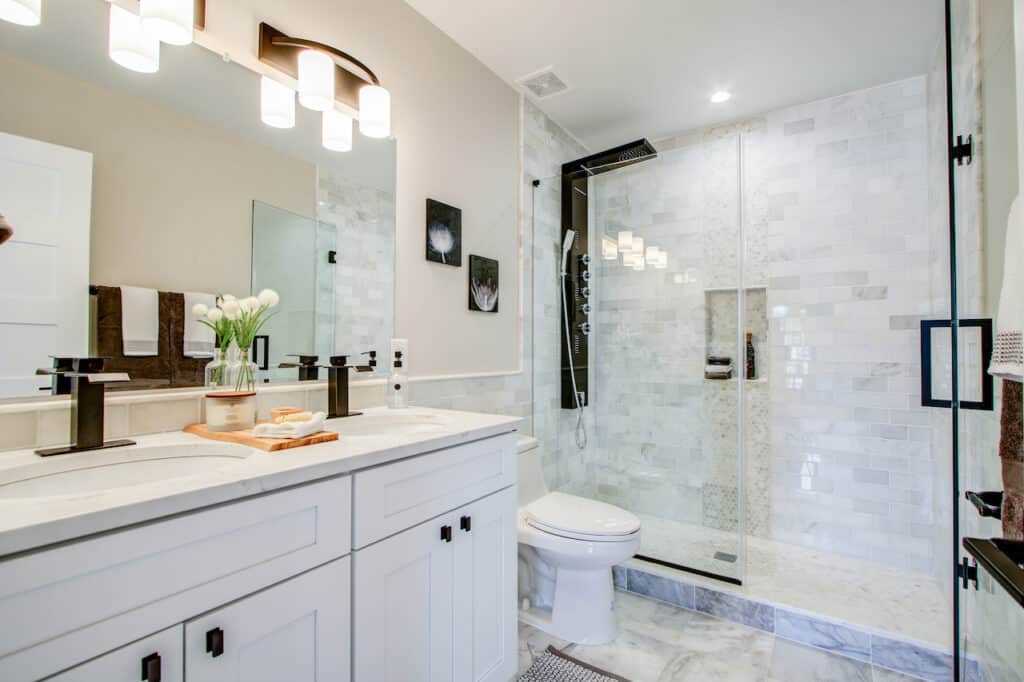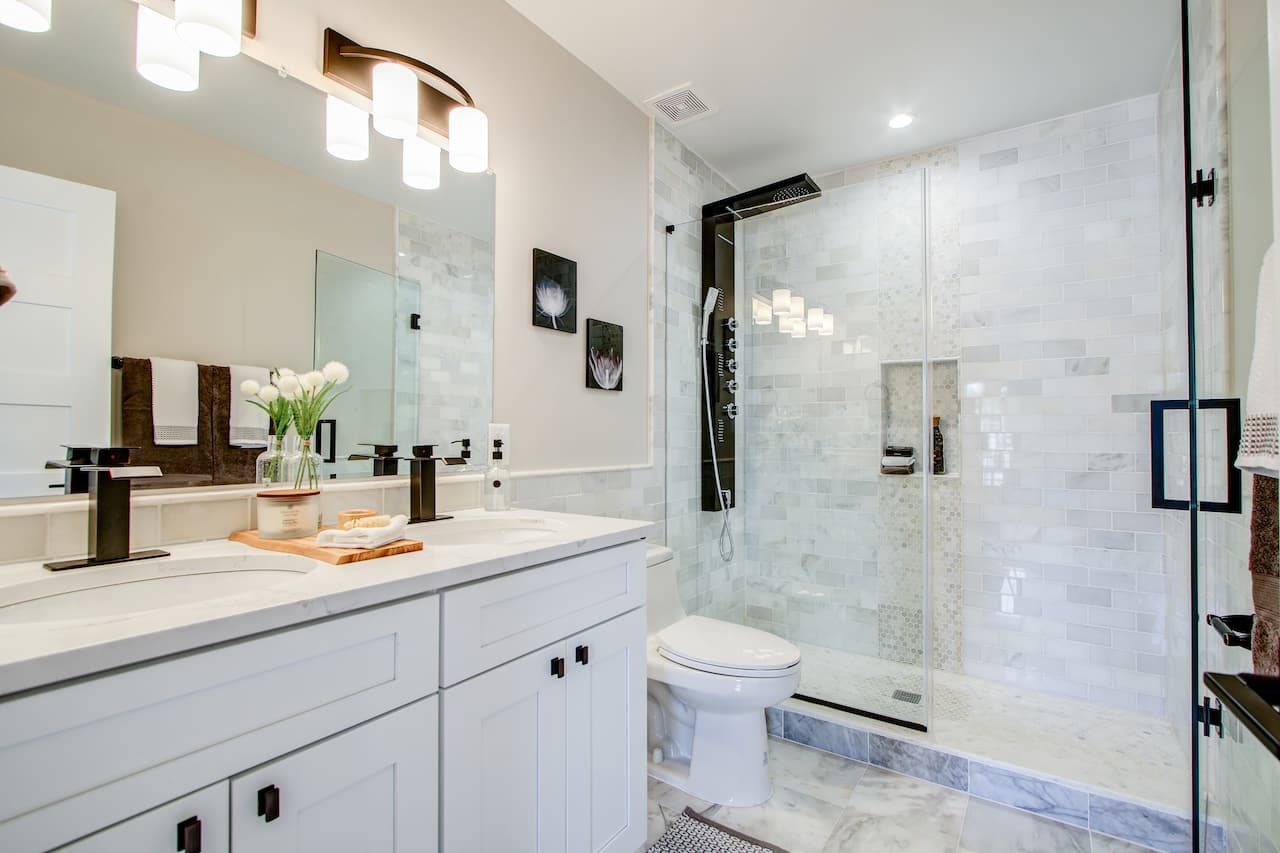 Neglecting the bathroom vanity can be one of the biggest bathroom storage mistakes you can make during a bathroom remodel. If you need adequate storage, nothing can beat the under-sink cabinets of bathroom vanities. 
Further, these units let you store extra bath products and clean supplies in a more neat, clean, and hidden manner. Plus, you get them in as ready units from several manufacturers. Consequently, neglecting the bathroom vanity can be a big mistake. 
Nevertheless, when choosing your bathroom vanity, make sure it is built using waterproof material and away from the shower area. You can also pick a wall-hung vanity unit that will help you free up space. Further, this will ease up cleaning and make your bathroom look spacious. 
Not Using the Bathroom Walls for Storage
The bathroom wall is an ideal space for storing several useful items. Unfortunately, not utilizing it properly during a bathroom remodel is one of the most typical bathroom storage mistakes you can make. You can come up with an innovative approach to renovate your wall space for efficient storage.
For example, you can go for a wall storage DIY to store your toothpaste and brushes. Install a concealed medicine cabinet to store your everyday skincare items. You will be surprised to see how much it helps you control cluttering on your counter. It will also help you keep your bathroom much cleaner than before.
You can also consider carving out floating shelves in dead wall space. Similarly, you can then put up soaps in towels there in an attractive display. You can store all your toiletries in a visually appealing manner. An easy alternative is to carve out a wall niche during your bathroom remodel to store your shampoo or soaps. 
Apart from their visual appeal, built-in shelves do not take up any floor space. Thus, they have an advantage over bulky cupboards and cabinets.
Storing Everything in Your Bathroom
Bathroom storage mistakes do not merely involve inadequate storage problems. A lot of people tend to store unnecessary store backup products in their bathroom for no good reason. Items like extra tissues, towels, makeup wipes, and other disposable items only add to the clutter in your bathroom.
As a result, you run out of space for storing needed items even if you've followed the right ideas while remodeling your bathroom. You can easily store extra items somewhere else until you require them. For example, you can store towels in a cupboard along with blankets and sheets.
Failing to Maximize Your Space
A common modern bathroom decor idea is to replace your vanity with a floating sink during your bathroom remodel. However, it does not do any good to your bathroom's storage capacity. You can get a useful storage option by hanging a floating shelf under the sink. It will also help you retain the airy feel of the sink.
When you're remodeling your bathroom, you should consider your bathroom's storage. While doing so,  think about the depth of the cabinets and drawers. Try to locate objects in the most appropriate space. For example, if you have a very deep drawer, you can store bulky tools like hairdryers and curling tongs.
Similarly, think about the functionality of the bathroom design. If just one person is using the bathroom, you could probably get away with a floating sink. However, if it's a master bathroom or you're sharing it with your kids, you will definitely need all the storage space you can get.
For instance, you can store smaller items in a shallow drawer. Tall and narrow shelves are ideal for storing long and thin objects.
If you want to save floor space, you can even hang storage boxes like baskets from the wall. By following these techniques, you can utilize storage space more efficiently in your bathroom.
Using a Mirror Without an Inbuilt Storage
Ignoring the space behind your bathroom mirror is one of the classic bathroom storage mistakes. Yes, we are talking about the good old bathroom cabinets. Don't be quick to dismiss this bathroom storage solution as old and outdated. Today, there are newer solutions available that combine mirrors and storage more innovatively. Still, these are perfect for storing medicines and everyday essentials. 
Furthermore, mirrors with inbuilt storage keep the clutter out of sight, giving your bathroom a more seamless appearance after your bathroom remodel.