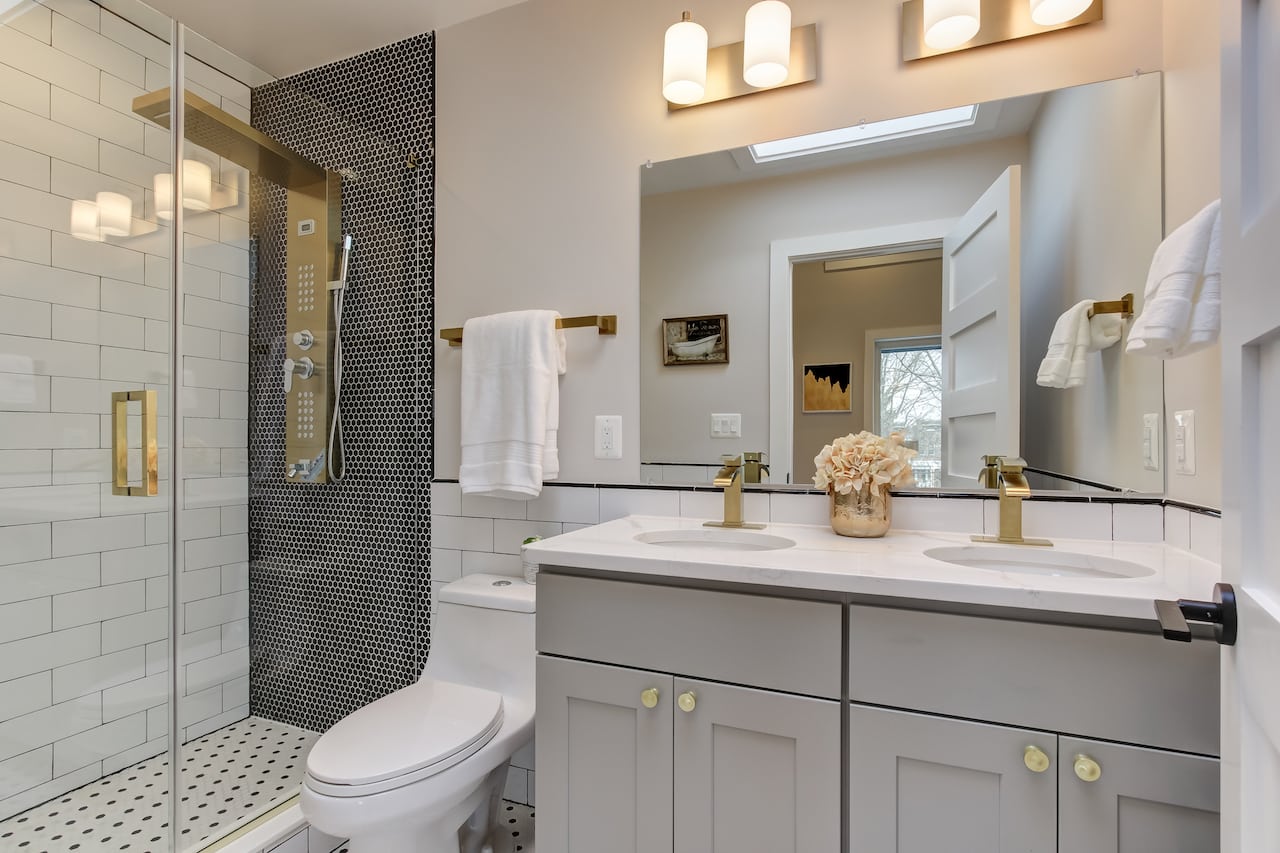 Bathroom Cabinet Ideas for Your Next Remodeling Project
Since your bathroom is where you start your day and get ready, you must keep it as neat and clean as possible. This means no messy countertop, no towels on the floor, or wired electronics lying around. Keeping your everyday essentials in an organized manner within the cabinets is what makes a clutter-free room, and you will need good bathroom cabinet ideas for your bathroom remodel.
Your bathroom cabinetry is one of the most essential elements of the bathroom remodeling process. Keeping in mind all the things you like to store in your bathroom, look for the material that accentuates all other bathroom elements.
Makeup, linens, and cleaning products make your bathroom essentials, and having and sufficient storage in the bathroom is vital for you to keep all of this in order. A sink vanity or floor to ceiling cabinets, whatever your preference may be, there are many types of cabinets you can have in your bathroom to keep all the necessary products at your fingertips.
Here are a few bathroom cabinet ideas for you to help you pick the most ideal and high-quality cabinetry for your bathroom remodeling project.
Fabulously Formal
If you wish to give your bathroom remodel a formal and sophisticated look, your cabinetry should match the layout. The cabinets are a crucial component and can affect the look of your bathroom. So for a formal bathroom, you need to pick the right cabinet material and style.
Nothing says formal and sophisticated such as an asymmetrical arrangement of your cabinets. They look elegant and graceful, without looking too stuffy or extra. And there really can never be extra storage! Having the four-legged feature can give your cabinetry a freestanding look, even though it stays attached to one wall.
All you have to do is pick a long wall in the bathroom, and you can get customized cabinets that act as vanity to one or more than one sinks. An arrangement of wooden cabinets and drawers in an asymmetrical manner that can hold all linens, toiletries, electrical objects, makeup, etc., makes a great storage solution for your bathroom. Similarly, you can also pair it up with a marble countertop and stainless steel faucets.
Steady Stepstool
Do you have children in the house and you're looking for the right bathroom cabinet ideas? Do they have a problem reaching the top of the countertop? If you do not want to be at their continuous service when they want to brush or comb their hair, here is the best and smart bathroom remodeling solution for you and your children.
Customized cabinetry with the bottommost drawer as a step stool is the perfect answer for your dilemma. If you are designing your child's bathroom, consider getting a pullout stepstool from the cabinet below the sink. It is a smart detail and saves floor space without adding an extra fixated stool.
You can get customized drawers and cabinets above and around the pullout stool to compromise on storage space while remodeling your bathroom. The cabinetry and drawers assure you plenty of countertop space for everything else, such as potpourri, a plant to freshen up the air of the room, or any other bathroom souvenir to jazz up your bathroom.
Built-in Cabinetry
If you feel like your bathroom walls are simply a waste and not doing anything but taking up extra space in the room, among the best bathroom cabinet ideas is to get built-in bathroom cabinetry. They are not very expensive and help to save up a lot of space in the bathroom remodel.
Built-in cabinetry is best placed on either or both sides of the bathtub or around a shower cubicle. You can also place it on both sides of the sink to keep all your bathroom essentials. It is the perfect storage solution since they do not take extra space and are therefore the ideal cabinets for a smaller bathroom.
If you want to give your bathroom a clean and crisp look, floor to built-in ceiling cabinetry is the perfect storage for you. They give the illusion of the wall itself if you paint them the color of the wall. To hide them better, you can use push buttons to open them instead of putting door handles. They are ideal for hanging your towels and bathrobes and easy access right out of a bath.
Floating Vanity
One of the most popular bathroom cabinet ideas is to have a floating vanity in the bathroom. Depending on the size of your walls and where you want to place your sink during the bathroom remodel, you can decide the size of the vanity you want to get yourself. But despite the size, the floating vanity provides plenty of storage space in the bathroom.
You can get a vanity full of drawers, cabinets, or both. A hanging or a floating vanity frees up the space below the sink, making the bathroom layout look more spacious. It will also help you to clean up space quickly.
Open Shelving
As the bathroom designs and interior décor grows more modern, new styles are coming up now and then. Open shelving is a  contemporary and sleek style that is quite prevalent in today's time. Open shelving looks very modern and polished and creates a spa-like feel in the bathroom.
It is considered appealing to show your things, rather than hiding them. So if you have expensive items that you would like your guests to see, now is the time to put them on display! But an entire open shelving cabinet is not always suitable for all bathroom remodeling projects.
For instance, you can get customized floating cabinetry that has open shelving and a few drawers. The open shelves are ideal for keeping your towels, baskets, vases, or even small potted plants for a refreshing feel. You can use the drawers to keep your delicates, beauty, and other personal products.