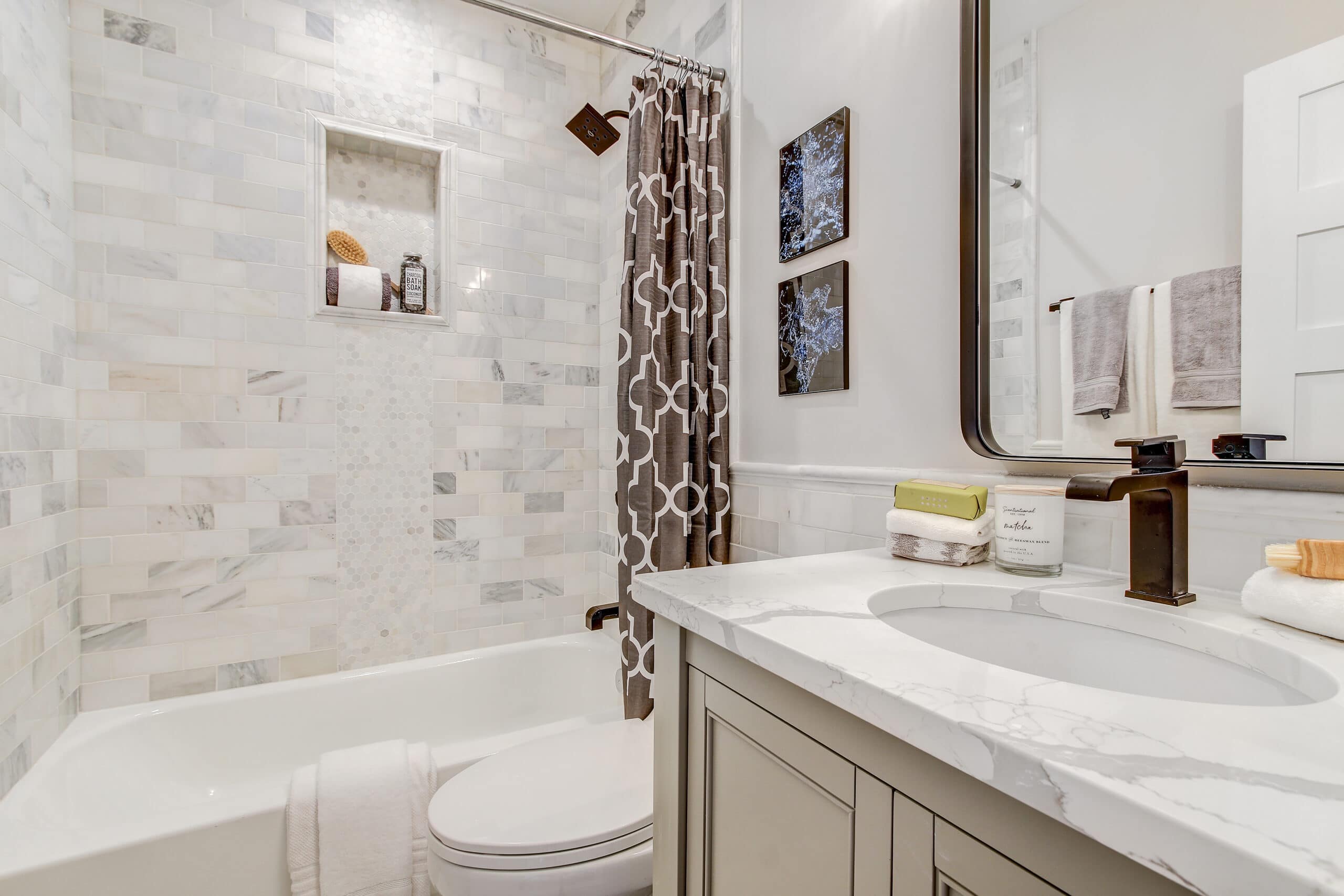 Bathroom Remodeling Length: How Long Does a Remodel Take?
Remodeling a bathroom is a tedious task prone to error. The bathroom is one of the most essential rooms in the house, making a remodeling project highly inconvenient for you. For this reason, you often want to know about the exact length of your remodeling project. Bathroom remodeling length can vary depending upon its current state, size, changes required, and many other factors.
There is a lot to do, from the demolition to the various fixings in a bathroom remodeling project. In general, a bathroom renovation takes on an average of 2-3 weeks. But that is just the breaking and fixing.
Overall, this process can take between 6 weeks to a few months. This includes planning, executing, and wrapping everything up. The biggest culprits for extending the bathroom remodeling length are the city permits and approvals. 
Similarly, one of the good things about hiring a contractor is that he will help you get all the city permits and licenses required for your remodeling project.
Factors Affecting Bathroom Remodeling Length
It is sporadic to see a remodeled bathroom just in time as planned. Various factors can cause hiccups in this process, which ultimately delays the entire project. It is always better and more rational to keep these factors in mind before starting your remodeling project.
The time taken by a remodeling project depends on whether you are looking for minor changes or a complete rebuild. A remodeling project can take as little as a few days or many months, depending on the changes you are looking at.

Do you plan to hire a contractor, or do you want to go DIY? People popularly know that DIY projects can take as much as a year to complete if you consider completing all the other daily chores. 

If you are going for a contractor, is he an owner-operator, or is he hiring subcontractors under him? An owner-operator is the cheapest for your remodeling project, but it can also take months for a project to finish in 10-15 days with the subcontractors' help.

The delay in projects also highly depends on your materials. Whatever materials you plan to use in your remodeling project, you must ensure if they are readily available or special-order goods. This can be a significant factor in bathroom remodeling length.
 On average, a bathroom remodeling project can take around 30 days under ideal circumstances. But in a realistic scenario, where interludes and unexpected scenarios are bound to arise, it can take between 45 days to 9 weeks, depending on the project.
Step 1: Do Your Research
You must research before you begin with anything. When you hire a contractor, you will need to explain to him what exactly you want from him and the bathroom. You may take a look at your neighbors' bathrooms or look it up online for inspiration. These things will help you in understanding the costs and setting a budget for yourself.
Step 2: Hire a Contractor
You can surely go DIY if you wish to, but we would suggest you hire a contractor for your remodeling project to cut down on time. It would be best to find yourself a contractor who will give you a realistic, clear picture of the project, understand your budget constraints, and find you the best deal within it. 
Step 3: Obtain the Permits and Approvals
Before you start demolishing your bathroom, you must obtain the official permit for the electrical and plumbing work, and the building board approval, in case you live in one. 
The contractor can quickly help you get whatever permits you require for the project, with the least amount of hassles. These permits can take a while and increase the bathroom remodeling length, so you should apply well in advance.
Step 4: Start the Demolition
Once the planning is over, the actual physical work begins and so does the main aspect of your bathroom remodeling length. Timber studs and sheet walls are more accessible to breakdown as compared to concrete brick walls. 
Before the hammering starts, ensure that you have covered all the things you want intact, with plastic or tarp. This goes for all kinds of demolition projects. This process can take from a few hours to 4-5 days, depending on the bathroom's size.
Step 5: Plumbing and Electrical Rough-in
Now that you have stripped down the place, the walls are open. The contractor can start the plumbing and electrical rough-in work after this since it becomes easier to see behind the walls. 
You must also consider if any plans behind the walls need alterations. The entire process can take around 1-2 days.
Step 6: Preparation for Tiling
A cement slab, known as the tiling bed, is installed and must be completely dry before the plumber waterproofs it. The tiling includes both walls, as well as the flooring. Depending on the tiles that one has selected, they need to straighten and strengthen the walls.
 While the contractor is preparing for the tiling work, they also install the new windows, doors, and wall niches simultaneously. This process can take around 1-2 days.
Step 7: Sheeting
Once they have laid down the tiling bed, it is time to do the sheathing of the walls and ceiling. This may take just 1 day to finish.
Step 8: Waterproofing
Once you have installed the sheets, the waterproofer waterproofs the entire room as required since there are chances of leaking. Waterproofing the room ensures a tight water seal for many years to come and no leaking showers. Waterproofing involves 2-3 coats, 24 hours for each coat to dry, which will be at least a 2 days process.
Step 9: Tiling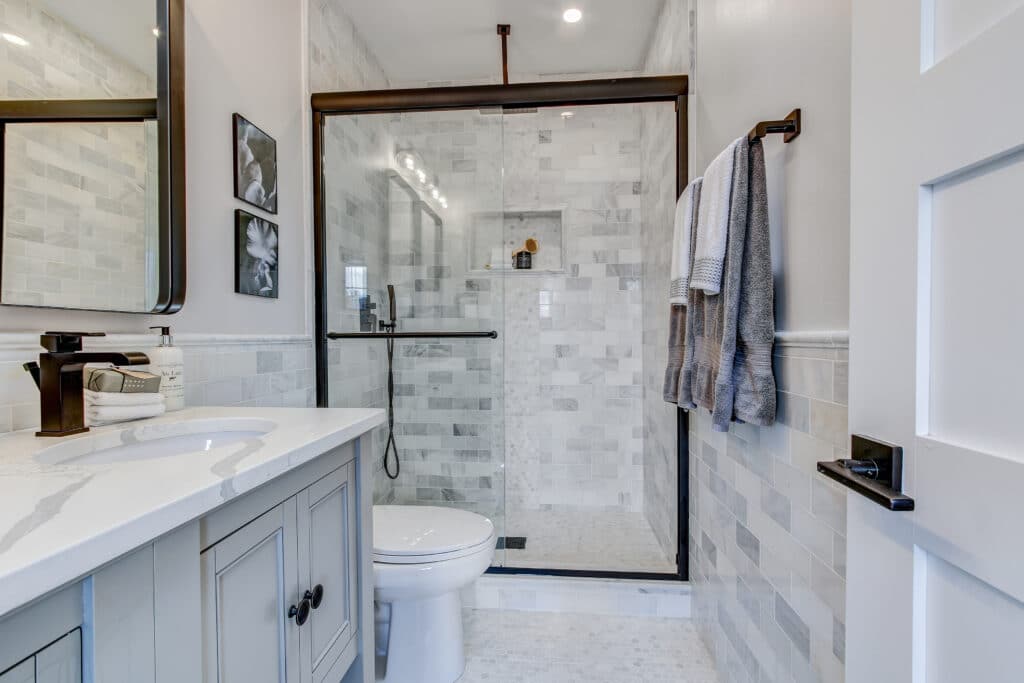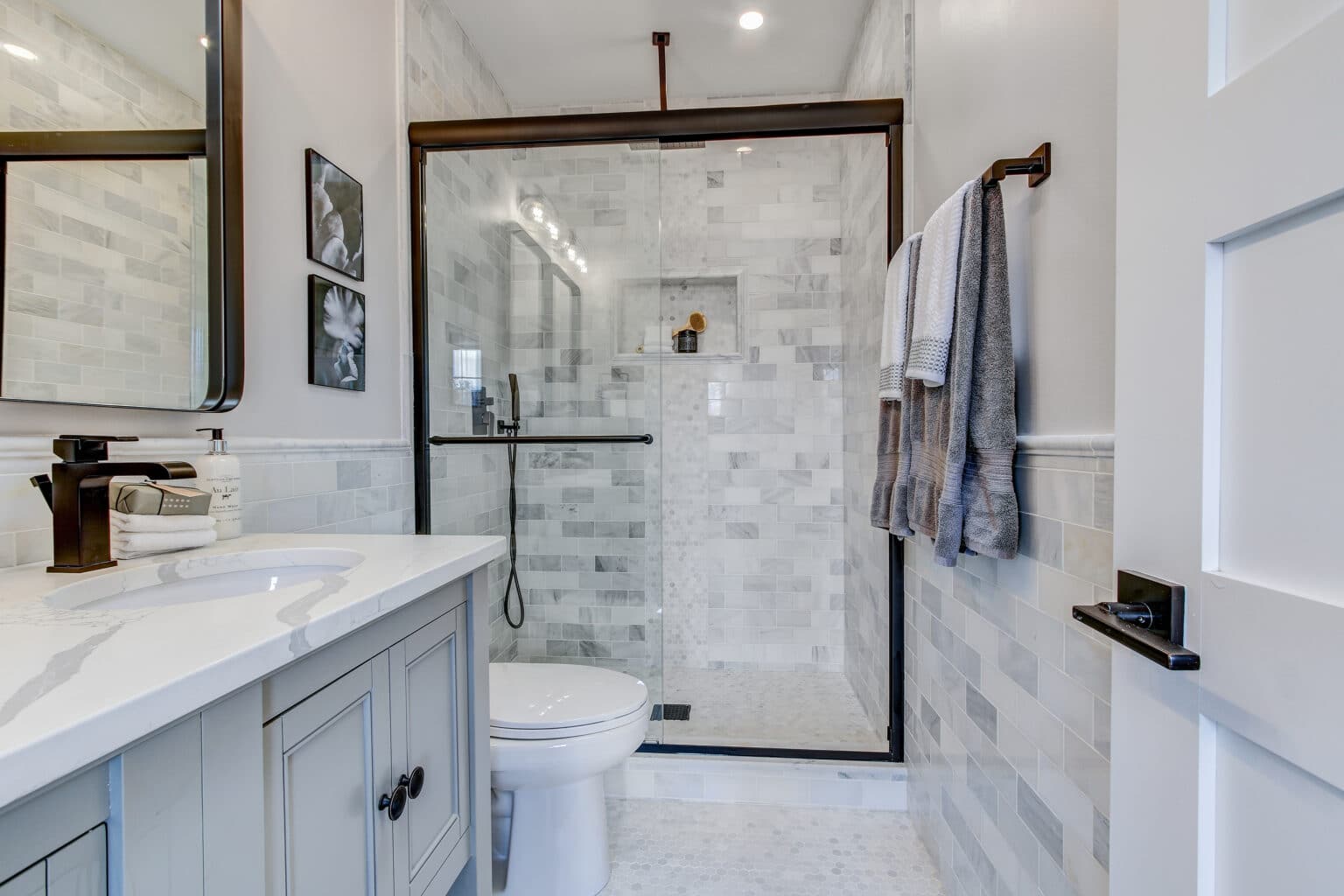 Tiling is an essential step since the tiler needs to cut the tiles accurately to fit every corner of the room. When tiling the floors, make sure that it is consistent throughout the space if you decide to configure the room. 
The walls look better when tiles ceiling-to-wall. Once the tiling is over, the contractor can measure the shower screen.  The tiling process is a 5-day job.
Step 10: Finishing Off Tiles
Now that you have set the tiles in place on the floor and the walls, it is time for the contractor to grout and silicone them at the critical joints. This is not lengthy and can take just a day or 2.
Step 13: Trimming and Painting
Once the entire tiling process is over, and your complete bathroom is well-tiled, it is time for trimming and painting. 
If you have new doors and windows, it is time to install the timber architraves. After that, the whole bathroom will be freshly painted, from the entrance to the ceiling. This may take just 1 day.
Step 14: Plumbing Fit-in
Since the plumbing rough-in work is already taken care of, it is time to install the items and connect them. These items include the toilet, sink, vanity, bathtub, tapware, built-in shelving, and finally, finishing the drainage underfloor. This will take you 1-2 days.
Step 15: Electrical Fit-in
The lighting and hardware usually come last. Once the plumbing fit-ins are over, you can move onto the electrical fit-ins, such as installing the lighting fixtures, the switches, fans, and the heated towel ladder. This will take the electrician one day to fit.
Step 16: Accessories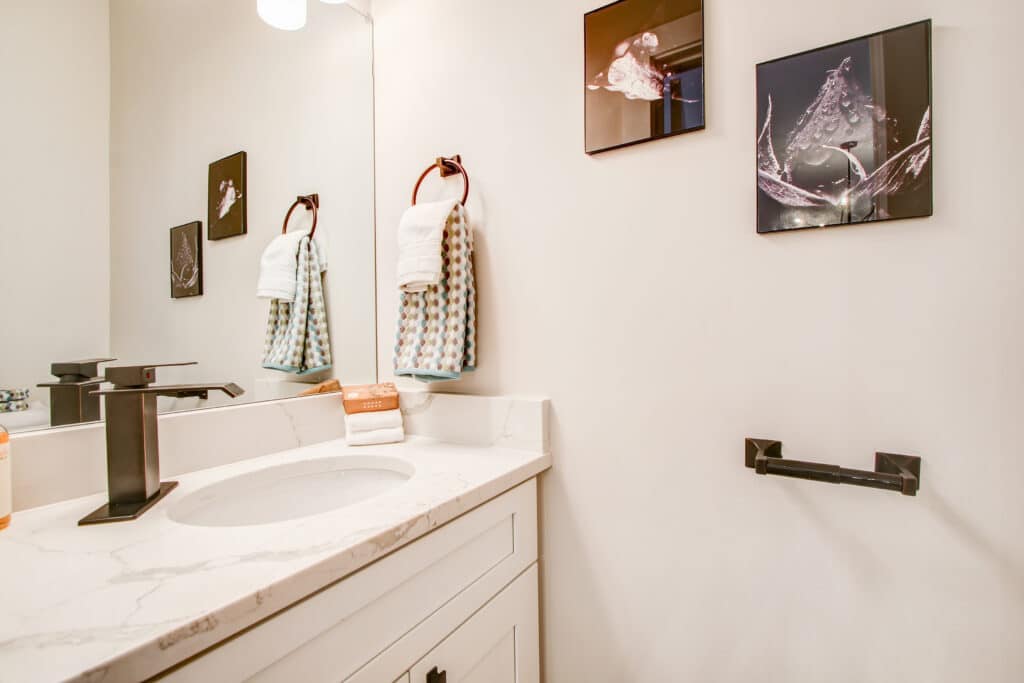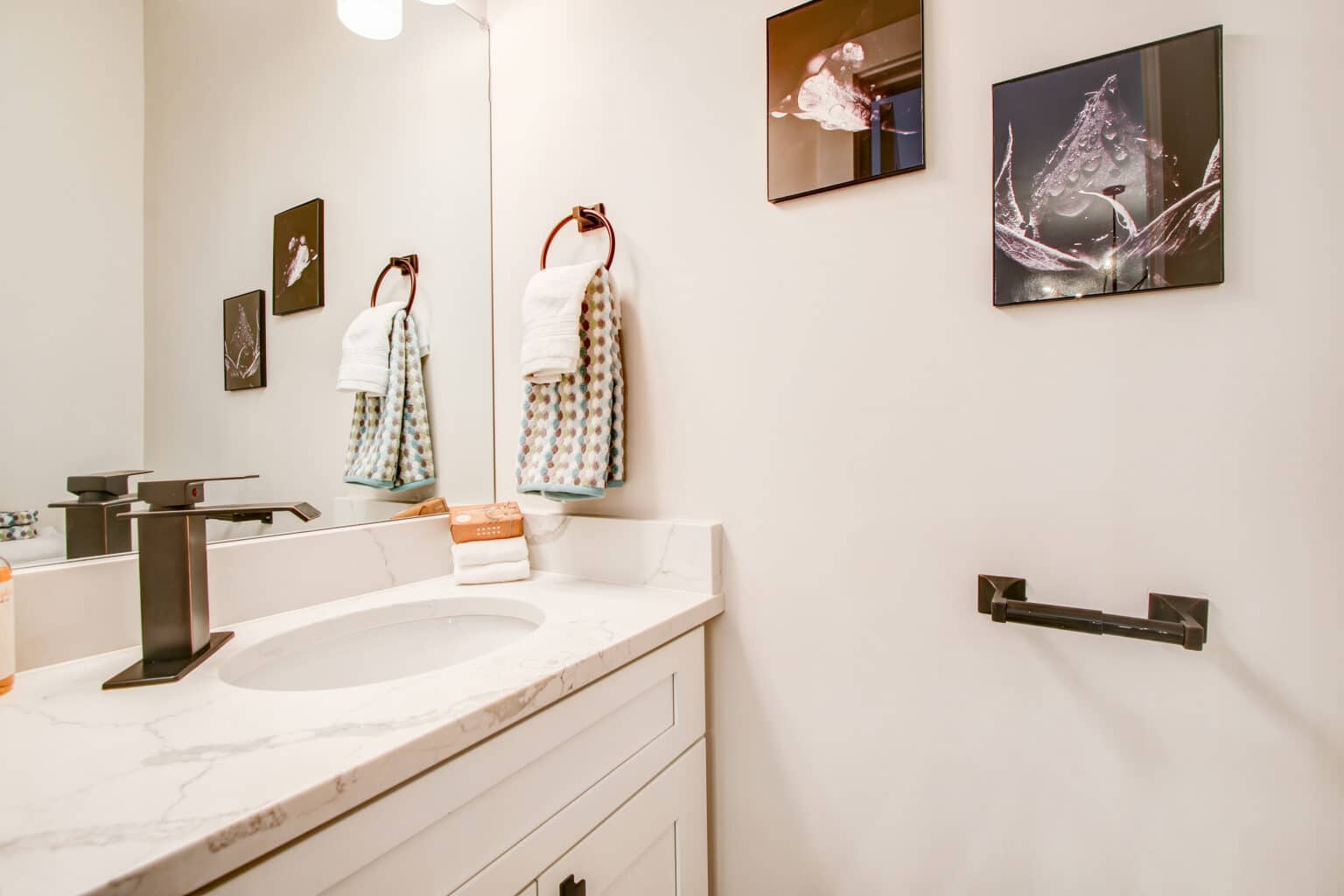 Last but not least, once the electrical and plumbing fixtures are over, your bathroom is very close to being ready. All that is left to do is prefix the bathroom accessories such as robe hooks, toilet paper holder, hand towel rail, etc. 
They also install the shower screen and mirrors. Once all this is over, your bathroom needs a final cleanup before you can use it again. This will take one day.