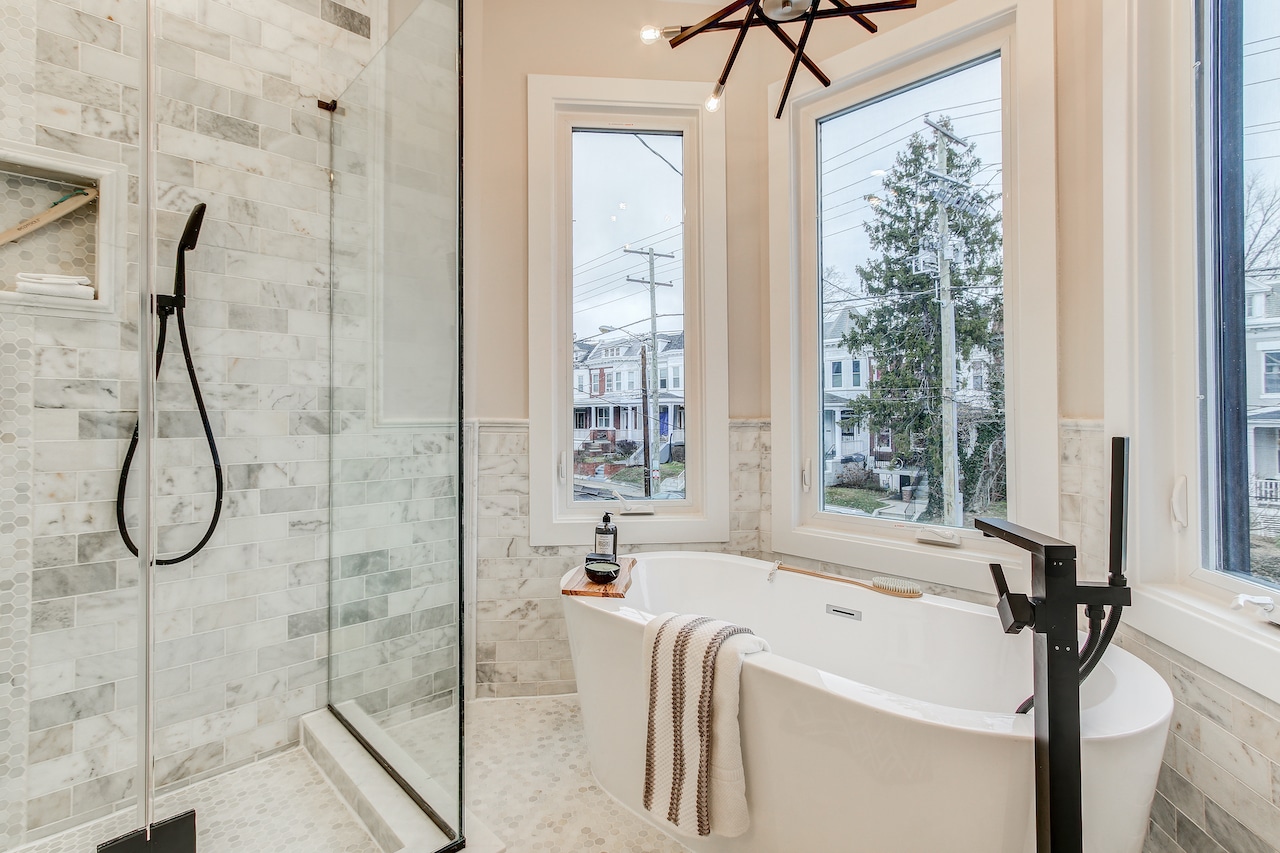 Bathroom Remodel Pitfalls You Should Avoid For a Seamless Upgrade
Many individuals planning to redesign their bathroom are so captivated by the thought of building their dream bathroom that they neglect to conduct some research. They've been clipping photos and window surfing for the ideal vanity and the most stunning flooring, after all. However, they inadvertently end up making some avoidable bathroom remodel pitfalls.
For instance, you might choose the first consultant that walks by since they're the cheaper option or choose the wrong bathroom layout. Keep reading to know how you can avoid bathroom remodel pitfalls and sail through the bathroom remodeling process.
Guide to Avoid Bathroom Remodel Pitfalls
Nothing is more frustrating for a homeowner than having unrealistic standards, investing thousands of dollars (or more), and having a bathroom that isn't up to par. Bathroom renovations are a huge effort with a lot of factors and important aspects to consider during the bathroom remodel process. 
When you hire a remodeling contractor with the expertise and a procedure for your project is the best option. The greatest approach to ensure that your project fulfills your expectations is to educate yourself. 
Let's take a look at some of the most typical bathroom remodel pitfalls so you can take the required steps to prevent them and end up with the bathroom of your dreams.
Form Over Function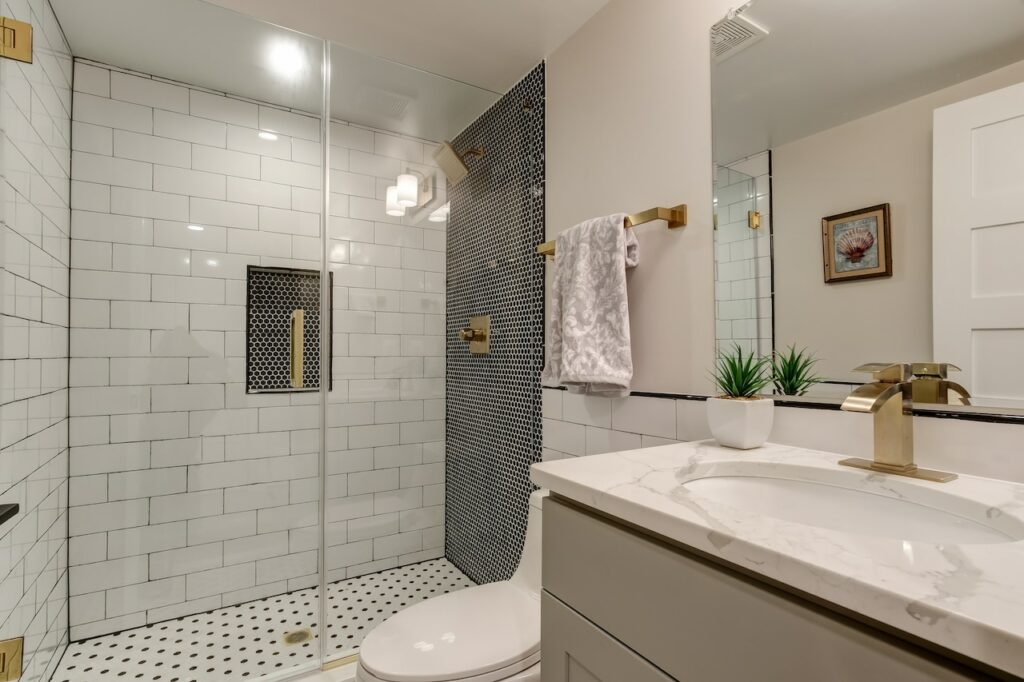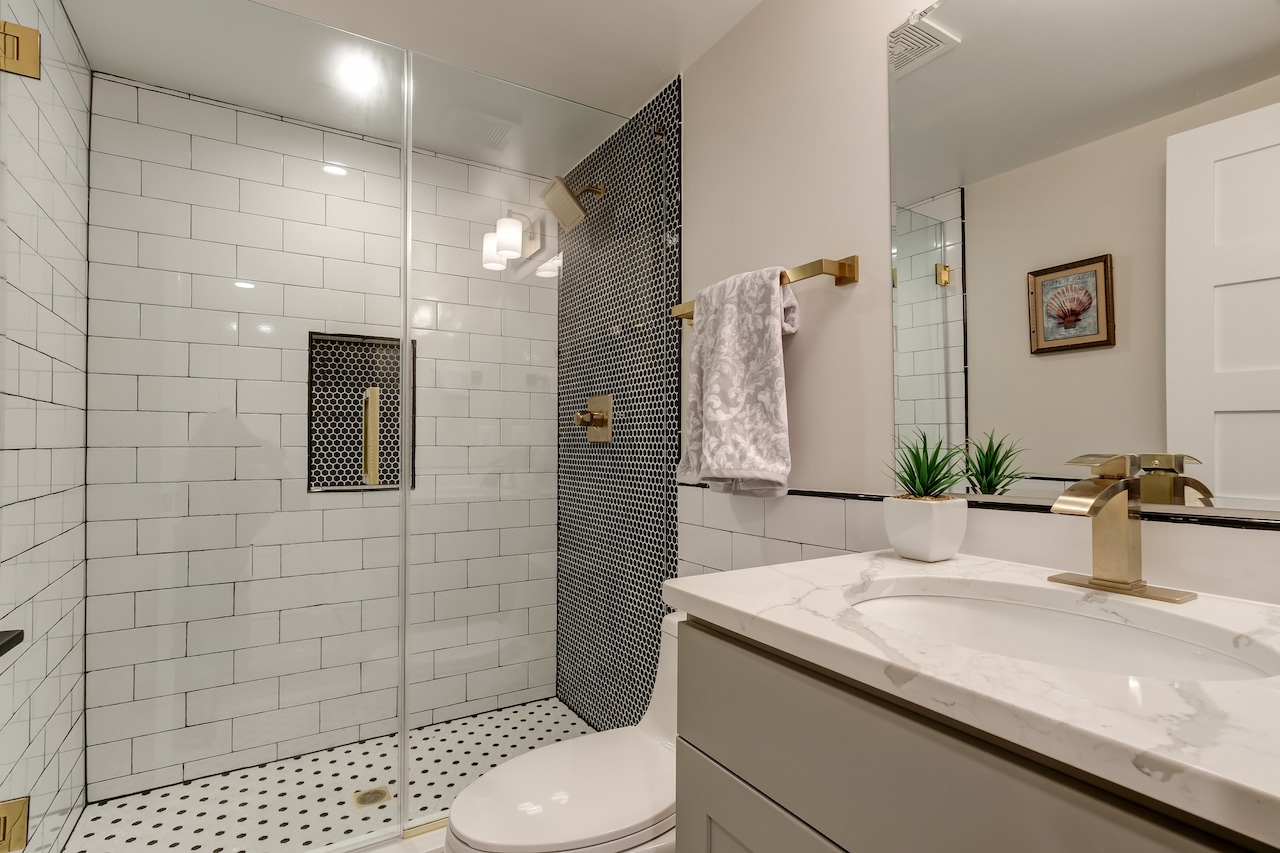 Of course, we all want a stunning bathroom that will make our neighbors envious; but, prioritizing form above functionality is one of the most common bathroom remodel pitfalls. Your bathroom is the most intricate area in your home and is also the second most utilized. It's hardly a deal if the end result requires you to do extra work in your daily tasks.
A skilled designer will inquire about your lifestyle, as well as what you like and dislike about your current bathroom. They'll then collaborate with you to develop a design that balances form and function. 
There are several typical "form over function" remodeling pitfalls unskilled designers make. For instance, they fail to consider the openings of cabinets, vanity, and the tub, toilet, and shower position. Does the toilet, for example, prohibit you from opening the cabinet wherein you store your utilities? 
Doing it Yourself
Today, we're all aware of the HGTV series that feature adventurous homeowners tackling their own home improvement projects. There are many jobs around the house that a resourceful homeowner may easily complete on their own. However, undertaking a DIY bathroom makeover is one of the most common bathroom remodel pitfalls.
Plumbing, electrical work, drywall, plastering, tile work, flooring, cabinet, and appliance installation are just a few of the subcontractor activities present in a bathroom remodel. Hence, it's important to assess the right DIY vs professional bathroom remodel tasks.
You may also stumble upon hazards such as asbestos in older properties. These are harmful to your health if not adequately mitigated. It's possible that you'll have to deal with structural difficulties, mold issues, and permitting issues early on in the design process. To comply with updated building requirements, many older homes may require wiring or plumbing updates.
If you make an error, it might cost you hundreds of dollars to rectify it. Unless you're qualified to do the task yourself, it's significantly less expensive to hire a professional with the necessary experience, knowledge, skills, and subcontractors to complete the job correctly the first time, on schedule, and on budget.
Insufficient Cabinet and Counter Space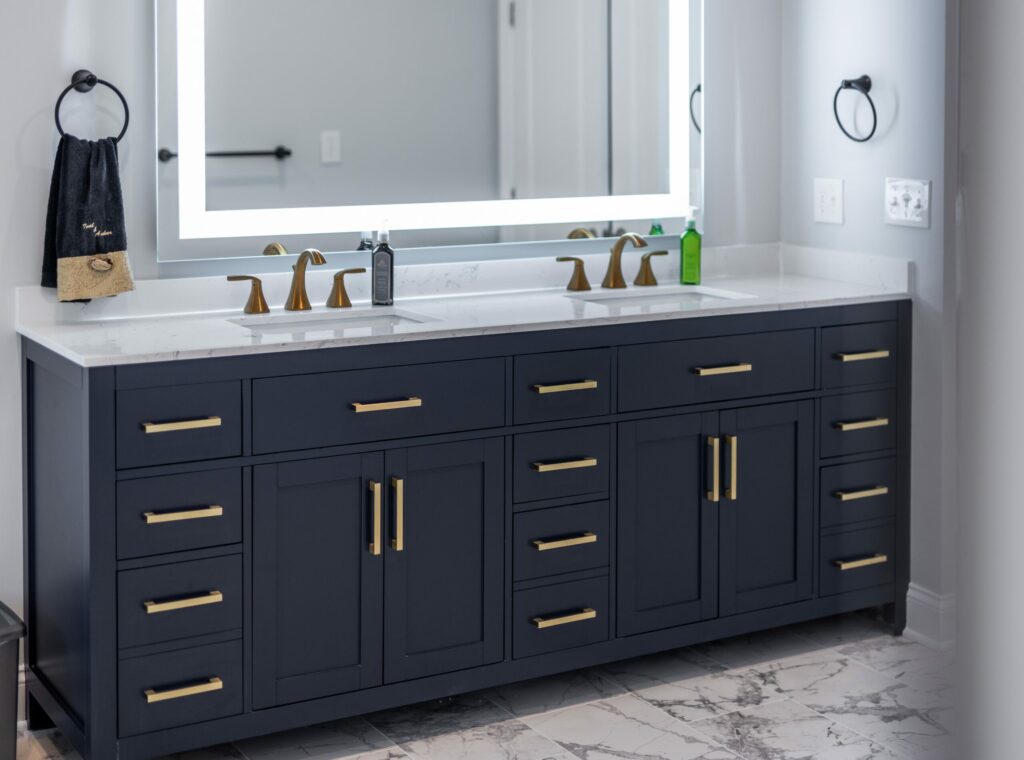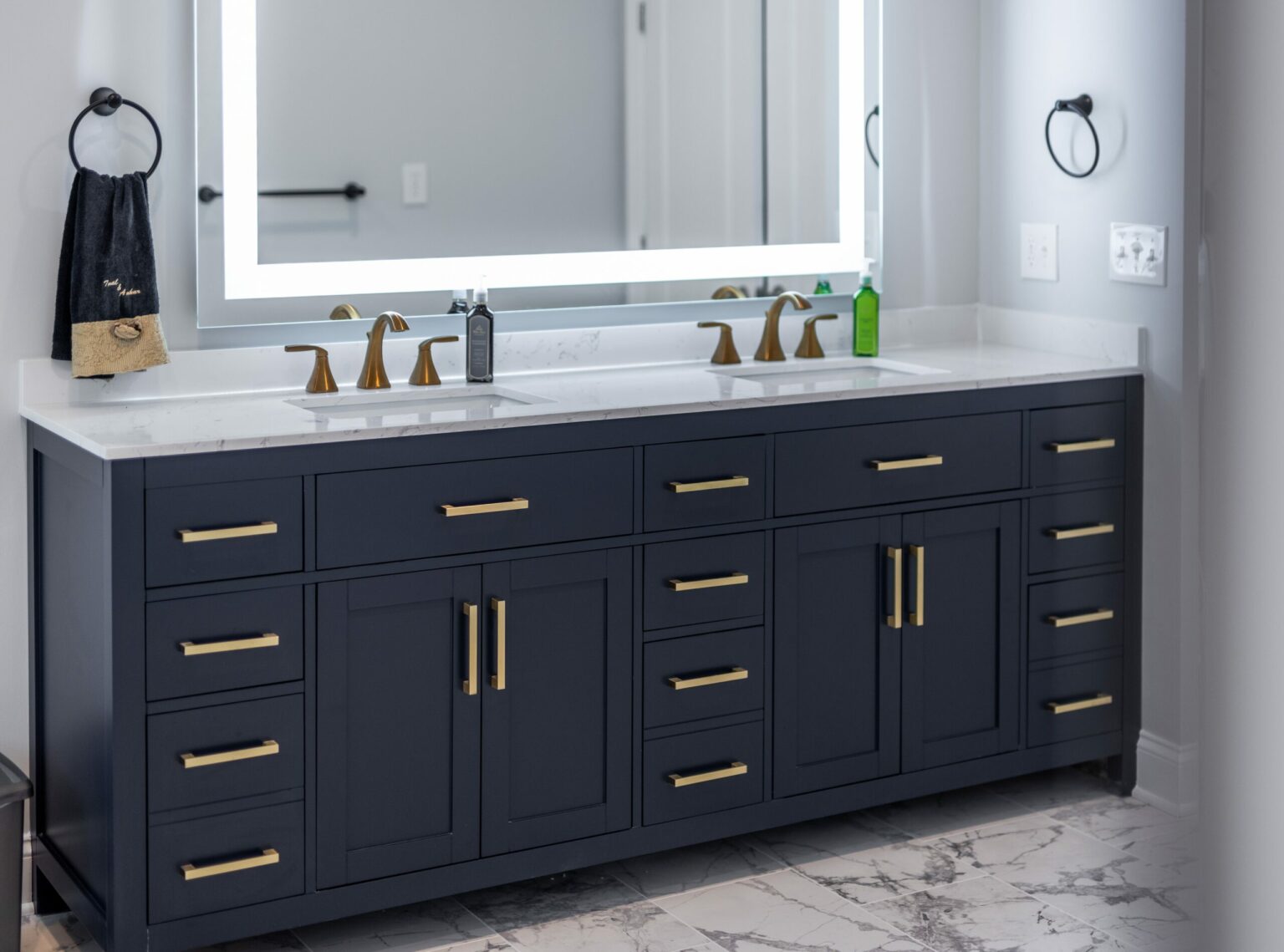 Bathroom design is both a science and an art form. A functional bathroom requires sufficient counter space. Hence, it's important that you choose your bathroom countertop wisely.
A professional designer will know how to enhance both bathroom storage and workspace. You can add a bathtub or a freestanding shower into your design. You can also add decorative components to the ends of your base cabinets to create more counter space.
Bathroom storage is yet another important component of a successful design. A skilled designer will use every inch of space available, even in a limited space. 
Whether installing an appliance garage or a lift-out cabinet unit to optimize counter space, installing practical corner cabinets, or open shelving on the wall across the vanity. The last thing you want is to create an aesthetically pleasing bathroom but does not offer functionality.
Inadequate Lighting
It's easy to imagine how a do-it-yourself homeowner or an unskilled contractor will overlook sufficient lighting when remodeling a bathroom. A suitable number of lighting fixtures is not only necessary for daily grooming, but also as a decorative feature in your bathroom. 
Fixate general overhead lamps for illumination and task lighting appropriate for grooming and makeup. You can also add ambient light fittings such as under-cabinet or over-cabinet lights. You can add these to accentuate the design features you cherish the most. These bathroom lighting ideas will help you make the most of your bathroom remodel.
Unexpected Costs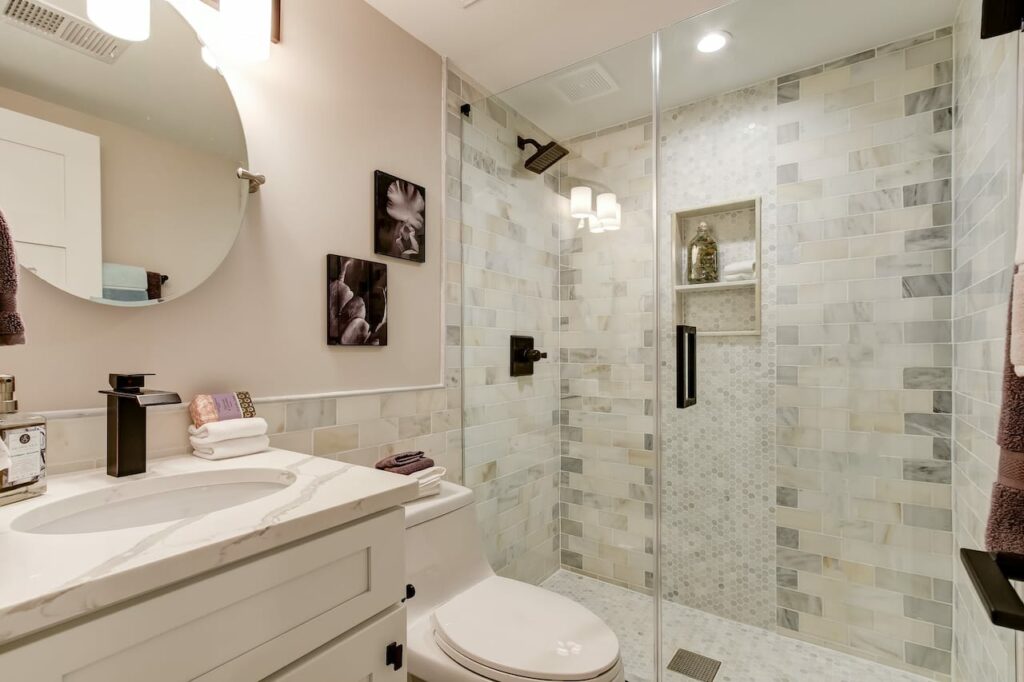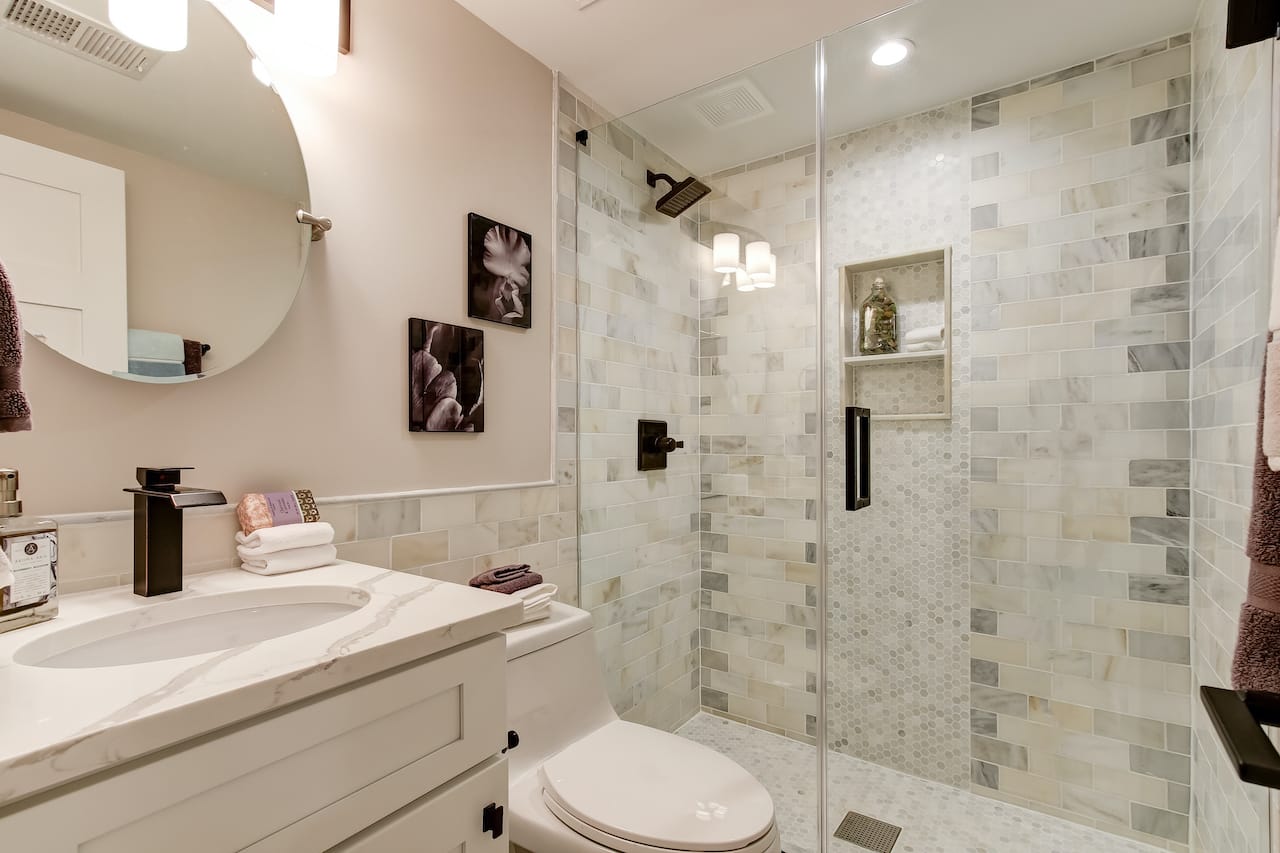 Whether it's mildew, rusted pipes, old wiring, termite damage, or asbestos-wrapped ductwork, almost every bathroom remodel contains hidden issues that you don't discover until the project is underway. Unfortunately, these issues tend to increase your bathroom remodel costs. Even the most experienced contractor has no idea what they'll uncover until after they tear down the walls. 
What's Behind Your Walls?
A good bathroom remodeling contractor will include a ten percent or fifteen percent contingency in their quote to cover any unforeseen costs. If they don't, and something shows up, you'll have to compromise on your wants. You can choose between fixtures or aesthetics – to cover the price of your necessities, such as getting the cabling up to standard.
Verify that your contractor follows this procedure. If nothing pops up, you'll save money on your redesign at the absolute least, or you may use the additional money to improve to custom cabinetry, marble countertops rather than quartz, or that bathtub you've been eyeing!
Also, ensure you have a well-defined change order procedure. You must include all the changes before the remodel begins into the contract so that the scope of work approximates the original.