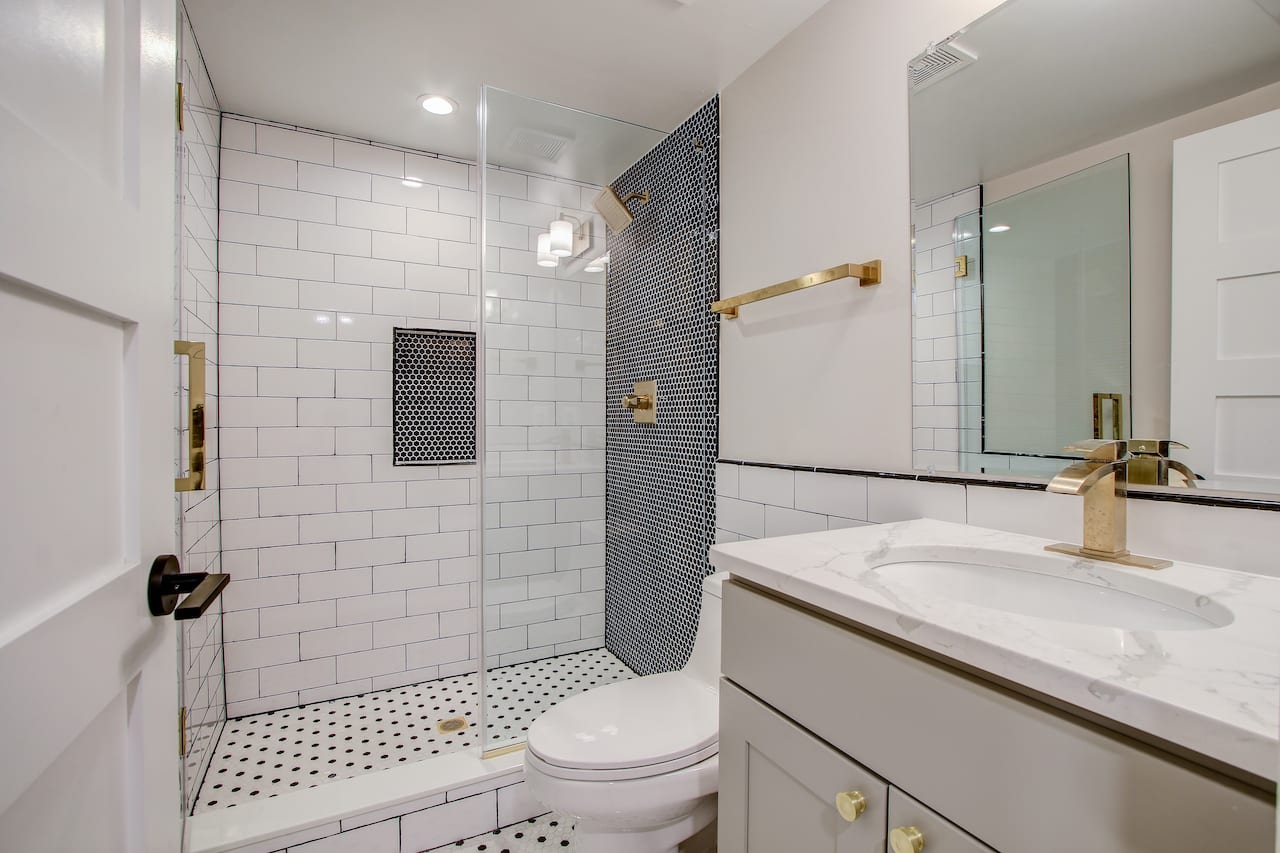 Bathroom Paint: Everything You Need To Know
Do you want to paint your bathroom? We have gathered valuable advice from experts to help you choose the perfect bathroom paint – color, shades, and characteristics. 
Painting a newly remodeled bathroom or repainting an old one, bathroom paint provides an easy and inexpensive way to give the space a decorative makeover. Additionally, painting a bathroom offers the perfect opportunity to create a warm, welcoming, and relaxing environment. 
Why Do You Need to Think About Your Bathroom Paint?
With the right paint in the correct shade, you will create a perfect and relaxed atmosphere. But painting a bathroom involves several constraints. You can't apply the same painting ideas from the other rooms of the house. The bathroom is a damp moisture-filled place, an essential characteristic that you can't overlook. 
Therefore, the bathroom requires special paints which can sustain all the humidity. The choice of colors is also crucial as it will play a key role in defining the overall environment of the bathroom. 
Don't worry, though; a few precautions are all it takes to paint your bathroom with lively colors that will last for years. Techniques, color choice, and aesthetics, here is everything you need to know about painting the bathroom.
Preparing the Walls – An Essential Step
Before you start splashing colors on your bathroom walls, it's essential to first prepare the walls for the upcoming makeover. The preparation involves washing the walls, waiting for the substrate to dry, filling any holes and cracks on the wall, and then proper sanding to make the surface even.
Next comes the undercoat. For bathroom paint to last long, it is essential to cover the wall with an undercoat. Not only will the undercoat allow the paint to spread and stick to the wall properly, but it will also cover any previous paint and save you from applying several layers of new paint to cover the old. 
Therefore, it guarantees perfection in work and saves you some dollars because you will use less paint. There are even paints you can directly apply on the tiles without an undercoat. If you have a tiled bathroom, you can choose such colors to avoid the trouble of an undercoat.
Choose Special Paint 
Not every paint can last in the humid environment of a bathroom. So, you need paint that is made specifically for such an environment. 
A particular wet room paint is adapted for the humid environment and lasts longer. Moreover, it resists mold and is durable enough to prevent chipping. Your bathroom will look new and fresh for a more extended period.
Which Paint Should You Choose?
When it comes to paints specifically adapted to the bathroom environment, you have two options available. One is Glycerol paint, and the other is Acrylic paint. Both paints have their advantages and properties.
Glycerol Paint
One unique property of glycerol paint is that it offers high coverage and spreads quickly, so you will have to paint less. Moreover, it is very resistant to dampness and moisture. But there are downsides too. 
It has a powerful and persistent smell that is sometimes off-putting. The volatile organic compounds that it's made of pollutes the environment, therefore, pose health risks. Additionally, glycerol dries very slowly, so you have to wait for at least 24 hours if you want another coat.
Acrylic Paint
Acrylic paints are water-based and usually made of synthetic or natural pigments and resins. Acrylic paints are generally of good quality. They do not give off any strong odor, dry quickly, and are ready for a second coat in 5 to 6 hours. 
Incidentally, they are less expensive than glycerol paints. Being water-based, acrylic paints were considered less suitable for a wet environment like a bathroom. 
Nevertheless, things have changed; acrylic paints now offer outstanding quality and durability, perfectly suited for the bathroom environment.
Which Finish Should You Choose?
Acrylic paints are more suitable for the bathroom. Glycerol paints are out of fashion anyway so they're among the top bathroom color trends you should be avoiding (owing to their pungent odor and not-so-environment-friendly nature). 
Next comes the part of choosing the finish. It's important that you balance color and texture in your bathroom to make the most of your design. Acrylic paints offer three finishes, namely – Matt, Satin, and Shiny. Each finish has its advantage, and going with one is, above all, a matter of choice or preference.
Matte Finish
If you have some flaws in your bathroom walls, there is no better finish than Matt to hide them. Matte finish is well adapted to attenuate minor imperfections on the wall surface. 
Also, matt Finish is trendy and stylish in look and enhances the atmosphere. However, they are less washable and are not suitable in the bathroom due to the high humidity.
Satin Finish
If you want a silky smooth texture, then there is no better finish for you than satin. Satin paint has a silky appearance and creates a flow in the environment—also, it's easily washable and low maintenance. 
If you are overwhelmed with the choices and could not decide on one, go with satin, it's generally suitable for most bathroom layouts and designs.
Bright or Shiny Finish
If you want for your bathroom a glowing environment, go with a bright finish. However, it requires the walls to be in perfect condition. Any flaw will otherwise look more prominent with a shiny paint finish.
What Color to Choose For a Small and Large Bathroom?
Bathroom paint is a matter of personal preference and taste, but there is more to it. Indeed, colors have the power to accentuate, minimize or enhance specific characteristics of the environment. 
Accordingly, you must choose the bathroom color wisely. Here are some color ideas suitable for the type of bathroom you need to paint:
Small Bathroom
For a small bathroom remodel, light colors are best. Not only do they make the environment bright, but they also make the room appear visually larger. 
You can also play with a mix of light color shades to create an impression of depth. Soft grey, aqua, sunny yellow are all great colors for a small bathroom.
Large Bathroom
A large or master bathroom offers more flexibility and freedom to choose paint colors. Shades of grey and aqua are popular for this kind of environment, but you can also bet on natural color palettes ranging from beige to brown. 
Besides, cream variations with a hint of black and few touches of gold go well in creating chic and timeless effects.