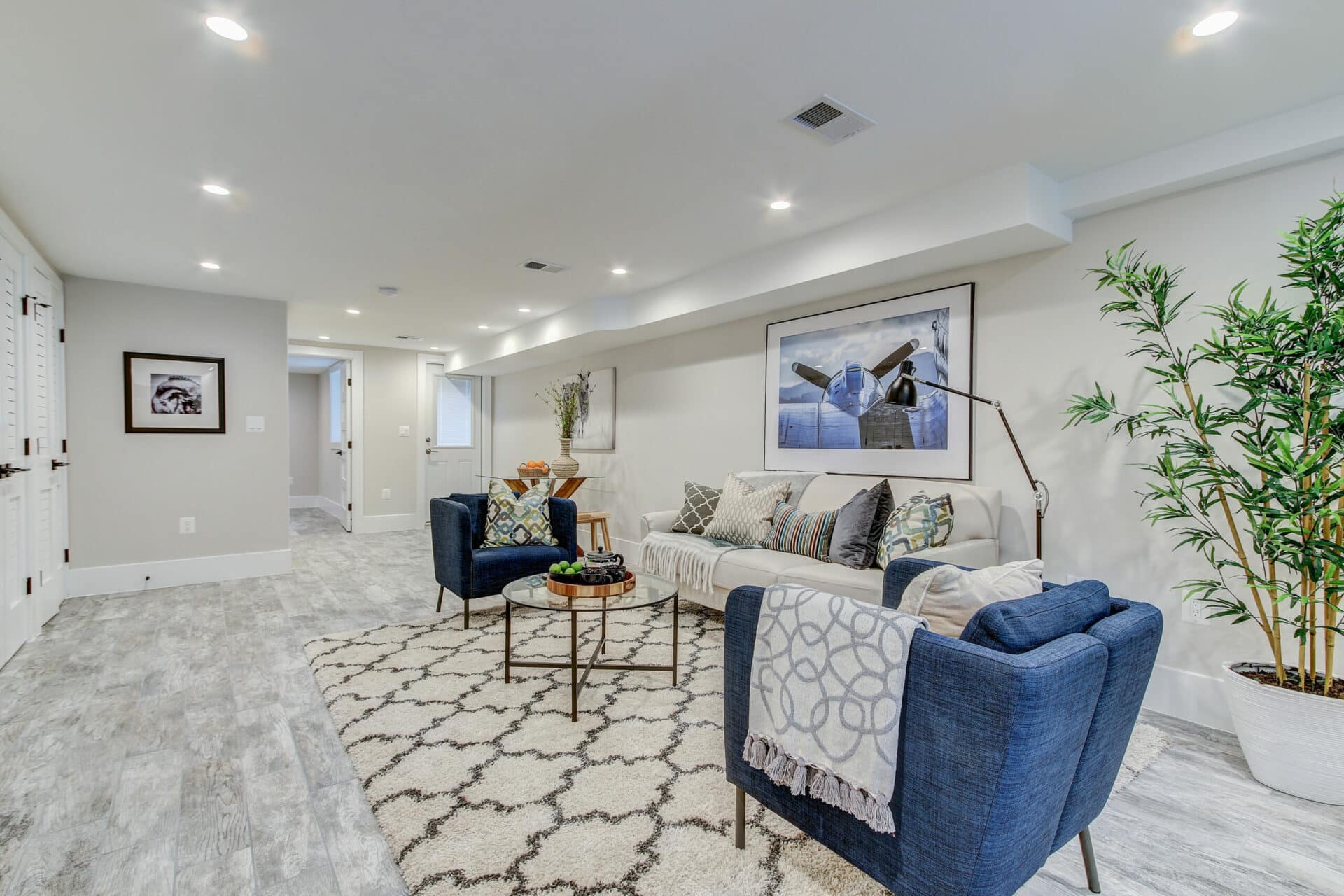 Basement Remodeling Designs to Transform Your Space
Do you walk into your basement and feel like you walked into a dungeon? Is your basement not giving you the vibe of the extra living space that it was supposed to be? It's rare to have an extra room for a basement as now the opportunities are endless. All you need are the right basement remodeling designs to change your perspective.
Many homeowners consider their basements as storage space and use it to stack up old boxes and worn-out furniture. This way, they forget about the basement's real essence that makes up for an extra room in your house for many other purposes and activities.
Convert your dull basement into something that will not only give you a usable area within your home but also skyrocket the real estate rate of your house in the market! Here are a few basement remodeling designs that you can take inspiration from and apply to your home's extra square footage.
Wet Bar and Lounge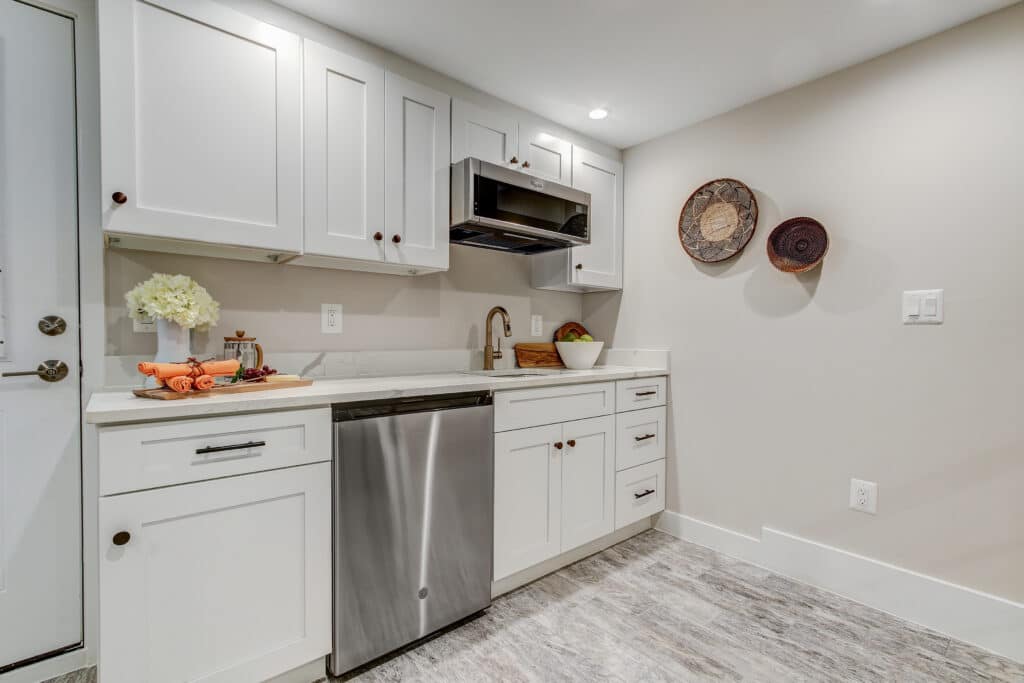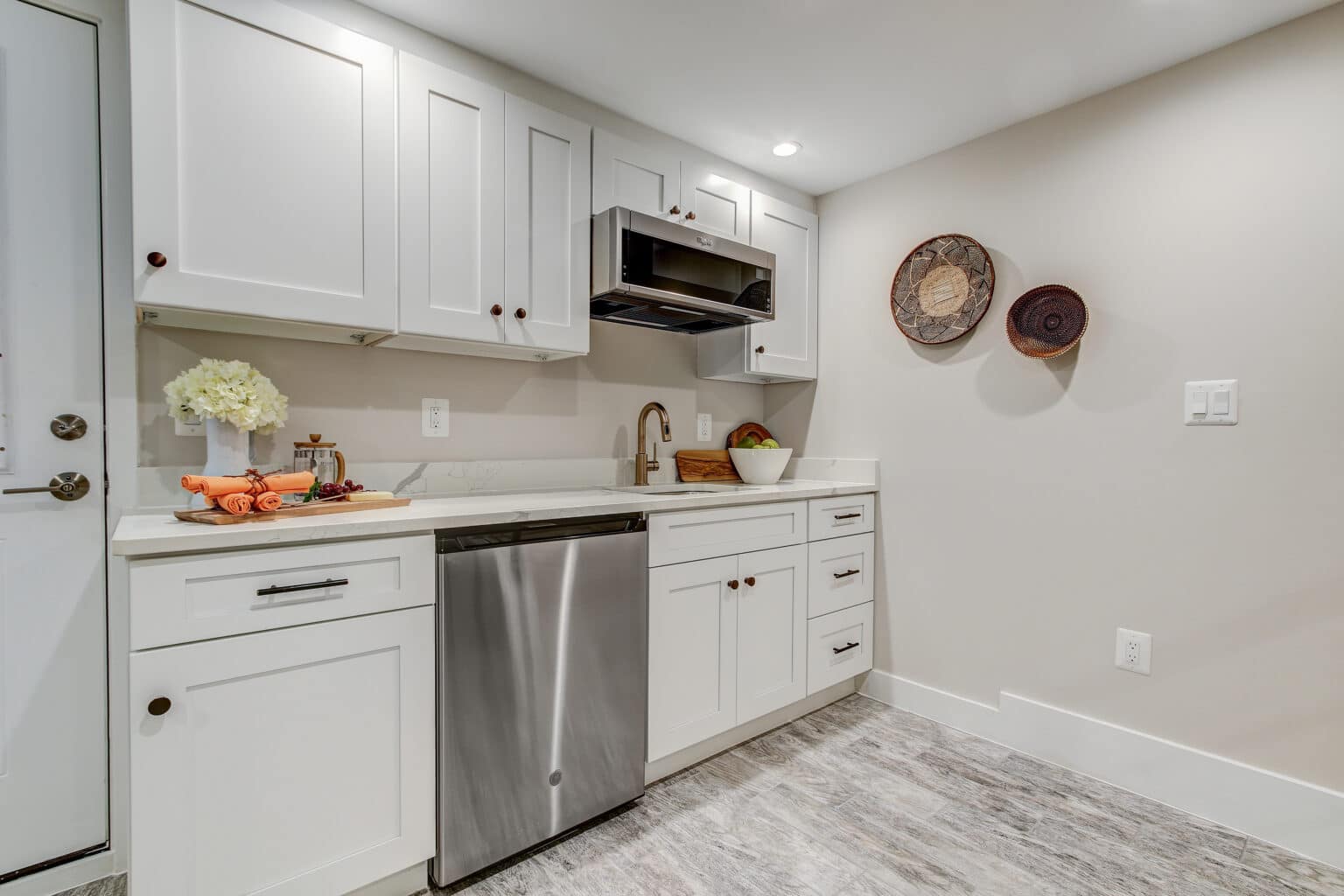 Incorporate a wet bar into your basement to give it the chic look that it needs. What more do you need in your basement than swivel armchairs, a flat-screen, and in-built racks for storing the alcohol? Turn that extra space into a party spot for those Friday nights!
This basement bar will have everything you need for an ideal entertaining evening. Add plenty of storage and shelf space for the glassware and container storage, a marble countertop, a small refrigerator, and a television set for your game nights and parties. Give your friends the room they will not want to leave, even after the game is over!
Home Theatre
A basement is a god's gift, for you can experiment with it however you like! So instead of wasting away that space, why not convert it into a big home theatre? You can also add a large projector screen and a comfy leather sofa! A carpet, neutral colored walls, and a tray ceiling give this home theatre the depth that it needs. Sounds impressive, right?
If you do not wish to go so high-end on it, you can also convert it into a modern media room that features a large leather sofa, a custom media cabinet, a flat-screen, and a three-tiered coffee table to give it a state-of-the-art look!
Guest Suite
One of the best basement remodeling designs is to set the bar high by incorporating a bathroom, a bedroom, a living room, a kitchen, all in your basement. You can also make it a suite for your guests to live in! Your home sets a great impression on your visitors. And this is your best opportunity to give your guests the best living experience that they can ask for!
You can even separate your basement entrance to give more privacy to both yourself and your guests. On top of that, it will add more incremental value to your property! A basement guest suite is quite a rare sight and will make nothing but an excellent investment for your home.
Wood Accents and Fireplace
Remodel your basement by adding several basement remodeling designs like light-colored carpeting, and recessed soft lighting.
You can also add wood accent furniture positioned right opposite a wooden or brick fireplace for a neutral, classic look. Wooden furniture and carpeting give the room a very vintage and warm ambiance. For instance, it will leave you wanting to spend your cold winter morning cozied up in your basement.
Similarly, you could even go for the contemporary den basement look. You can also add four modern chairs around a round coffee table, right next to the fireplace, with a rug underneath. On the other hand, you can also mount a large flat screen on top of the fire mantle.
Mid-century Modern Basement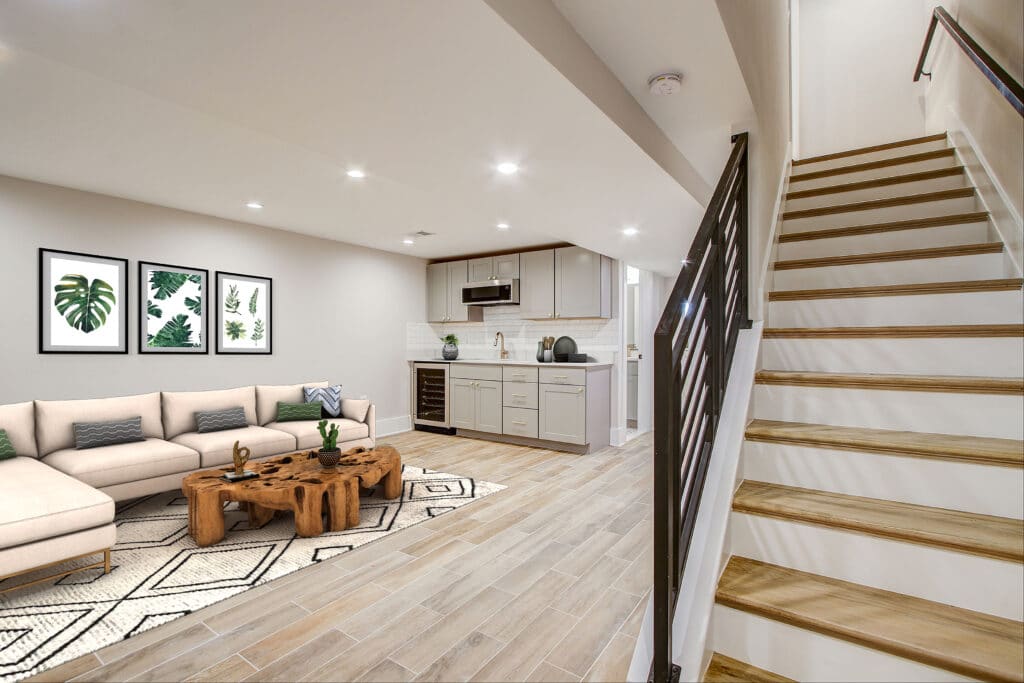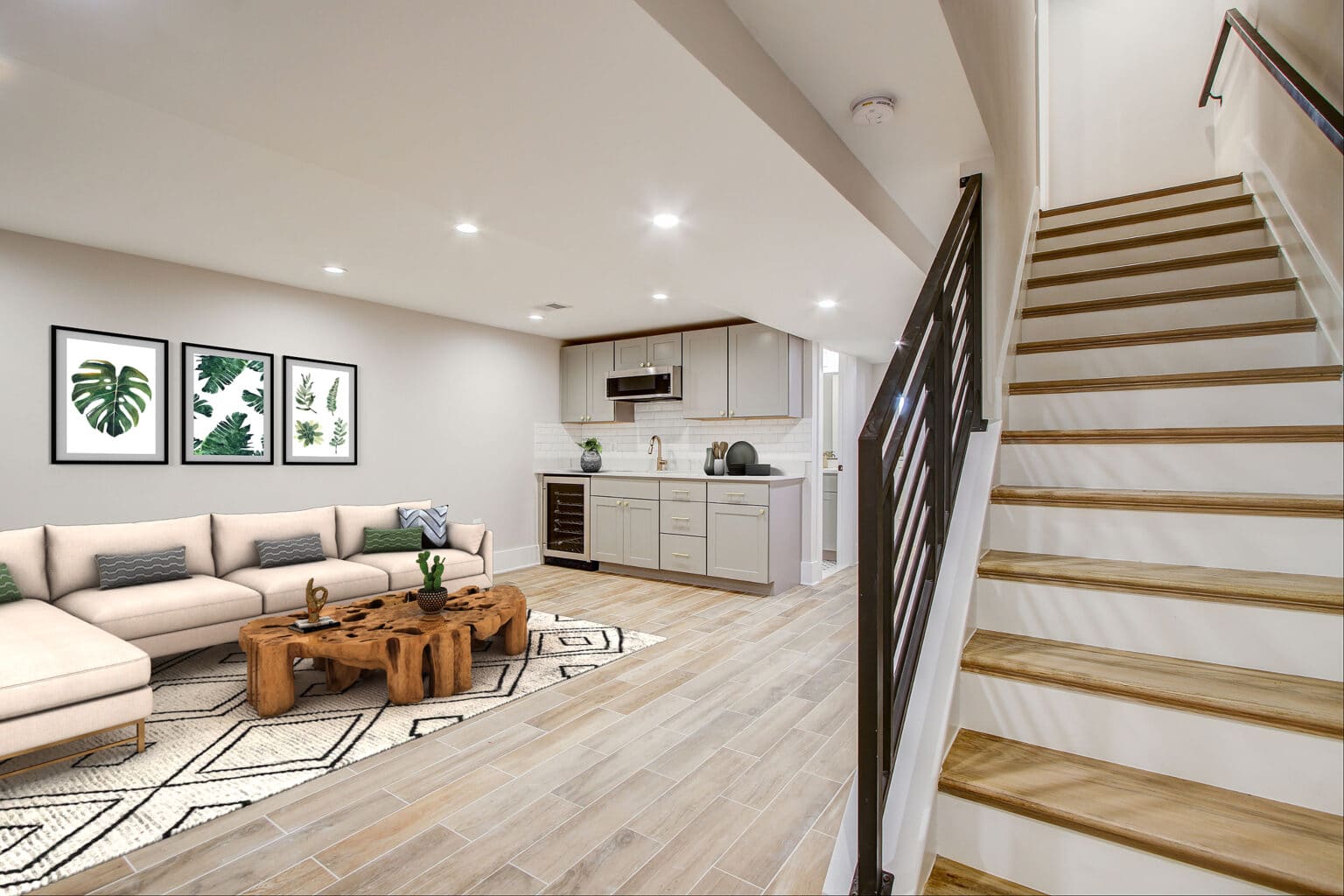 Bright blue accents add a unique and inviting appeal to this modern look. Mid-century dining navy blue chairs around a coffee table merge well and make an excellent seating space beside a blue-hued kitchenette.
 It will also help liven up the seating space and give you the mid-century yet modern look for your den.
If blue is too bright for you, you can even go for a nice, cherry red rug beneath a tufted brown leather sofa. A mid-century modern red refrigerator and a microwave on the side with red details throughout the room give it a nice accent color and a fun vintage touch.
Wine Cellar
If you wish to go fancy with your basement remodeling designs, how about converting it into a wine cellar? This will not only give it a high-end look to your basement but also make a great wet bar for your house for your relaxing time!
 A floor-to-ceiling, built-in wine cellar is a stunning addition. Similarly, add barstools surrounding your marble countertops and mahogany cabinetry and shelves with under-cabinet lighting give it the super posh look that would want you to invite guests all the time, just to show your wine cellar off!
Gymnasium
Out of all the options for your basement remodeling designs, a highly recommended one would be a gymnasium. A modern home gym looks very attractive and is also quite necessary. So why not make the most of this spare area? 
Add some recessed lighting to ensure that your gym is well lit. A large mirror opposite your equipment will give you the illusion of additional space, and neutral-toned walls and flooring will provide it with a raw, up-to-date workspace look.
Colorful Playroom
A colorful, family-friendly playroom basement remodeling designs incorporating plenty of storage space. You can use it for games and aesthetics make the perfect remodeling project for a household full of children. 
On top of that, a bright and colorful room with small tables and chairs for your children to do their homework, arts and crafts, and have a fulfilling play-time will leave your children ecstatic!
These basement remodeling designs will help you figure out what aligns best in your family's interest and give your basement a look it deserves!