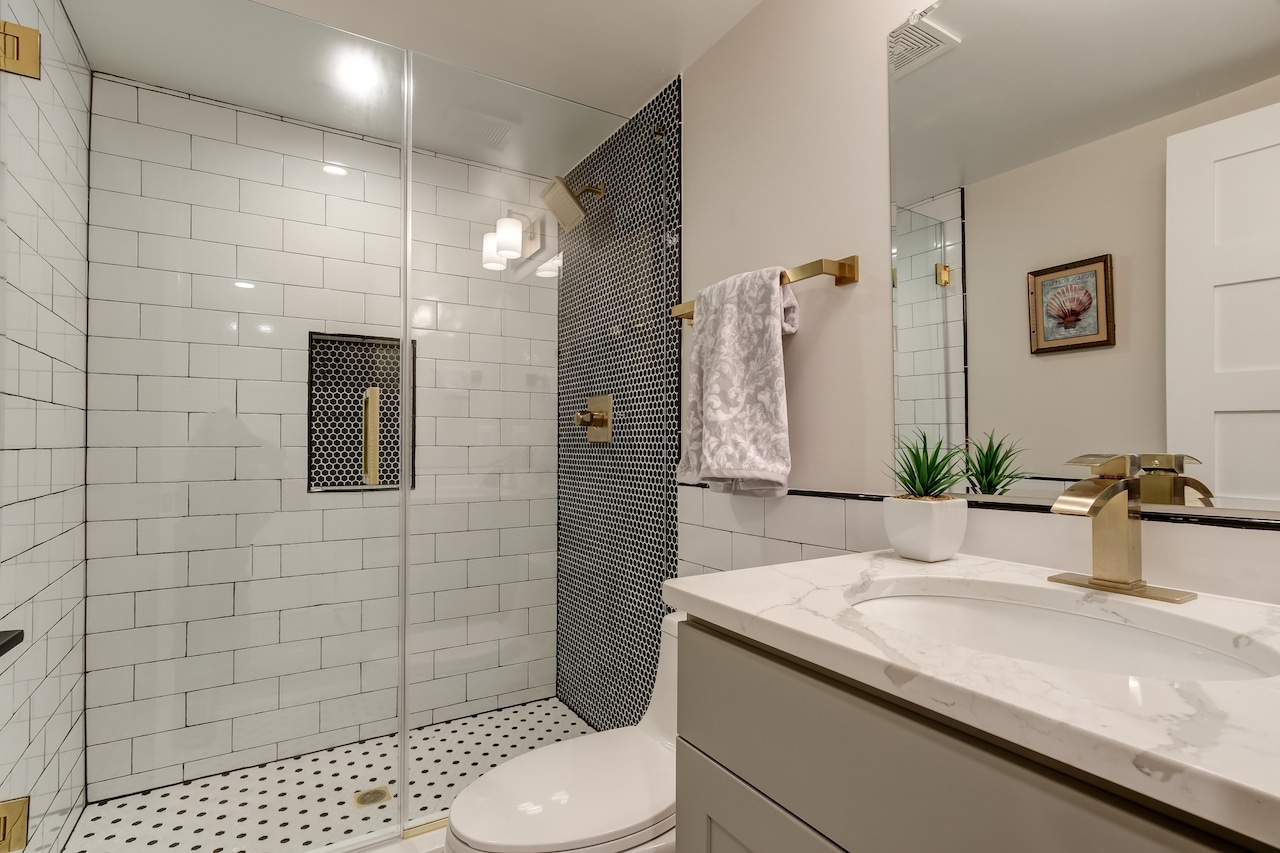 How to Save on a Bathroom Remodel: Everything You Need to Know
When planning on a bathroom remodel, you'll have to make tough decisions throughout, both big and minor. Most of these decisions will usually revolve around the bathroom remodel costs. Those decisions are also an opportunity to save on a bathroom remodel! 
So no matter which stage of the bathroom remodel process you're in, this guide will guide you on how to save on bathroom remodel effortlessly.
Plan it Right
If you plan right, you will face fewer delays, fewer budget-busting purchases, and fewer unexpected roadblocks. When you're figuring out how to save on bathroom remodel, you can begin by considering the following points:
Who uses the bathroom, and what are their needs? Is the bathroom meeting everyone's requirements? 

What do you need to alter? How can you improve the situation?

What are your "wishes," and which of those "wishes" are the most essential?
The Process 
It takes time to identify and decide between all of the materials, designs, colors, surfaces, and elements you like best in a bathroom remodel. Keeping track of everything will help you stay organized. That's why a budget helps you prepare for a bathroom remodel. As you progress through your remodeling process, a planning worksheet allows you to keep track of various options.
After you've determined the items you prefer, you can combine them all into a single worksheet and begin making decisions about how to invest your budget best and get the most out of it. Let's start with the big picture: 
How to Save on a Bathroom Remodel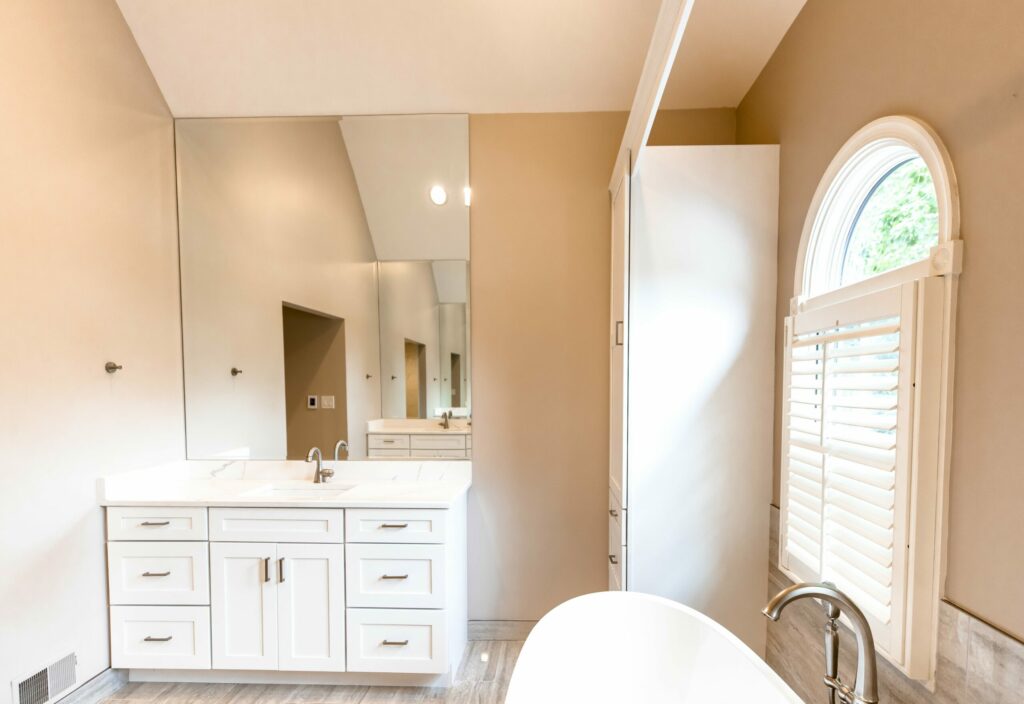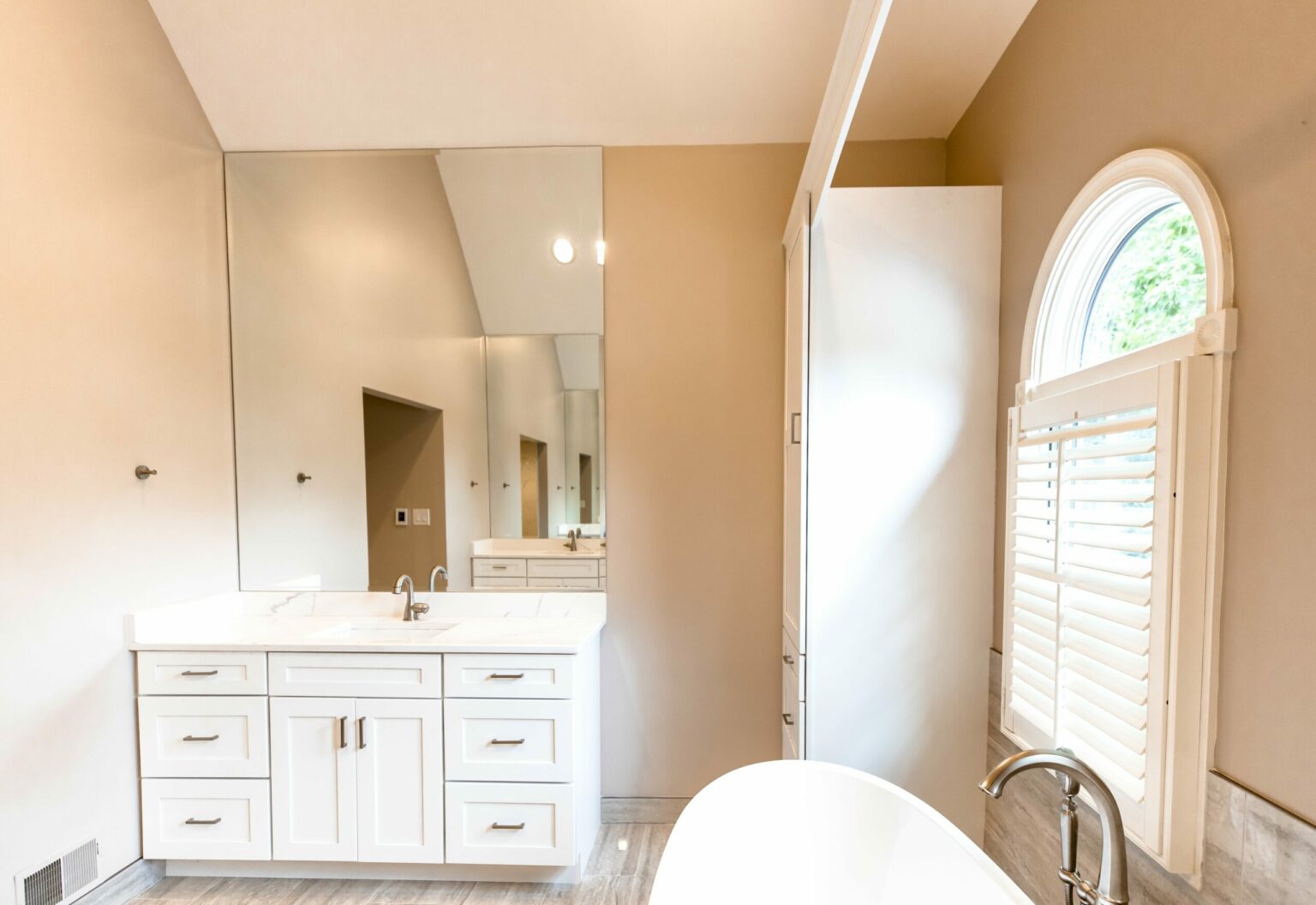 Keep An Eye On Your Bathroom's "Footprint"
Retaining the layout of your bathroom is the single most cost-effective strategy to save money on your redesign. To put it differently, don't make significant adjustments to your bathroom's existing structure. 
The "footprint" is the basic layout and framework of your bathroom. It includes:
Foundation,

Walls – especially load-bearing walls,

Sinks,

Plumbing,

Fixtures like toilets, shower, and bath,

Doors,

Electrical wiring. 
You may need to change the layout — for example, by moving a toilet or shifting from a bathtub to a shower to achieve your ideal bathroom. However, keep in mind that adding or modifying any of these parts may result in a significant cost increase, so only proceed if you're certain the additional cost is justified.
Alternatively, if your primary objective is to upgrade the look and feel simply, there are ways to improve its aesthetic without altering its footprint. For instance, if the bathroom feels too cramped, you should consider painting the walls a lighter color, replacing the shower curtain with a glass door, and adding a skylight for extra natural light. Some of these modifications might increase costs, but they will be less costly overall.
Opt For a Staged Remodel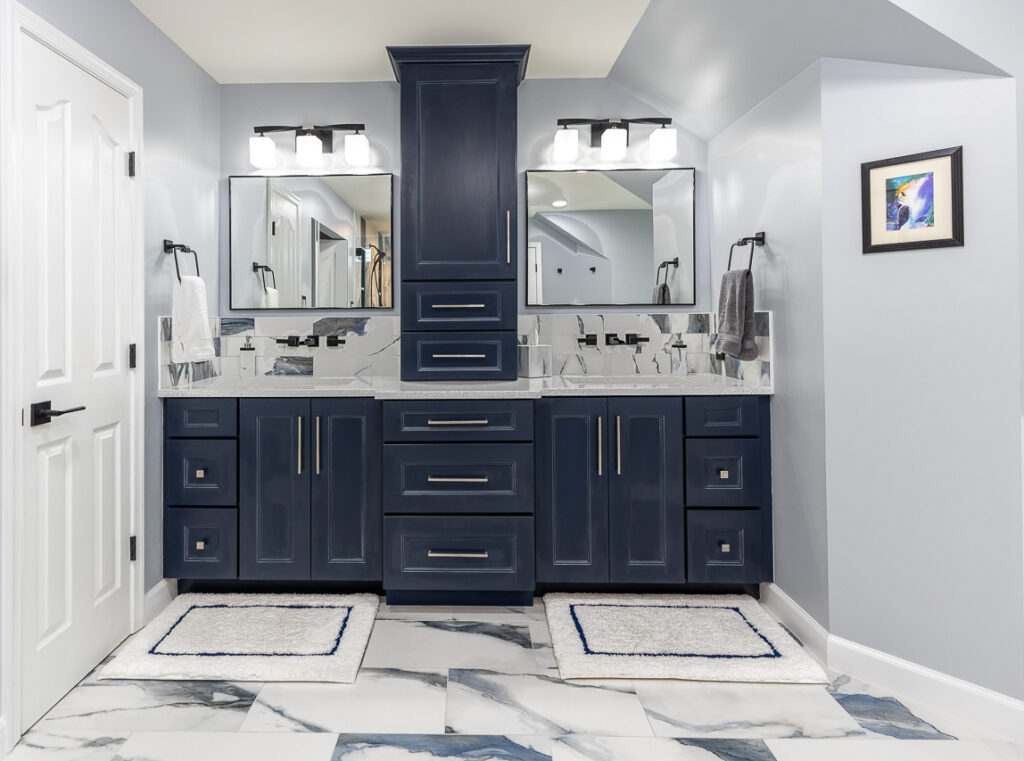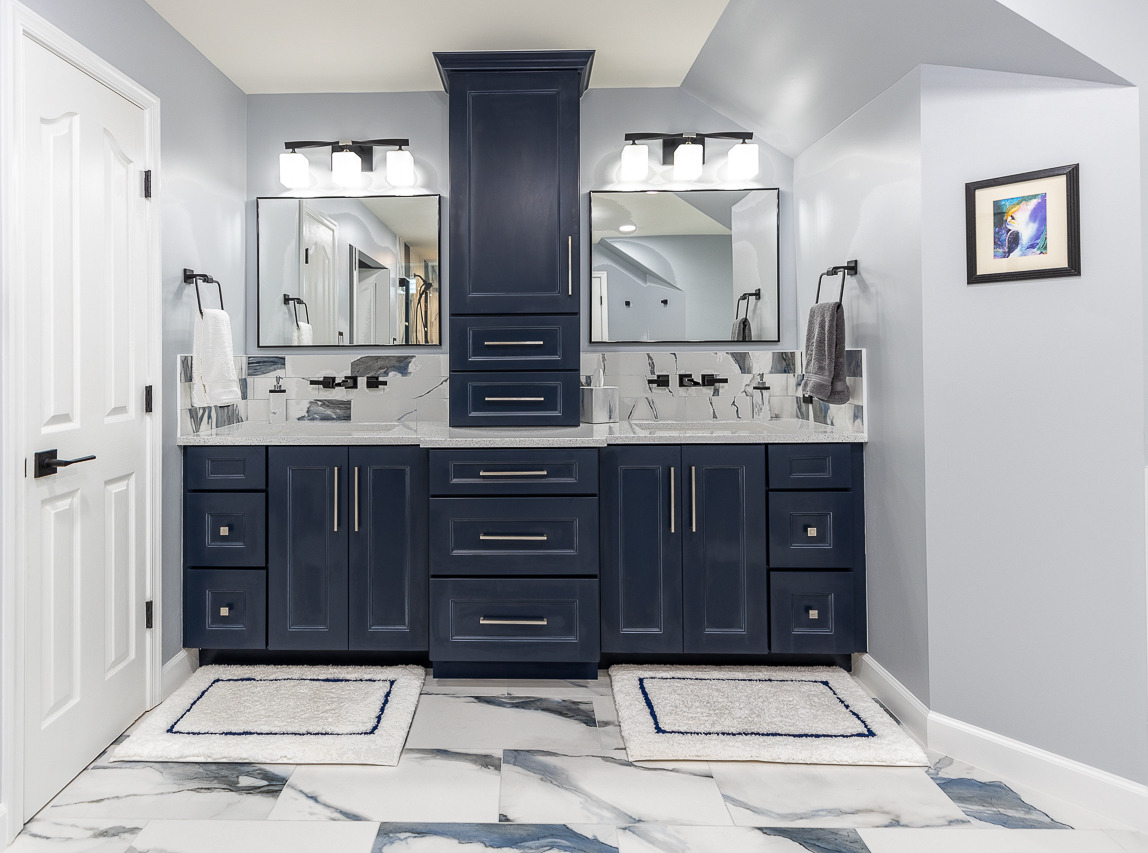 The term "staged remodel" refers to the process of spreading out the work across time. This spreads out your spending over several time periods, so they don't all arrive at once. This is a great tip when you're figuring out how to save on bathroom remodel as well as make it functional. 
Furthermore, a staged bathroom remodel also allows you to learn from each step along the way. This is especially useful for first-time renovators, as any knowledge you gain in the early stages can be incorporated into the final stage.
A staged makeover may feel counterintuitive to seasoned DIY'ers who are used to finishing projects when time and cost permit. However, we don't recommend tackling a significant bathroom redesign on your own. You should only do this if you're well-versed in current regulations and local codes. Similarly, you should also have the experience with everything from load-bearing walls to plumbing and electrical. If not, it's best to hire a bathroom remodeling contractor near you.
More often than not, hiring a remodeling contractor will help you save on a bathroom remodel. On the other hand, if you mess something up, you'll have to spend more repairing it than what you would've in the first place.
Focus on Timely Decisions & Deliveries
The following are two common causes of bathroom remodeling setbacks and cost overruns:
Homeowners make too many last-minute decisions about everything from product selection to material selection to paint color selection. 

Neglecting to plan ahead on the arrival date for products and materials bought by the homeowner.
Imagine what would happen if the brand and style you desire were unavailable when you need it. Or you can't locate a light fixture you like since you left it until the last moment to shop? 
What if you have to pay more to receive your materials by a specific date because your allowed lead time was insufficient? When homeowners are compelled to make significant decisions on the spot, they feel more pressure. Don't let this happen to you.
Bottom line: do as much preparation and buying ahead of time as possible so that the items you need are either on hand or ready to be delivered at a moment's notice when the time is right.
Hire Professionals 
Yes, you might need to hire a remodeling contractor to save on a bathroom remodel. Although it may seem contradictory, employing professionals early in the remodeling process may save you money. However, your needs will determine who you employ and how you hire them.
For a massive project: Discussing your ideas with construction or design specialists (and possibly hiring one of them) will assist you to guarantee that your design, budget, and timeframe are realistic – avoiding cost overruns. Many of the issues that arise during remodels are due to a lack of information. That is something that professionals can assist you with.
If your renovation is minor, but you'd still appreciate some support from a pro, you should consider hiring a bathroom designer. You can hire one for a few hours and then rely on the help of a skilled handyman to finish the job. For a relatively small charge, bathroom designers can offer a project's depth of information and creativity.
With little creativity, you can enjoy the added benefit of having something unique in your bathroom without breaking your wallet. 
Splurge When It's Right
What's a bathroom renovation without a handful of impulse purchases? Here are some suggestions on how to save money on a bathroom remodel and get the best value:
Spend money on one or two large, visible objects, such as your bathroom countertop or the soaking bathtub you've always wanted.

Spend money on minor details that can make a big difference. Sconces surrounding the mirror, high-end faucets, and luxurious new towels are just a few examples.
In conclusion, a bathroom redesign does not have to be super expensive. There's no denying that some additions, such as a fully tiled walk-in shower or extending your master bath's floor space, can cost tens of thousands of dollars. However, with enough planning and creativity, you can turn your bathroom into a spectacular sanctuary on a far smaller budget.