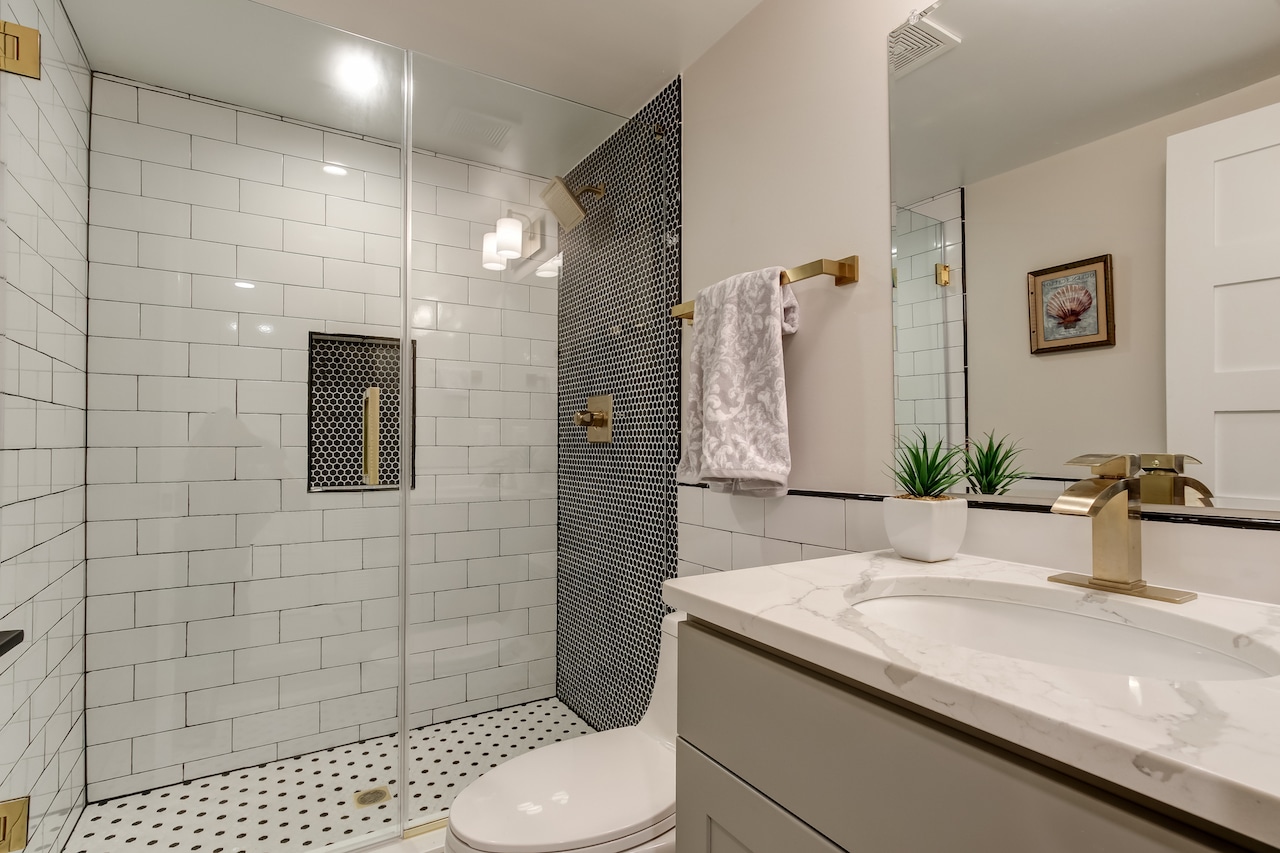 Easy Minimalist Bathroom Ideas For Your Next Remodeling Project
A minimalist environment is devoid of frills or exuberance. It favors linearity, uniformity and simplistic design, almost stripped down to the bare essentials. This doesn't mean that a minimalist environment is a gloomy environment. On the contrary, minimalist bathroom ideas rhyme with purity, serenity, and comfort. More than a style, minimalism represents a philosophy of returning to a calm and relaxing environment after the daily chaos of modern-day life.
"Less is more" or "less is better," which is a perfect description of the minimalist principle, but how can you apply it to design a minimalist bathroom? Equipment, colors, materials, and accessories must combine perfectly to create a minimalist environment for your bathroom remodel.
How to Begin Remodeling for a Minimalist Bathroom
Before you jump to create a minimalist environment for your bathroom remodel, you must perform these two crucial steps:
Get Rid of The Extra Stuff
The first step to create a minimalist modern bathroom remodel is to declutter the space. Go through everything you have in your bathroom and sort them out. You should keep what is necessary and get rid of everything else.
Rearrange Everything
Once you are done with removing all the things not in use, you will have much open and tidy space. You can now better assess the area and arrange the remaining products in a more organized fashion.
For a minimalist bathroom, it's essential to have as few objects in view as possible. The objective of following this top bathroom design trend is to have as clear a view and keep the bathroom clutter-free.
7 Simple Minimalist Bathroom Ideas
Now that you have decluttered the space, it's time to move on to the design phase of the bathroom remodel. Here are several design minimalist bathroom ideas you can consider while remodeling.
1. Choose the Right Fixtures
For a minimalist bathroom, you should refine the lines. If possible, replace the traditional built-in bathtub with a free-standing one to make the environment appear spacious. Such an arrangement also creates an airy open atmosphere.
Now, focus on discrete elements, prioritizing practicality – sleek faucets, minimalist sink, and stylish towel warmer. This way, only the main component of the bathroom will be highlighted, creating a uniform and linear environment.
2. Choose The Right Materials
For a minimalist bathroom, materials play a central role. Therefore, opt for elegant and exotic materials. Focus on materials with a natural appearance, like stone and concrete.
Their smooth, shiny and timeless appearance sets the space for a minimalist environment and provides a feeling of luxury, cleanliness, and well-being – essential criteria for a minimalist bathroom.
However, before you choose a particular material, ensure its durability against humidity and moisture.
3. Combine Neutral Colors
The bathroom should be a place for relaxation. Comfort, warmth, and practicality are the essential attributes for bathroom settings. In your endeavor to create a minimalist bathroom, combine natural colors for a perfectly serene and sober bathroom environment.
White, gray, and other light shades are perfect for a minimalist bathroom. Light colors with a shiny accent go perfectly with a minimalist bathroom, even in a small space.
Dark colors are not entirely out of the picture, provided you use them sparingly and tactically while avoiding certain bathroom color schemes.
4. The Floor Should Also Reflect Minimalism
Similar to the walls and ceilings, the bathroom flooring should also represent the theme of the bathroom remodel. For minimalist bathroom ideas, natural stone in light shade as floor covering is preferred.
Additionally, the arrangement of the floor covering plays a crucial role in creating a minimalist environment. Mosaic or chess-type floor layout looks perfect for a minimalist setting.
Apart from the looks, it's also vital that the floor is safe, therefore choose materials that are not very slippery or make necessary arrangements to reduce slipperiness.
5. Prefer Open Storage
The storage of a minimalist bathroom should also adopt the minimalist principle while still being practical and functional. Shelves and other open storage go well with a minimalist bathroom. Opt for storage solutions that are not too bulky or take too much space. Never divulge with core principle or minimalism, "less is more." Similarly, you can also install tall columns fixed on the wall or opt for wall-hung cabinets.
Floating cabinets make it possible to free the space and also create a sense of lightness. Similarly, you can have storage units suspended from the walls at different levels to break up the monotony of the room and thus make the decor of the bathroom even more original and designer.
6. Ensure Ample Lighting
Minimalism is synonymous with the impression of spaciousness and luminosity. Therefore, it's essential to plan carefully about the lighting of the space. Make sure your bathroom is amply illuminated.
If possible, create inlets for natural light. For artificial lighting, choose soft colors. If you favor a little subdued environment, soft diffused lighting with a slight dimming effect will be ideal. Similarly, compact recessed lights in the ceiling or on the walls will look great.
7. Add Simple Bathroom Accessories
Simplicity is the norm for a minimalist setting; it applies to the accessories too. Although minimalist style limits everything in the bathroom to the minimum, accessories still help bring a decorative touch to the whole.
Of course, flashy trinkets are out of the equation, but you can put a green plant that will bring liveliness to the space, a designer soap dispenser, or a towel warmer that will catch the eye and set the tone for the environment.
If you have a subdued color tone, you can splash some vibrant colors with bright red or yellow bath mat. But do not overdo it, or you will disrupt the overall style of the environment.