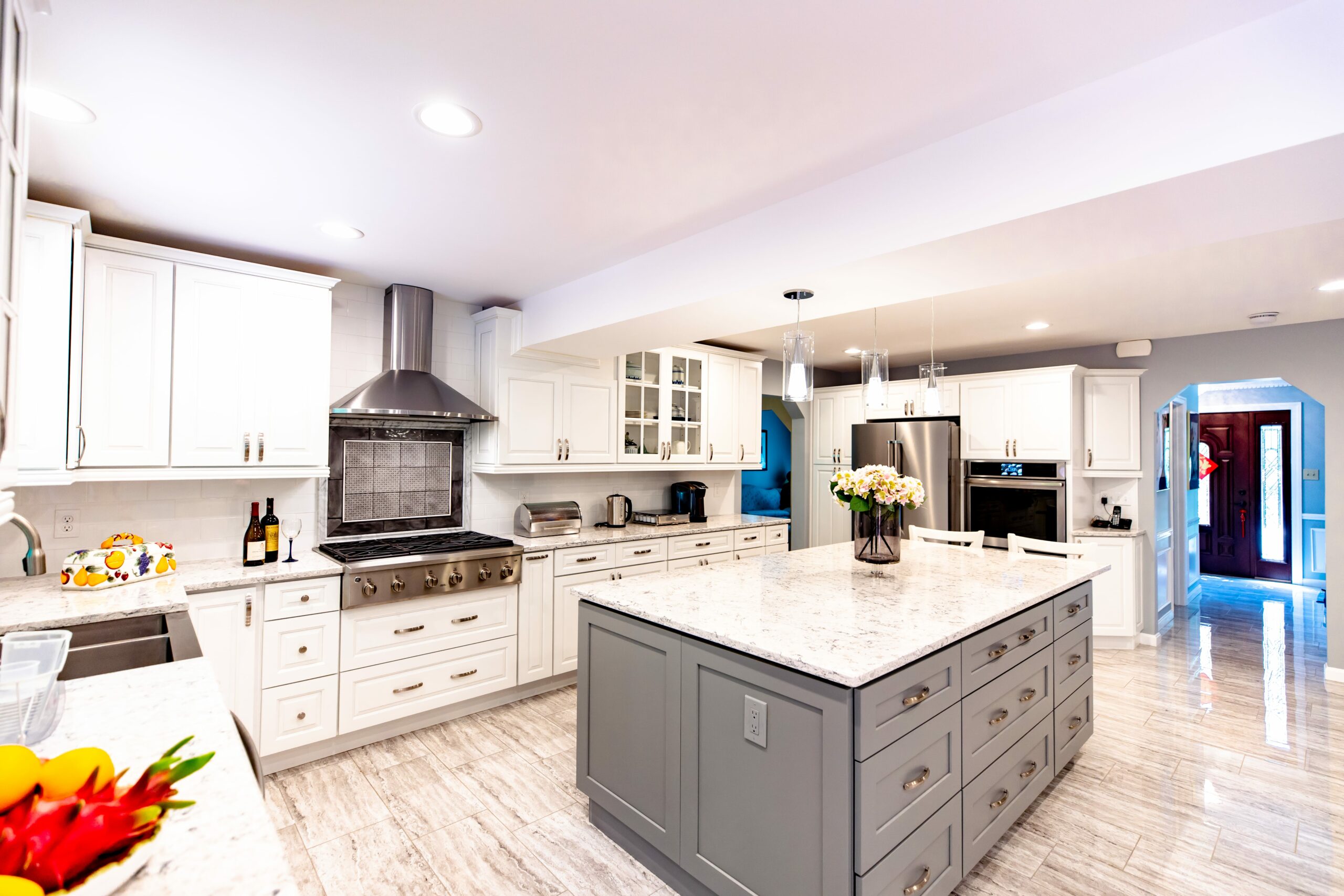 Kitchen Remodel Pitfalls That You Should Be Avoiding Right Now!
A kitchen remodel project not only needs a solid plan but also takes a lot of time to complete. Consequently, you don't want to cut corners or watch yourself falling into kitchen remodel pitfalls. 
There's more to a kitchen remodel than bringing down a few walls and adding a new shower. Discussed below are some common kitchen remodel pitfalls many homeowners fall into while remodeling their kitchen. Be sure to avoid these during the kitchen remodel process for the best results. 
Designing A Dysfunctional Kitchen
As beautiful as you may wish your kitchen to be, the kitchen remodel also needs to be functional in all aspects. This ultimately comes down to the amount of space and layout of the kitchen.
Besides, factors such as size and direction of doors, available space, appliances, refrigerator, cabinets, and oven should be considered when designing the kitchen layout. 
You don't want your kitchen to appear cramped merely because the door openings are narrow or doors open in the wrong direction. Remember to consult professionals in the plumbing, electrical, and gas departments when planning your kitchen remodel. 
Lack of Planning
Almost any home remodeling expert will tell you that the more careful and detailed your planning is, the easier the construction will be. Nevertheless, many homeowners rush through the design phase of their kitchen remodel with the idea of making changes as things go along. 
Remember, this is one of the most significant kitchen remodel pitfalls. Changes during construction can lead to unintended consequences that can cost a lot of money and time. 
As a result, it is always a good idea to consult a kitchen contractor who has lots of experience with the design aspect of remodeling. They will help you ensure everything is covered before construction begins. 
Impulsive Design Decisions
While most materials will seem interesting in the showroom, but they might not be in an actual kitchen space. These include flooring, countertop, and even wall materials.
Don't invest in something you haven't tried before until you have tested then in your home. Moreover, take small samples of these to your kitchen and check how they blend. Don't make decisions based on an impulse. 
Wasted Space
Since big and spacious kitchens are considered a luxury, you don't want to waste space in the same. The kitchen needs to be compact enough to make sure anyone preparing meals doesn't have to walk miles to do their work.
While it shouldn't be cramped, dead space isn't suggested in the kitchen either. Proper planning is needed to ensure the kitchen flows naturally and everything is within reach when required. 
Forgetting About Family
While designing the kitchen, it is easy to forget that it is a shared space. For instance, you might pay attention to the kitchen work triangle but forget about accessibility for other members of your family. Similarly, you can consider how your family uses the kitchen on a daily basis.
For instance? Does your family have a meal on the kitchen island or in the dining room? Do they stop by during the day and work on the kitchen island? Questions like these will help you determine how your family will use the kitchen space once it's completed.
Failing to Include Enough Storage Space
Failing to include enough storage space is perhaps one of the most common kitchen remodel pitfalls that a homeowner can make. 
Just like you need space to work, you also need to make sure that your kitchen has an ample amount of space. Extra storage space has never been an issue, but the shortage of space has definitely been one. 
Get recommendations from professional kitchen remodelers on this and meet your small kitchen storage needs. 
Overlooking Lighting
A lot of homeowners forget about the lighting when it comes to kitchen remodeling. Believe us. There should be at least three types of lighting in the kitchen space. 
General light for lighting up the room, task lighting that will focus on a specific area, and pendant lights that will make your kitchen look visually appealing.
Overlooking lighting is one of the most dreadful kitchen remodel pitfalls inside of a beautiful kitchen. Install the types of lights mentioned above to avoid any inconvenience. Also, you can place the lights under the cabinets or under the countertops to make it livelier. 
Ignoring Aesthetics
Admittedly, remodeling and designing a kitchen space is a challenging task. Focusing only on the functionality of the kitchen is one of the top kitchen remodel pitfalls that still a lot of people fall into.
You need to pick the right color scheme for your kitchen and then design according to it. This is because you will be spending a lot of time in your kitchen. Therefore, your kitchen needs to be a place where you enjoy spending time, not a place that is an eyesore. 
Inadequate Ventilation
Just because a meal smells excellent the night you make it doesn't mean you want to experience its odor days later. Thereby, installing cheap ventilation that actually doesn't remove the air from your kitchen can prove to be a big kitchen remodel pitfall. 
A quality air intake on a range hood will transport unwanted air outside. Besides removing odors, this will also eliminate excess heat from the stove-top and smoke from high-temperature cooking. 
Good ventilation further extends the life of your appliances, particularly your refrigerator. If you don't invest in good ventilation, it can cost you more in the long run. 
Incorrect Placement of the Island
Kitchen islands have been popular in remodeling projects for quite a while, but making kitchen island mistakes can be inconvenient.
One of the most significant issues is when an island obstructs efficient workflow between essential areas, mainly the refrigerator, sink, stove, and oven. This can be caused by an island that is too close to other kitchen components or an island installed in a small kitchen remodel. 
Ideally, a kitchen island should have at least 3.5 feet of open space around it on all sides. Dimensions for your ideal kitchen island must be measured carefully in your remodel design.