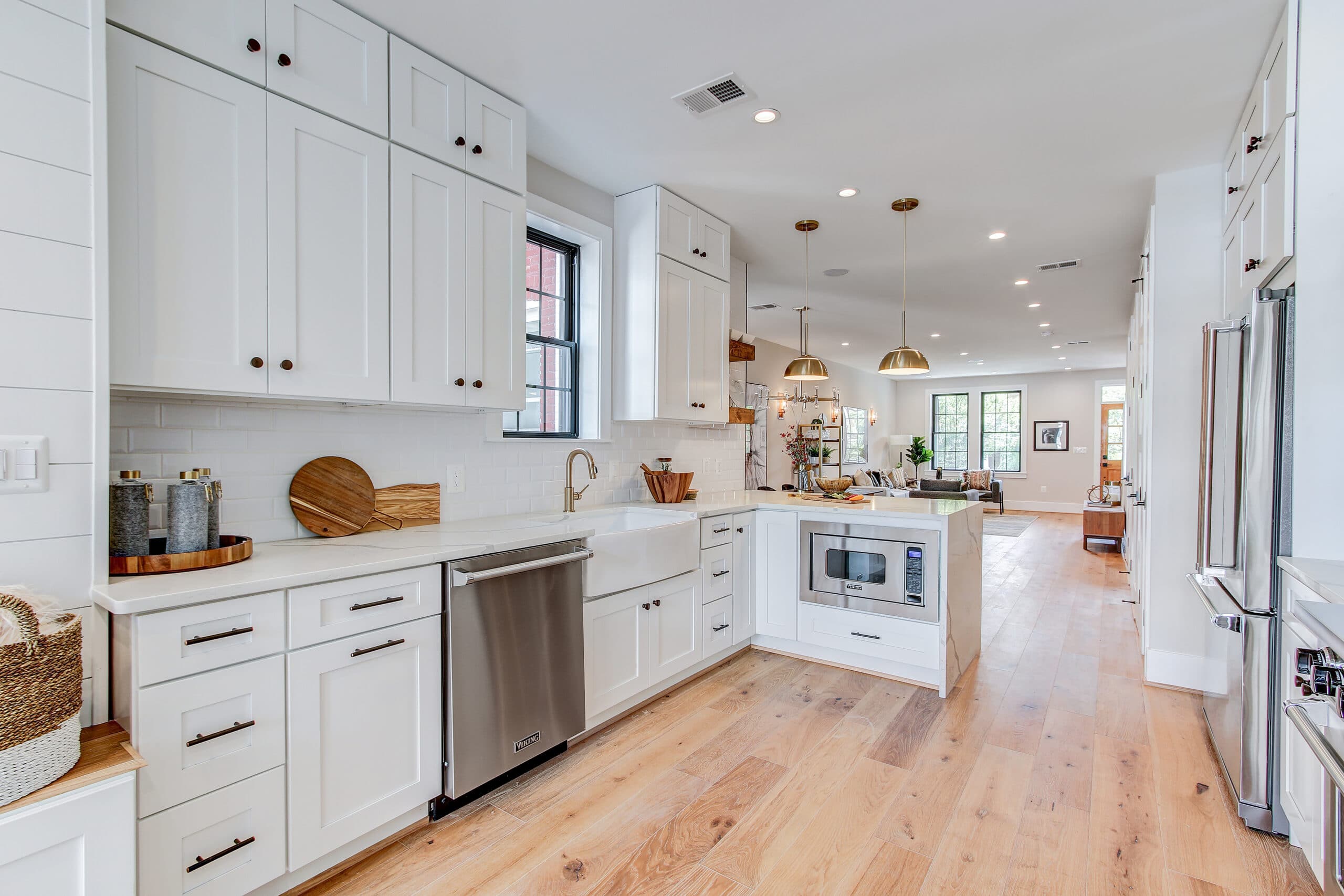 What Are Some Durable Options For Kitchen Flooring?
Kitchen floors have a tough job: they have to withstand a lot of foot traffic as well as spills and stains. Aside from being functional, affordable, and durable, your kitchen floor is also a huge design statement. A major aspect of your kitchen remodel is influenced by the floor you select. However, with the wide range of materials, colors, and textures available today, your options are nearly limitless.
When looking for durable options for kitchen flooring, here are a few things to keep in mind:
Kitchen Flooring Factors to Consider

Design and Lifestyle
You're the main lead of your cooking show at home, which means you will spill some sauce, break the silverware, and have partners, kids, and pets checking in frequently. 
Thus, it's critical to choose the flooring that can withstand this kind of abuse. Non-slip floors are also essential for safety if you have small children or intend to stay for a long time. 
Whether your kitchen remodel is rustic and country-style or cutting-edge modern, choose floors that complement it.  Take into account the size of the kitchen and the existing colors, textures, and patterns. Ask yourself, is the vast surface under your feet meant to serve as a neutral backdrop or a vibrant centerpiece? 
Maintenance 
Kitchen floors can become messy because of food spills and tracked in the trash. While remodeling your kitchen, pick a good surface that is easy to clean, durable, water-resistant, and stain-resistant to save time on maintenance.
Cost of Kitchen Flooring
If you're undertaking a kitchen remodel, you are probably splitting your budget between countertops, cabinetry, lighting fixtures, and other products. What role does the cost of kitchen flooring play in the grand scheme? 
Once you calculate your flooring budget, measure the kitchen to get an overview of square footage. Keep in mind that there will be extra costs for underlayment, shipping, installation, and the demolition and disposal of your old floor.
 Luckily, once you figure out what works best for you, you have a lot of options. Here are a few of our favorite durable options for kitchen flooring:
Vinyl Floor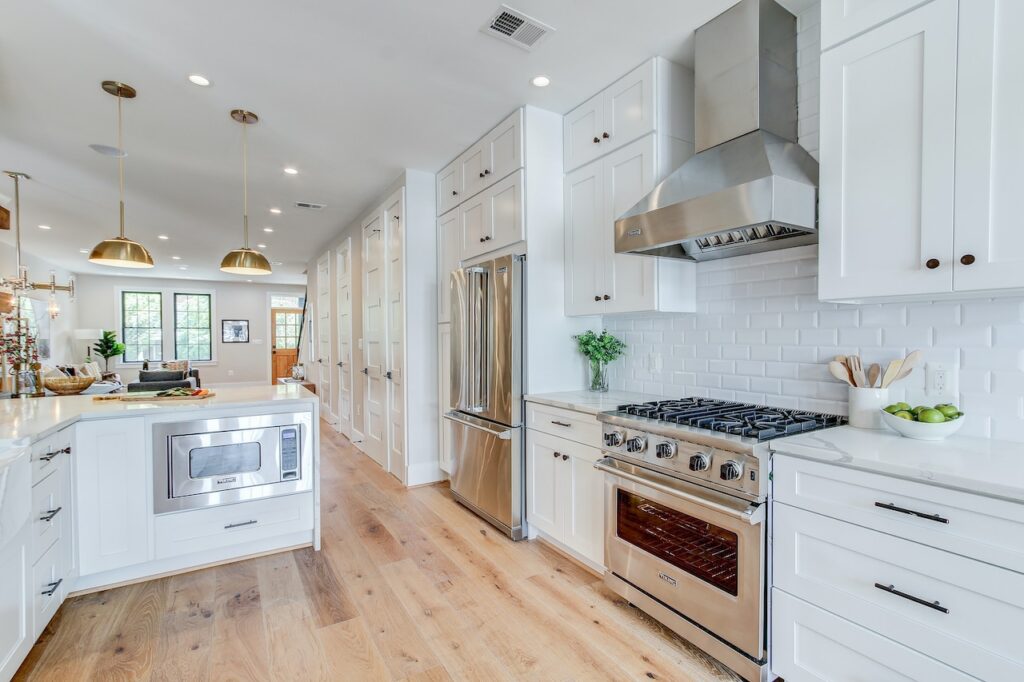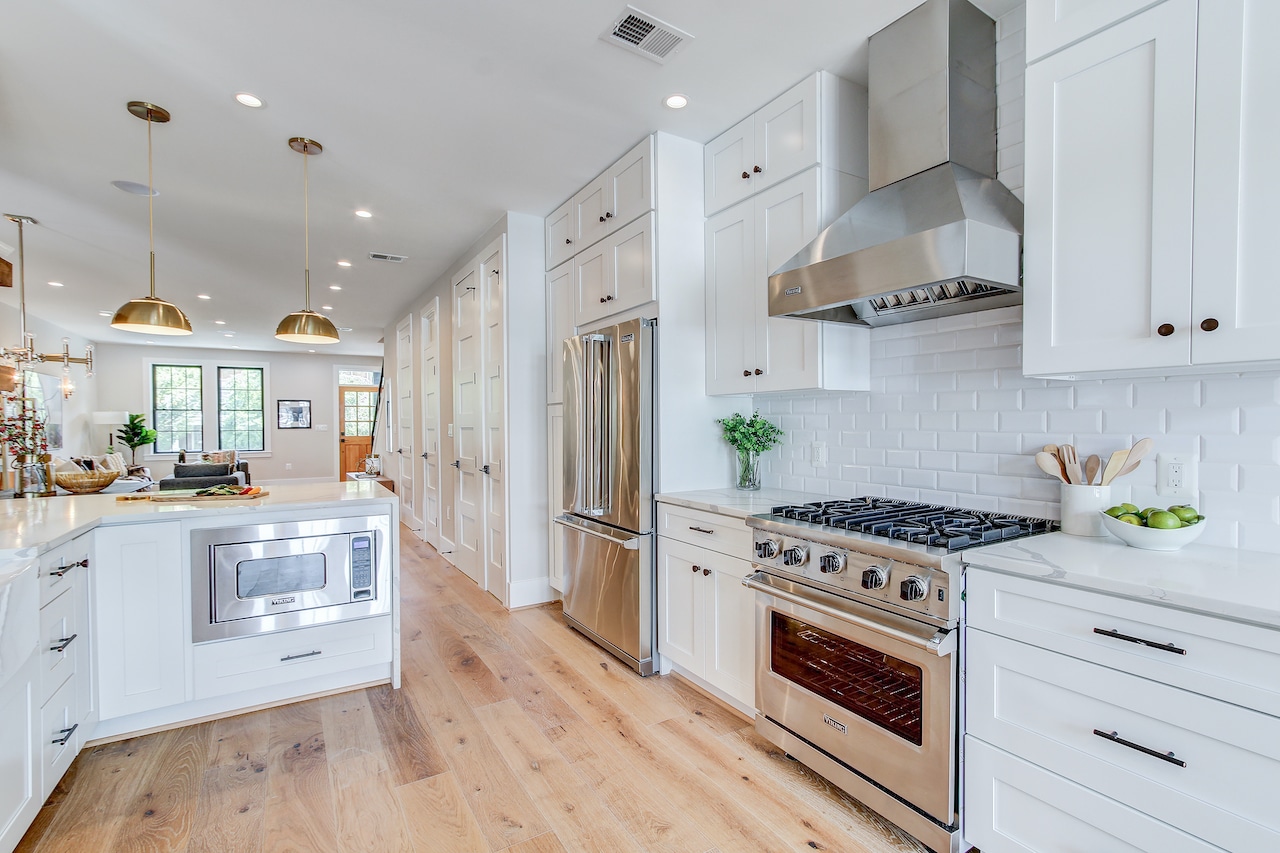 For those on a strict budget, vinyl or resilient flooring comes in several designs and colors, either tiles or sheets. Sheet vinyl flooring is stain-resistant and water-resistant, which makes it easy to wipe up spills and splatters.
It's available in a wide range of colors and shapes, from plain hues to embossed vinyl that mimics ceramic tile or natural stone. Since regular sheets are 12-feet wide, seams are usually minimal.
Sheet vinyl is a durable option for kitchen flooring, as it feels slightly soft underfoot. It reduces exhaustion and makes extended periods of menu planning easier. 
Moreover, dropped bowls and glasses won't break easily on resilient flooring. So if you're looking for cheap and durable kitchen flooring, some sheet vinyl options are downright ideal for your kitchen remodel. 
Porcelain Tiles
Porcelain kitchen tile flooring is the most durable and attractive choice. It's an upgraded version of standard ceramic tile because of a manufacturing process that makes it strong and less porous. It makes porcelain an ideal choice for kitchens where spills are inevitable.
Porcelain tile costs $3 to $8 per square foot, based on the brand and quality, plus an extra $5 to $10 for professional installation. You can either find glazed or unglazed porcelain tiles. You can even find glazed tiles that have a glass-like finish and customize them to any color. 
Also, you can use the earthy color of the clays to create unglazed porcelain tiles. Make sure you choose a slip-resistant variant. 
Hardwood
Hardwood kitchen flooring is warm, beautiful, and easy to walk on. If you have an open-concept kitchen and want a single flooring type that stretches beyond your kitchen, this is an excellent option. 
Hardwood is a low-maintenance material that is both durable and easy to clean. Appropriately finished hardwood flooring will resist moisture from occasional spills, but you should wash up spills and stains almost instantly.
You can find hardwood flooring in either solid wood and engineered wood planks. Besides, engineered wood planks have an actual wood top veneer supported by a sheet of plywood, which makes the planks more durable and less prone to moisture and temperature — a durable option for kitchen flooring. 
Cork
Cork is water-resistant and spill-resistant, which makes it among the best options for kitchen flooring. It comes in different sizes and grain patterns, including 12″ x 12″ tiles and 1″ x 3″ planks. It also has a textured surface to avoid slips and falls.
Furthermore, cork is a natural material since it is extracted from tree bark. It is also prefinished, which means you will have to reseal it every 3 to 4 years to keep stains and spills at bay.
Stone Tiles
Stone tile is a great option if you want natural flooring at a low cost. Based on the type of stone, you'll pay $6 to $16 per square foot, including $5 to $10 per square foot for professional installation. Hiring an experienced tile setter is strongly advisable because of the distinctive underlayment and thin-set mortar necessary. However, be cautious as stone tiles can pop off due to even slight variations in mortar thickness or the inability to use the right products. 
Unlike engineered tiles, natural stone tile enhances the appearance of any kitchen. It is also anti-slip because of its semi-porous nature. Regardless of the type of stone you pick, you can choose from several natural tan, brown, gray, red, and other neutral tones.
You can also choose between different natural stones like Marble, Slate, Travertine, and Granite. Slate is one of the most durable options for kitchen flooring for many reasons, but namely, because it's slip-resistant and strong. On the flip side, it's best to avoid marble as it can get slippery and cause accidents when wet. 
Moving on, natural stone tiles come in two-inch squares to create a unique mosaic look and up to 18-inch squares for a more modern look. You can use a wet squeegee and soapy water to clean your stone tile floor. Obey the tile manufacturer's instructions for sealing the floor every 3 – 4 years to protect it from cracks and discoloration.