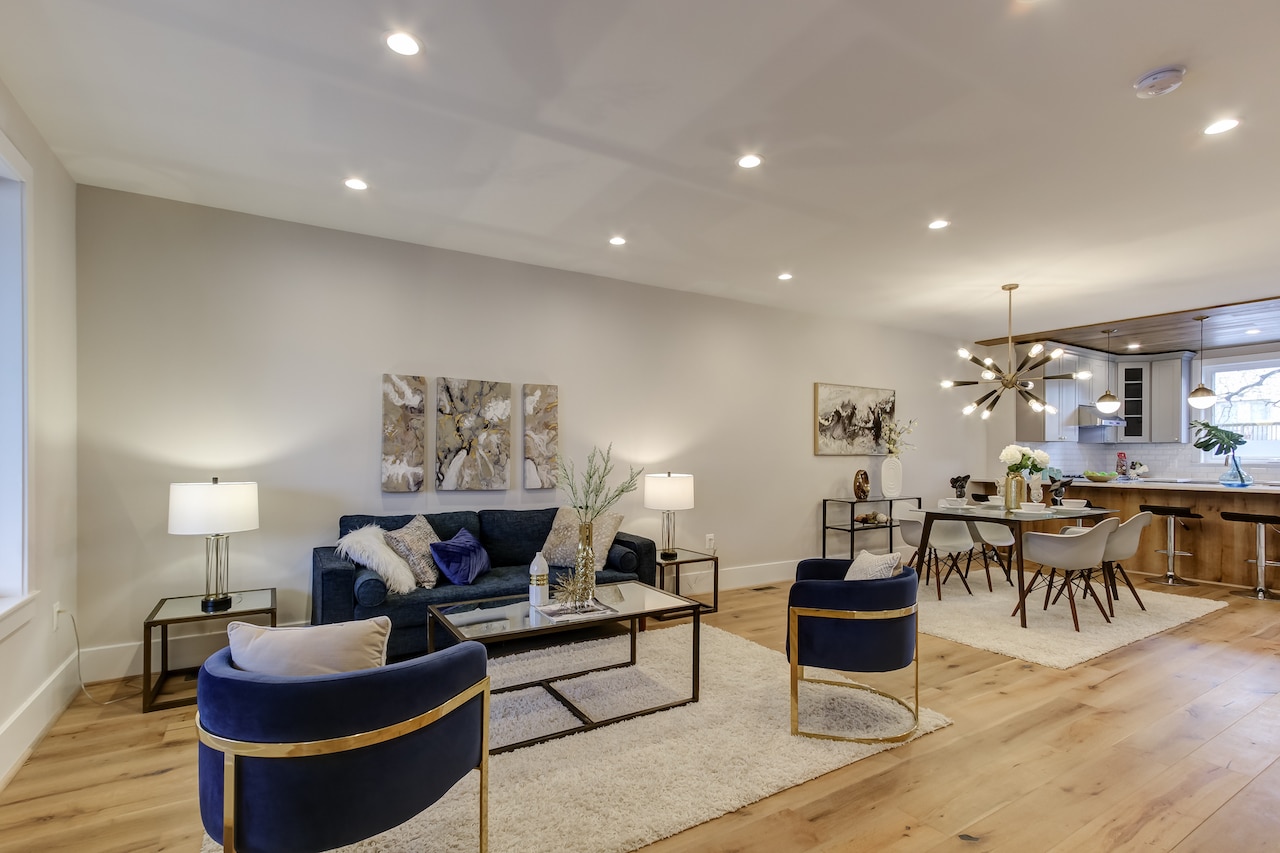 Ceiling Design Ideas That Will Transform Your Home Instantly
When most of us think of ceilings for our homes, we picture pristine white and flat surfaces. Some of us even have the dreaded popcorn ceilings. Very few people consider including distinct ceiling design ideas in their bedroom or living room. 
In fact, ceiling designs are sometimes overlooked when decorating our homes, yet they can offer your home addition a distinct personality that no amount of artwork or furniture can match. 
Why Should You Re-Do Your Ceiling Design? 
One of the best parts about ceiling design ideas is that you don't have to renovate your home to get it entirely. Several cost-effective options include purchasing paintable stick-on coffered ceiling tiles or even some DIY home improvement ideas.
You can even opt for gold, design-encrusted tiles or the beautiful, imperial ceiling trim while remodeling your home. Eventually, if you're ready to take that step, pay a contractor to completely re-do the ceiling! The ideal ceiling design varies based on available space in each room and residence. 
However, when it comes to the surrounding walls and the general layout of the property, there are endless styles and colors to pick from. From wood trim ceilings to coffered ceilings, cove ceilings to the ever-popular drop ceiling, these lovely ceiling design ideas, and ceiling inspirations will give any room an exceptional feel. 
Shine A Spotlight With Unique Ceiling Designs
Modern ceilings are capable of much more than simply providing a plain white roof. You may create anything you want with the vast array of designs available. Architects experiment with both form and function. Thus you can include attractive LED lighting units easily into a lavish roof design.
When combined with suitable lighting ideas for your home, an inventive roof design may do wonders for any existing area. They can present a sleek and elegant new alternative and offer a sophisticated look by just using pendant lamps and chandeliers.
Ceiling Designs That Play With Depth Perception
Custom-Designed Ceiling
A custom-designed ceiling might have a one-of-a-kind and bright look. One of the advantages is that it has the ability to alter the aesthetic image a room creates dramatically. 
Consequently, a drop roof design can give your home a sleek and modern touch, while a cathedral roof can give it a spacious feel. It's also more current in terms of the latest ceiling design ideas.
Cathedral Ceiling
A cathedral ceiling is symmetrical or it has equally slanted sides that meet in the center of the room (like in a church). Whether utilized indoors or in outdoor construction, this sort of ceiling creates a very open and airy feel. One disadvantage is that because the ceiling is so tall, it's difficult to reach the light fixtures if you want to change/fix them.
You should ideally keep these ceilings for farmhouses or weekend homes with plenty of room.
Coffered Ceiling
A coffered ceiling can give a room a sense of height and spaciousness. All the while, it retains the 'old English' elegance that so many interior designers and homeowners desire. 
For instance, you can use the tray ceiling to create the illusion of a more expansive environment with a modern feel. It's preferable for homes with a higher ceiling, although it does add a new viewpoint.
Domed Ceiling
The shape of this ceiling is similar to that of a dome or a half-sphere.Domed ceilings are often used to add interest to a room's ceiling. You can accentuate them even more with a chandelier, diffused lighting, and vibrant paint.
These ceilings are best suited for spaces such as the entrance foyer or other common sections of the house like the living or dining room.
Other Types Of Ceiling Design Ideas
Shed Ceiling
The shed ceiling slopes towards one side of the enclosed or semi-open space. You can usually find shed ceilings in homes with an attic area or a room located immediately beneath the home's slanted roof. 
Exposed Ceiling 
An exposed ceiling is ideal for an industrial-themed room where services such as air conditioning ducts, wiring, and other services are exposed. It's because a lot of individuals adore the stripped-down, warehouse aesthetic and exposed ceilings are a fantastic way to contribute to this style.
Barrel Vault Ceiling
A barrel vault ceiling is a barrel-shaped ceiling with a long arch running across it. These ceilings run the length of a lengthy corridor. Just look at how the barrel-vaulted ceiling design is complemented in this double-height room by skylights that fill the interiors with natural sunlight.
Beamed Ceiling
The load-bearing wooden beams are exposed on the inside of the home in a beamed ceiling, which is a classic form of the ceiling. You can use reclaimed wood for a rustic, traditional look. 
In modern home remodels, you can achieve the same result by installing false beams that run the length of the enclosed space. If the ceiling height is less than 11 feet, the room can feel claustrophobic.
Tall Ceiling
A lofty ceiling is an attractive feature in any room since it adds a sense of openness and spaciousness. You can find these ceilings in a double-height room or in the common spaces of duplex homes or bungalows, with the goal of connecting two levels with an atrium to create an interacting environment. 
However, one big disadvantage of a high ceiling is that it wastes a lot of energy cooling this double-height space, resulting in higher air-conditioning expenditures.
Blending In While Standing Out
As previously mentioned, people looking to recreate the traditional "beam" aesthetic have a plethora of options. There's always the option of going for the classic beam ceiling. Even if you don't use it for structural support, it has an everlasting and timeless appeal.
The nicest part about many of these incredible ceiling design ideas is how well they blend in with the rest of the house. Despite the fact that it blends in with the chosen theme, it still managed to steal the show in a subtle way.
Lastly, a beautiful ceiling design harmonizes with the rest of the space, enhances its visual appeal, and provides a new functional and aesthetic viewpoint. At the end of the day, it's the perfect balance of flair and structure that you want in your home.