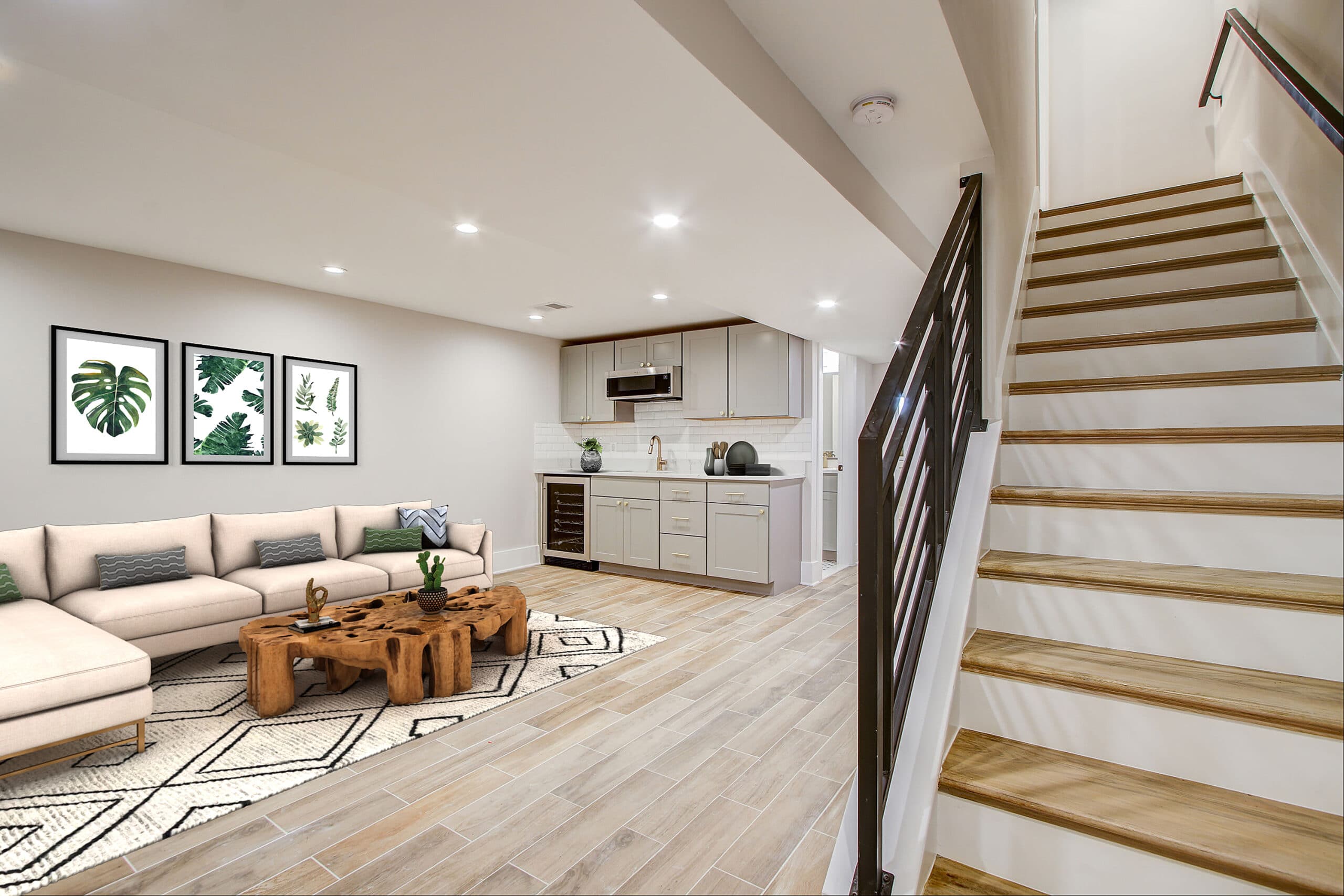 Affordable Basement Updates That Help You Remodel For Less
If you are looking to add some additional space and some value to your house, finishing your basement is your best option. A finished basement can be a game-changer for any household, and there are several affordable basement updates for anyone planning a basement remodeling project.
In today's time, when the price of a house is skyrocketing, homeowners are willing to pay thousands and thousands of dollars to remodel their homes.
Some people are looking to add some square footage to their house, and some simply want to upgrade the look to get the home of their dreams. Ultimately, it is beneficial for the homeowner whether they choose to sell the house or not.
A remodeled basement with a full bathroom can recoup up to 70% of the original investment in resale value. But adding a bathroom while converting your basement into a livable space can be very burdensome on your pockets.
Not every homeowner can afford that. Therefore, whether you are looking to resell the house for a better price or just make some extra living space for your family, there are many affordable basement updates that you can implement to make the room more welcoming. Here are a few:
Focus on the Foundation
If you aim to add value to your property to upscale its resale value, you must focus on the walls, ceiling, and flooring, to make it look decent.
The basement is known to be dingy, dark, damp, and certainly needs a makeover from scratch. You may not make it into the most luxurious room, but you must essentially focus on the foundation that includes the basement's ceiling, flooring, and walls.
Since this update will be a lot of work, you may want to hire professional help.
However, a fully remodeled basement with a completely new look will cost you around $15000. It indeed is an excellent and worthwhile investment in the long run.
But if you are looking for something small scale, you should focus merely on building the foundation strong to make the room a better living space for family and friends.
Paint it Well
If you do not have a spendthrift budget, don't worry. There are other ways to make your basement look bright and beautiful, instead of just adding a false ceiling and drywall.
Painting the basement walls and ceiling can liven up the room and make it a great living space. You can cover the exposed ducts, beams, and pipes on the roof with a solid color paint to blend it in.
Basement walls are generally concrete. Since concrete is highly porous, a few coats of acrylic wall paint or cinder block with latex masonry paint will do the trick.
You can choose any color you appreciate, may it be block colors on a bold accent wall that contrasts with whatever furniture you wish to put in there or pastel colors that give the room a light and happy vibe.
It also makes space look bigger than it is. However, what is crucial is that before you start painting the walls, you must thoroughly seal your basement while remodeling and check that all surfaces are clean to avoid any leakages.
Any amount of dirt or water can cause the paint to eventually chip and peel and cause mold growth.
Add Sufficient Storage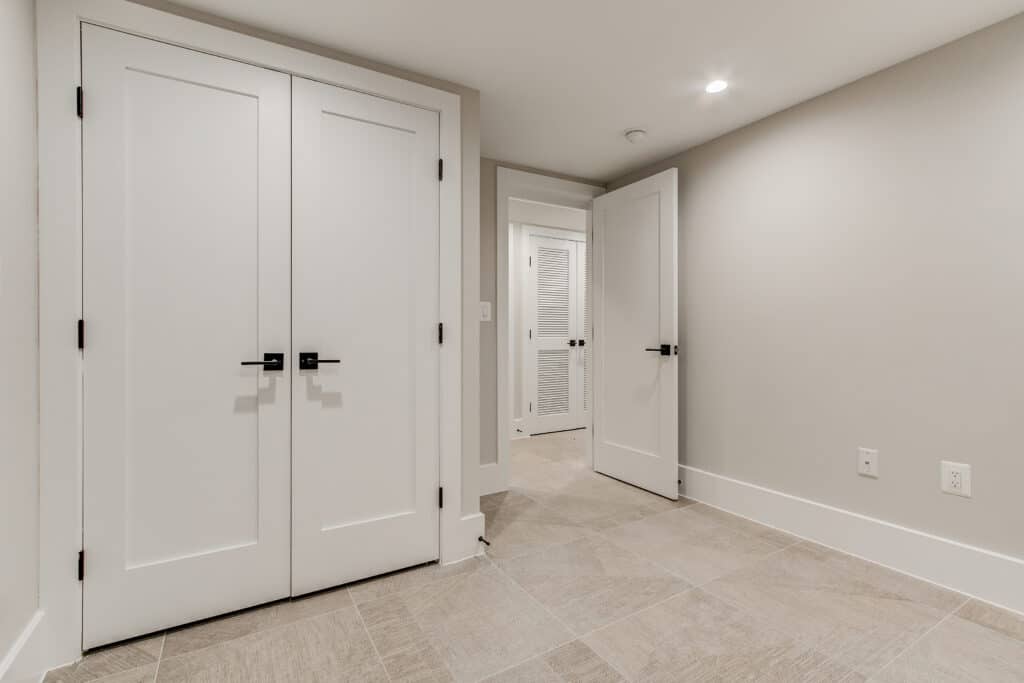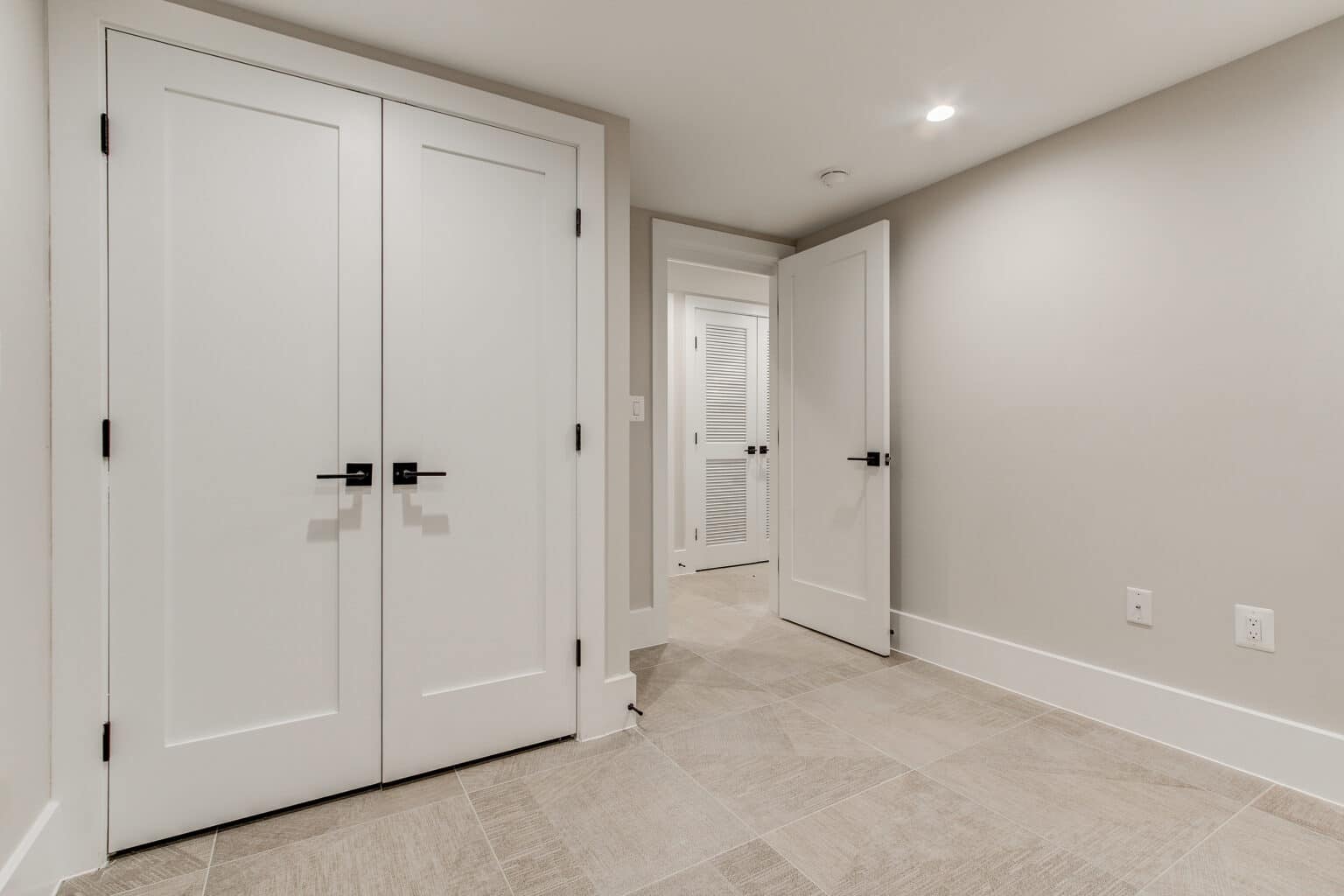 Having a basement means that you are lucky to have extra storage space in your house. However, having extra storage space to stuff all the unwanted items does not mean that you clutter the basement in a disorderly and unorganized manner.
Regardless of what you plan on doing to your basement, there is always room for storage, and you have to work towards making it bigger and more functional.
You can also improve the organization and create more space in the basement by adding cabinets and shelves to store off-season clothes, tools, gears, and much more.
For instance, you can take advantage of the vertical space, along with the horizontal.
Lighting is Important
When you think of a basement, the common thought is a dark and damp room below the house that looks dreary no matter what time of the day.
That is because most basements have very few electrical outlets and probably a few bulb fixtures hanging from the ceiling since people rarely visit that room. That makes the room unwelcoming and gloomy.
So if you are thinking of upgrading your basement, you must focus on adding more lights in there. You can choose any kind of lights you want, from wall sconces and lamps to string lights.
Wall sconces and lamps allow the light to bounce off the wall instead of just dangling from the ceiling like the light fixtures.
Industrial string bistro lights give the room a soft and romantic feel that can be hung alone or along with the wall sconces. String lights take just one outlet to illuminate the whole room.
Go DIY
If you want to try affordable basement updates, the best way for you is to go DIY. If you are going to change your basement's look but do not have an extensive budget, you can take up as much DIY work as you think you can handle.
There are many things in a remodeling project that the homeowner can do himself without any professional help. May it be the initial demolition of the room or adding any final touches, you can save on the hire charge by doing it yourself.
Things such as fixing the plumbing or adding drywall may require you to hire help, but there are many things that you can take up single-handedly. For instance, installing the flooring, painting the room, hammering down any walls, setting up curtains, etc.
Paint the Floor
It would be best if you do not have hardwood floors in the basement. However, if you have a concrete floor, you should paint it instead of keeping it as it is.
Concrete floors give a very dull vibe to the room, so it would be better that you paint it up in bright colors. If your basement is dark, bright colors on the floor will help reflect the light that enters the room throughout the space.
If you do not want to paint, you can also opt to stain the concrete floor, which gives a more natural look to it. Once you stain the bottom, you can opt for area rugs to brighten up the room and warm up the cold concrete floor.
Depending on the basement's size, you can go for a big carpet or several small rugs. This is a low-cost and highly-effective update for your basement.
Easy to Install Flooring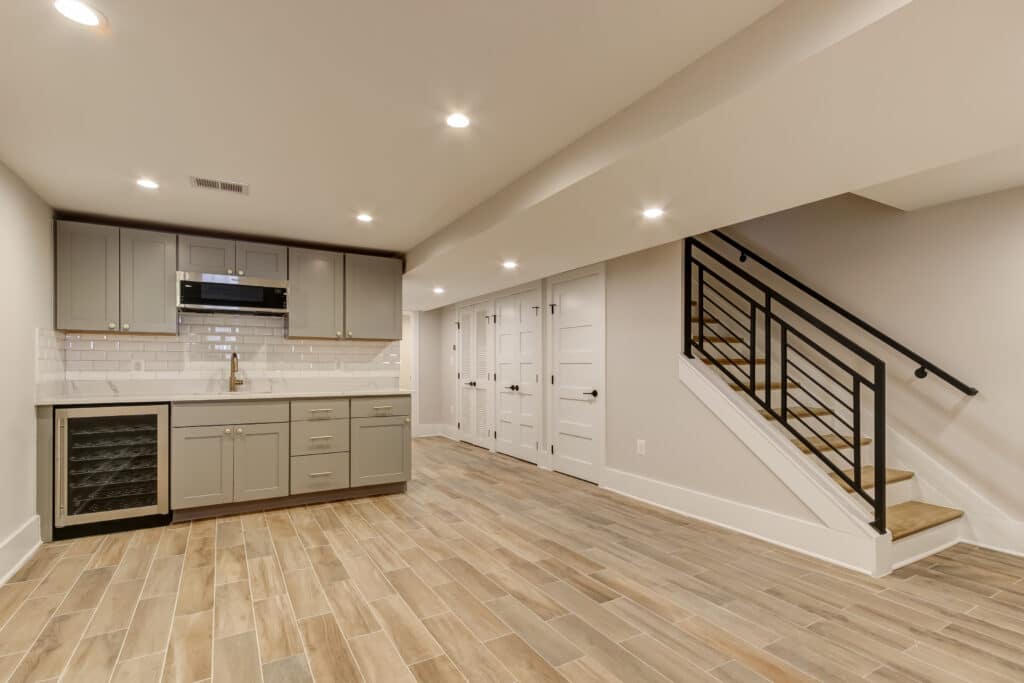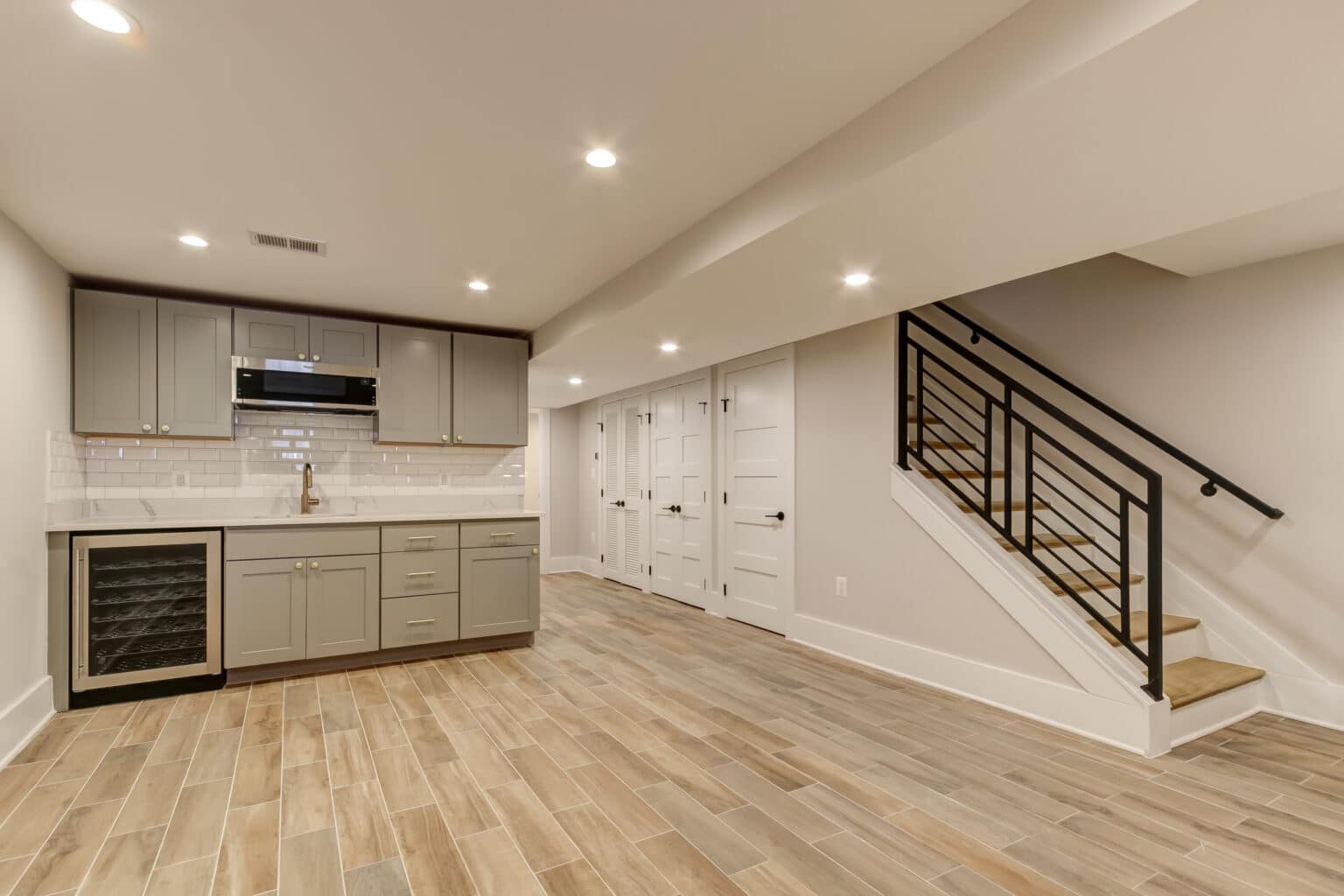 When you update your basement, installing tile, carpet, or hardwood flooring can take you way beyond your budget. If you want to stay within the pocket-friendly limit, there are thankfully several options for you. One of them is to add carpet tiles.
Carpet tiles are squares of carpet that can be fitted together for a floor covering. You can do this all by yourself, and these carpet tiles cost you $1-$2 per square foot.
If you do not like carpet tiles, you can go for vinyl sheet flooring, which is nothing but a stick-on on the original floor.
Or you can always go for foam mat squares for a suitable workout space for a basement. These mats fit together like a puzzle and are very cheap.
Hang Curtains
If you wish to divide the basement room, but you feel that putting up a wall would be out of your budget, your best option would be to hang some curtains. Hanging up a budgeted and straightforward curtain system helps you divide the space and add dimension to your basement.
With the help of these curtains, you can make that one room into both a bedroom, as well as a living room!
If adding a track on the ceiling is hard, you can try putting picture wire taut across the room, attach café hooks to flat sheets and then hang it up. This makes the perfect DIY project for a beginner.
This update is hand-down one of the most affordable basement updates one can give to their basement.