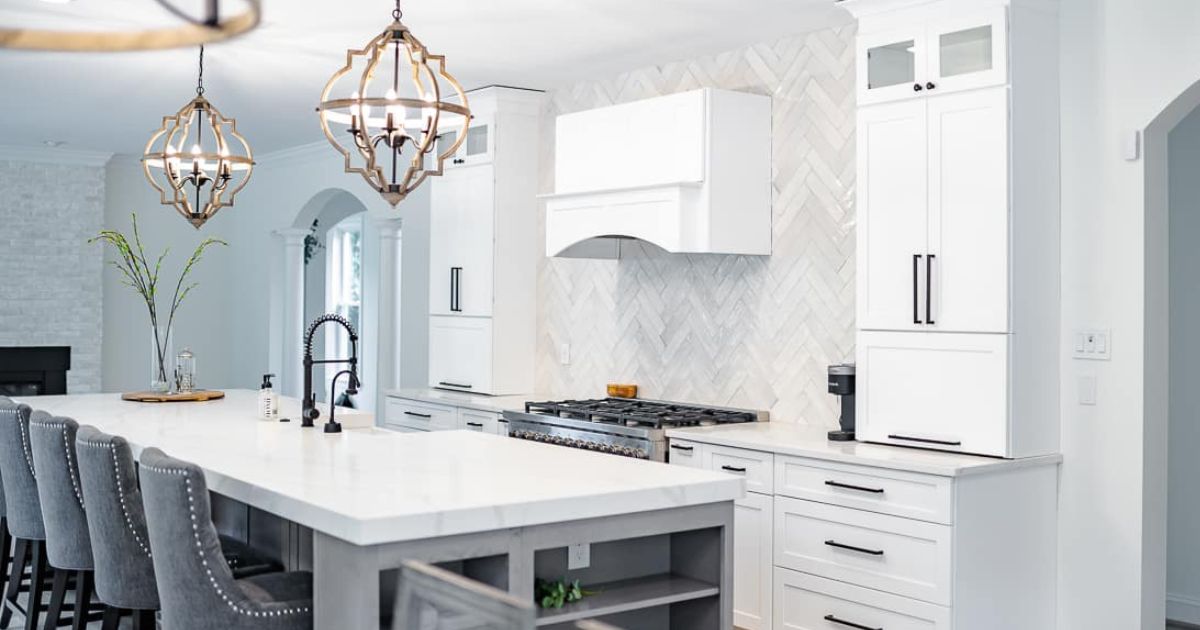 Kitchen Accent Wall: A Gorgeous Addition to Your Kitchen
A kitchen accent wall is one of those design features that require minimal effort for maximum results. A kitchen accent wall is a perfect opportunity to inject your own style and creativity. In this article, we'll take you through the basics of an accent wall and some design ideas to get you inspired on making one of your own. 
What is a Kitchen Accent Wall?
A kitchen accent wall acts as a visual focal point in your kitchen. It's used to complement or contrast the rest of your kitchen walls by featuring a different color, design, material, and pattern.
Kitchen accent walls are typically custom designed and can range from whatever degree of simplicity or complexity you'd like. Its main purpose is to create a striking visual contrast to add a distinct sense of the kitchen owner's personality. It's a wonderful addition to any kitchen as it makes the entire space look more polished and cohesive. 
Benefits of a Kitchen Accent Wall
Adding an accent wall to your kitchen comes with various advantages. Here are some:
Enhances Visual Interest
An accent wall breaks up a monotonous color scheme, injecting excitement and creativity into your kitchen.
Creates A Focal Point 
It's the perfect backdrop to highlight beloved memorabilia, artwork, and family photos. Having an accent wall naturally draws attention to any kind of decor you want to showcase. 
Perfect For Personalization
As touched on earlier, an accent wall injects the distinct personality of its owner. Even if you aren't able to custom-build your entire kitchen, an accent wall is a great way to make the space feel like it was built for you. Use colors, patterns, and materials to your liking. 
Increases Resale Value 
A well-executed accent wall can boost your home's value, making it more appealing to potential buyers.
Design and Installation Considerations
Color Scheme
When selecting a color for your accent wall, consider your existing color scheme, including cabinetry, countertops, and appliances. Pick a shade that complements these elements. Bold colors can make a statement, while softer hues offer a more subtle effect.
Texture and Material
The texture and material of your kitchen accent wall play a significant role in the overall look and feel of your space. Some popular options include:
Getting A Paint Job
Select a high-quality, washable paint that can endure the demands and messes of a busy kitchen. Consider the type of finish, as it can affect both the durability and overall appearance of your accent wall. A semi-gloss or satin finish is recommended for easy cleaning and increased resistance to moisture and stains.
Adding In Wallpaper
Durable and easy-to-clean wallpaper is the way to go for an accent wall. While undoubtedly very pretty, you also want to select wallpaper that can handle spills and splashes. We suggest opting for wallpaper made out of vinyl. It's resistant to heat and humidity and is easy to wipe clean. 
Installing Tile
A tiled accent wall is a great option if you intend to place your accent wall near the sink or stove. The tile will be able to withstand the inevitable exposure to heat and moisture. We suggest going for porcelain or ceramic tiles, as they're durable and easy to clean. 
Work In Some Wood
Wooden accent walls can infuse warmth and charm into your kitchen. When choosing wood, consider factors such as grain patterns, color, and texture to create a harmonious and visually appealing design. It's crucial to select a finish that is easy to clean and maintain, such as a water-based polyurethane or acrylic finish. These finishes can protect the wood from moisture, stains, and everyday wear while ensuring that your accent wall remains a stunning feature in your kitchen.
Placement
The location of your kitchen accent wall will determine its impact. Some popular choices include:
Behind the Stove
An accent wall behind the stove draws attention to your cooking area, creating a dramatic backdrop for your stovetop.
Adjacent to the Dining Area
If your kitchen opens up to a dining area, an accent wall can help define the two spaces, making the transition more seamless.
Kitchen Island
If you have a kitchen island, an accent wall on one side adds a pop of color and visual interest.
Design Ideas for Kitchen Accent Walls
Let's explore some design ideas to inspire your accent wall:
Bold Colors
Make a statement with a bright and bold color like deep blue or vibrant green.
Geometric Patterns
Use wallpaper or stencils to create a striking geometric pattern that adds visual interest.
Chalkboard Wall
Convert your accent wall into a functional chalkboard wall for grocery lists, recipes, and family notes.
Subway Tiles
Timeless and chic, subway tiles make for an easy-to-clean accent wall.
Reclaimed Wood
A reclaimed wood accent wall can bring a rustic charm and warmth to your kitchen.
Marble Wall
If you're aiming for a luxurious look, a marble accent wall is an excellent choice. It's elegant and never goes out of style.
Brick Wall
For an industrial and edgy touch, consider a brick accent wall. It adds texture and a unique visual appeal to your space.
Mosaic Tiles
Create an intricate and artistic display on your accent wall with mosaic tiles. They offer a variety of designs, colors, and materials to suit your taste.
Maintaining Your Kitchen Accent Wall
A well-maintained accent wall can serve you for years. Here are some tips for keeping your accent wall in its best condition:
Cleaning
Regularly clean your accent wall, especially if it's near cooking or dining areas. For painted walls, use a damp cloth. For tiled walls, use suitable tile cleaners.
Protection
Consider adding a protective coating to your accent wall, especially if it's made of delicate materials like wallpaper or wood. This will help it withstand kitchen wear and tear.
Repairs
Promptly repair any damages to your accent wall. This includes fixing chipped paint, replacing broken tiles, or resealing worn-out wallpaper.
A kitchen accent wall can transform your space in a significant way, be it bold and dramatic or subtle and elegant. Remember, the goal is to create a space that reflects your personality and suits your lifestyle. With the right planning and design choices, you can create an accent wall that not only looks fantastic but also lasts for years. Happy designing!