AS SEEN ON
You can find more information about our company, products and services on the following resources.

You can find more information about our company, products and services on the following resources.




Metso did an awesome job with the remodel of our kichen and replaced our floors. The whole process was simple and the workers were great.
John Rodzianko
2023-09-08
Professional and great communication. Our shower turned out better than we dreamed.
Kate Kirchgraber
2023-09-06
Mesto and Lydia were fantastic to work with from design to completion. They worked with me to get everything I wanted, on time and on budget. I couldn't be more pleased!
Kitchen and bath of Alexandria was great with getting our kitchen done. Beginning with Chris, our sales person. He worked with us tirelessly and diligently through changes and offered up great suggestions. Thank you Chris! Our project managers, Adrian and Mest were responsive to our questions and inquiries. Offering immediate resolutions. Crew leader, Ernie was amazing and work was high quality. The counter top team did an amazing job on the backsplash (almost seamless) and counter tops. I could not have asked for a better job. Thank you to everyone involved and highly recommended.
Anelyn Delmonte
2023-08-20
Gigi and Ege were so patient and professional with helping me with my bathroom remodeling project. I have a 1967 home which needs a lot of work. During the demolition there were obviously some construction surprises that initially gave me some stress. I was pleased how KBS really were reasonable with the additional construction. The end result didn't deviate to far from my budget. I was relieved on how reasonable and reassuring they were. Both Gigi and Ege are wonderful to work with. If I called they usually answered the phone right away or return my call within a few minutes. They were so accessible and responsive with any questions I had. Ege came often for oversight of the craftsmanship and regularly gave me updates on the timeline. Communication, honesty, quality, and fairness were a constant with Gigi and Ege. I will use them again for future projects. I would highly recommend using KBS Alexandria.
Long story short, We had our kitchen remodeled about 10 months ago, there were 3 project manager was replaced. Recently we were assigned with Mesto K. to help out with some repairs that previous Project Manager did not delivered. we are happy with the respond time and got the item ordered. He send his Bryant team over to my house and fixed what needs to be done. This is the fastest respond I got from this company. He said in the future can call him if something needs to be fix. We are very happy to have our kitchen back in order!
Mitsuyo Sprague
2023-08-14
KSB Alexandra just completed our outdated Master Bathroom and transformed it into a beautiful in-home spa for us! Gigi came up with a beautiful design and layout, giving us exactly what we needed by creatively maximizing the limited space available! And Mesto did a superb job overseeing the project from start to finish. He was there with a moment notice for us with any issues we ran into. And their crew members worked tirelessly and did a great job!
Christopher Di Barolo
2023-07-31
Mesto and Gigi did a great job from design to work completion. Were able to complete all work ahead of schedule.
I recently had the pleasure of engaging KBS for a bathroom remodel project, and I must say that they have exceeded all my expectations. From start to finish, the entire process was seamless, and the result is nothing short of remarkable. I am delighted to share my exceptional experience with KBS, and I want to extend my heartfelt appreciation to Lydia Karaca, the brilliant designer, and Ege Bulut, the dedicated project manager, who made this transformation possible. Lydia Karaca's design expertise was evident right from our first meeting. She took the time to understand my vision and preferences, and she effortlessly incorporated them into her creative concepts. Lydia's attention to detail and ability to bring fresh, innovative ideas to the table were truly remarkable. Her keen eye for aesthetics and practicality ensured that the final design not only looked stunning but also perfectly suited my lifestyle needs. Throughout the entire renovation process, Ege Bulut demonstrated exceptional project management skills. He kept everything organized and ensured that each step of the project was executed with precision and efficiency. His prompt communication and ability to address any concerns or changes promptly were invaluable. Ege's proactive approach and hands-on involvement gave me great confidence that the project was in capable hands. The entire team at KBS displayed the utmost professionalism and dedication. They showed up on time, adhered to the project schedule, and maintained a clean and organized workspace. The workmanship was top-notch, with every detail carefully crafted to perfection. Not only did KBS complete the remodel on time, but they also managed to stay within the agreed budget, which is truly commendable. Their transparency and honesty in dealing with costs and materials helped me make informed decisions without any surprises. The end result of their hard work and expertise is simply breathtaking. My bathroom has been transformed into a luxurious oasis that surpasses anything I could have imagined. The quality of the materials used and the precision of the installation are evident in every aspect of the remodel. I would wholeheartedly recommend KBS to anyone in need of remodeling services, and I cannot thank Lydia Karaca and Ege Bulut enough for their exceptional contributions to this project. Their passion for their work and dedication to customer satisfaction truly set them apart. In conclusion, my experience with KBS has been nothing short of outstanding. They have done a remarkable job with my bathroom remodel, and I am beyond thrilled with the final result. If you are considering a home renovation, don't hesitate to reach out to KBS and experience their excellence firsthand. With a fantastic designer like Lydia Karaca and a project manager as capable as Ege Bulut, you can rest assured that your project will be in the best possible hands.
Chris, our designer did a fantastic job with our kitchen project, Mesto was an awesome Project Manager and Ernie, the crew leader was amazing!! We love the finished product and I recommend them!!
OUR SERVICES
Kitchen and Bath Shop offer innovative design services and high-quality, full-service kitchen and bathroom remodeling. We install everything you need for your next home improvement project including a broad selection of quality kitchen, bath, and products from well-recognized manufacturers, and maintain an excellent business ethic. We provide outstanding customer service in Chantilly, VA.
How We Help Our Clients
Kitchen and Bath Shop in Chantilly nearest and largest remodeling shop. With our unparalleled one-stop-shop experience, we are providing excellent kitchen and bathroom remodeling services to our community.
You don't have to find a designer, look for contractors, shop around and waste your time getting permits and cross your finger that installers will do a good job. We are here to take over every step of the hassle-heavy remodeling process. What we sell is convenience — the idea that we can provide a turnkey solution in a headache-free process.
We take care of your design, cabinets, appliances, countertops, lighting, flooring, permits, installation, and final touch-ups. The only thing you need to do is to call us, agree on the design and materials. We provide complimentary in-house and online design and estimates and the hybrid of the two.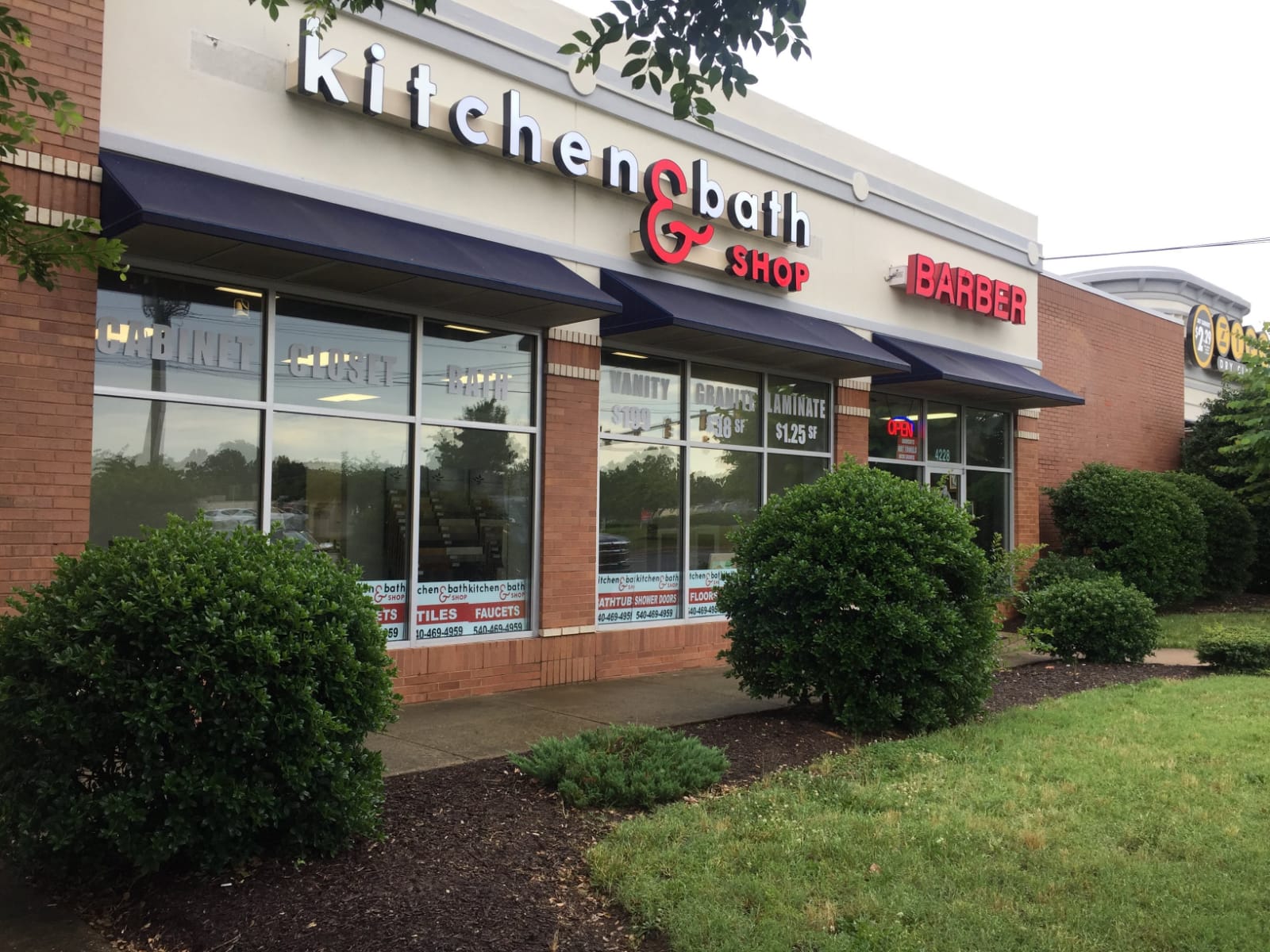 We also build custom closets and do basement finishing.
We are providing services in these towns and beyond: Chantilly, Centreville, Dulles, Sterling, Reston, Herndon, Manassas, Gainesville, Nokesville, Haymarket, Bull Run, Clifton, Vienna, Oakton, Fairfax, Great Falls, Cascades, Ashburn, Aldie, Broadlands, South Riding, Bristow, Catharpin, Potomac Falls, and Middleburg.